great gift for flower girls
By
Shopper

(Clovis, CA) - August 2, 2011
great gift for my two flower girls


flower girl gift
By
Shopper

(Clovis, CA) - August 2, 2011
This was a perfect gift for my flower girls

Very Cute
By
Debbie S.

(Birmingham, AL) - February 17, 2011 (
See all reviews by this customer
)
The doll was exaltly as described and the sewn name is beautiful. I received the doll within a couple of days of placing the order. Can't wait to give it to the flower girl at the wedding.

Excellent flower girl present
By
Jill W.

(Greenville, WI) - August 4, 2010 (
See all reviews by this customer
)
I just ordered 3 of these dolls for my 3 flower girls. They are exaclty as described and pictured. The embrodery was beautiful.

My flower girls are wearing white dresses with a black sash around the middle, so I removed the white bow in front and tied a small black ribbon around the doll's waist. Also, my flower girls are carring red rose petals, so I went to a craft store and bought a bunch of tiny red roses and stuck them in the basket. They now look just like my flower girls! They will treasure this gift for years to come!

Pretty little Doll
By
Melissa H.

(Kenmore, NY) - June 22, 2010 (
See all reviews by this customer
)
This item is a perfect gift for my niece Lucy for being a flower girl in my wedding. She is 5 and so wouldn't appreciate a normal keepsake gift, but at the same time, I didn't want to just get her a toy. I think the little brunette doll looks just like her infact! I can't wait to give it to her. It's beautifully made and it got to me very quickly. I am very pleased with my purchase. It was smaller than I expected though.

Adorable Dolls
By
Luann T.

(Lynn, NC) - May 25, 2010 (
See all reviews by this customer
)
We purchased two dolls for the flowers girls in my daughters wedding. They are twins but one is blonde and one is brunette. It is great to have the option for hair color. The dolls were beautiful. They stand up on their own so there's no need for a stand.

A Great & Memorable Wedding Gift
By
Kathryn R.

(Granite City, IL) - May 19, 2010 (
See all reviews by this customer
)
I gave this doll to my Niece for being my Flower Girl. She absolutly loves it and will hopefully keep it for many years to come. Quick & accurate service!

Very Cute!
By
Melissa S.

(Laconia, NH) - February 11, 2010 (
See all reviews by this customer
)
I bought this for my 3 year old for my wedding as she's my lil' flower girl and she is gonna love it! It came out beautiful!

Really cute!
By
Jeneen L.

(Smithtown , NY) - September 18, 2012 (
See all reviews by this customer
)
Nice lil present for a flowergirl. Nice quality and a cute idea!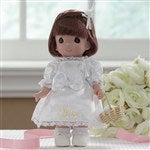 Flowergirl gift
By
Shopper

(Conestoga, PA) - March 27, 2011
The doll itself is so adorable. A keepsake that will last a lifetime. The personalization added just the right touch. The only thing I would have wished for it that the dress would come in white or ivory. Very pleased with the product.

Cute, but not what I was expecting
By
Shopper

(Clifton, VA) - January 24, 2012
The doll is cute, but is not the kind of doll that a little girl can hug or sleep with, it is more rigid for display, not really playing. Also, the doll is made out of cheap-looking plastic and looks a lot lower quality than in the photo. It is also smaller than I was expecting. The name stitching looks good, though.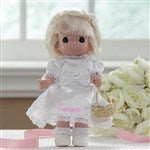 Disappointing and overpriced
By
Diane N.

(Orland park, IL) - July 9, 2012 (
See all reviews by this customer
)
Much smaller and cheaper looking than I had anticipated. Worth about $10 , so I paid about 3 times that! Disappointed overall! Now I have to look for something additional to buy for my flower girl, because this doll by itself looks like a cheap gift!