Puppers in Maine
By
Jody R.

(Stevenson , CT) - August 7, 2012 (
See all reviews by this customer
)
Excellent! I love the split-panel canvas and especially the price, quality is outstanding, exceeded my expectations.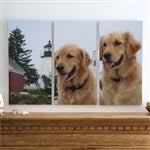 beautiful picture!
By
Julie G.

(Pinckney, MI) - August 7, 2012 (
See all reviews by this customer
)
Beautiful picture! Very impressed with how it came out! I definitely will use this site again for future purchasesfor my personal use and for my julz photography business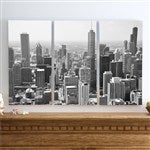 Stunning!
By
Shopper

(Center Point, IN) - July 11, 2012
This picture is one taken at our wedding. Having it on cavas is amazing. I love the 3 piece split- panel canvas; it looks absolutely stunning above the bed in our room. I have received many compliments on it. It came quickly and was packaged nicely. Will order from Personalization Mall again!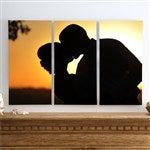 valumom
By
Shopper

(Escondido, CA) - April 29, 2012
I would highly recommend personalizationmall for another purchase like this. It turned out just as I had hoped and looks fantastic on the wall.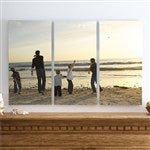 Love love love it!!
By
Shelly L.

(Murrieta, CA) - March 21, 2012 (
See all reviews by this customer
)
I'm so happy with how this turned out. It looks beautiful over our mantel and compliments our other pictures beautifully.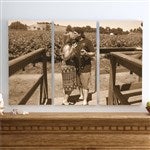 Beautiful
By
Shopper

(Vinemont, AL) - March 20, 2012
We needed a picture to place in the living room in our Alabama gulf coast condo. I searched for months and could not find anything I liked. Our son took this picture from the balcony during our last visit on New Years Eve and I thought it would be a great picture to use. The picture turned out great even though I did not upload in the highest pixel I could have. Very pleased!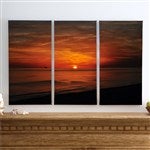 Loved it <3
By
Shopper

(coral springs , FL) - March 19, 2012
I loved it :) it was a nice surprise for my hubby

My wedding picture turned split photo
By
ryan H.

(hammonton, NJ) - February 24, 2012 (
See all reviews by this customer
)
I had a favorite wedding photo turned into a 3 part black and white split photo on canvas and hung it up in living room. Turned out awesome and got it ultra fast !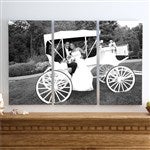 Loved it!
By
Diem L.

(Broomall, PA) - February 23, 2012 (
See all reviews by this customer
)
I bought this as a gift for my brother and his fiance's new house and they loved it! Great quality for the price!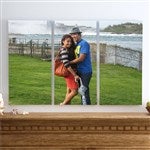 looks beautiful, great quality!
By
Shopper

(Lynnwood, WA) - February 16, 2012
I used this with a lanscape sunset photo my mom took and it turned out amazing! I would recommend this to anyone.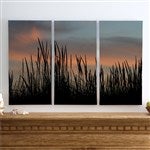 product that i like
By
Shopper

(LeROy, NY) - February 12, 2012
a great 3 pc picture set for my wall...it came out awesome. very nicely made. the product came on sale the very day i received it in the mail and i called customer service to see if they could give this to me at sale price. without any hesitation, they credited me the difference. i am very impressed.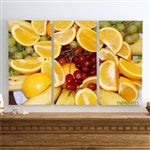 Such a wonderful item at a wonderful price
By
Shopper

(Kentwood, MI) - February 6, 2012
My husband and I wanted a unique item to display one of our wedding portraits. After an extensive search for an item we had no luck from local merchants as well as online merchants. Needless to say, we were more than excited to find the photo canvas 3pc split panel. This piece alone generates just as many compliments as our more expensive furnishings. Furthermore, I received 20% discount at checkout due to a promo code emailed by personalizationmall.com prior to my purchase. A SWEET DEAL!!!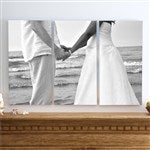 Photo to canvas split panel art
By
Don L.

(Springdale, AR) - February 3, 2012 (
See all reviews by this customer
)
I am very pleased with the quality of the canvas print that I had made into 3-split panels. The frame and the canvas is made of good quality material, and the colors in the photo that I sent in, came out beautifully on the canvas.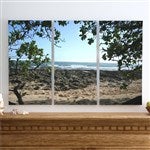 Awesome. Exactly what we imagined
By
Shopper

(Owens Cross Roads, AL) - December 30, 2011
This item is a great gift and covers a large part of the wall. Worth every penny and would definitely purchase again!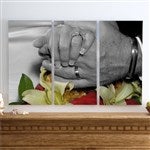 Amazing
By
Erica H.

(Salem, NH) - December 21, 2011 (
See all reviews by this customer
)
This picture canvas is everything i wanted. I think it is a great decoration and will be a great gift for my mom with her own picture on it.Shipped within 3 days, which was great, especially at the holidays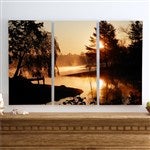 Couldn't be better!
By
Shopper

(Marquette, MI) - December 19, 2011
I am extremely satisfied with my canvas. Not only is the product quality excellent, but production and shipping was very fast. I highly recommend!!

Can't Wait to give
By
Donna S.

(Hesperia, CA) - December 7, 2011 (
See all reviews by this customer
)
I am so excited to give this gift. There are so many wonderful things I can say about it, I guess first I was amazed at how quickly I got notice of the item shipping and then to receive it so fast. When I opened the package I could not stop looking at it and was so pleased with myself for my decision to purchase this gift for my sister. Besides the picture I chose being personal, the split sectioning of the image will give the effect of art rather than just a photograph I took. The example image was nearly a complete match from what I recall. My sister being an interior designer, I was hesitant to make such a purchase for her, but now I know she will love it as much as I do. The price is just right and I believe I will be buying a duplicate for myself. I honestly can't wait to give it to her, I could just burst.

Family Vacation Home Sunset
By
Kimberly J.

(Elk Grove Village, IL) - November 25, 2011 (
See all reviews by this customer
)
We had planned to get a split canvas portrait for a while and cannot say enough good things about the one we ordered. We have already ordered another one with a different picture within a week of receiving the last one. What a great personal gift / decoration!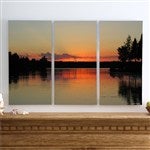 Great Purchase!
By
Shopper

(New Philadelphia, OH) - November 7, 2011
Ordered this with a photo from a beach vacation and it looks great! Fast shipping and very happy with the final product. Good price for a canvas print like this! Will definitely continue to order photo gifts from this site!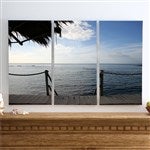 Great results!!
By
Elfi P.

(Temecula, CA) - September 26, 2011 (
See all reviews by this customer
)
I had this picture made for our cabin at the lake. I am very happy with the quality of the picture. Recieved it within a week in great condition. Great packaging. It's going to look Beautiful!! Can't wait to put in the cabin.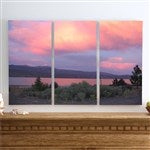 Wow! It's Perfect!
By
Debra H.

(Wichita, KS) - September 12, 2011 (
See all reviews by this customer
)
Talk about fast! I ordered this on Wednesday night at 9:30, and it arrived this morning, Monday! If Sunday had been a mail day it would have arrived then, for tracking showed it arriving in town on Saturday! Amazing for any product, let alone a personalized one! And the photo! It's a photo of my 3 grandkids! When one of my grandsons was visiting my daughter, from out of town, my daughter took him and her two kids out and took pictures to specifically work for this! (It took the individuals being spaced apart a little bit to look right) Because of how she was able to preview the actual product, she was able to play around with her photo to get it just right, then email it to me, so that I could order it. I am never disappointed when I order from you! Thank you so much for giving us such great products, fast, at such great prices! I couldn't be happier!!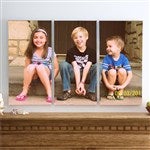 Great service Great quality
By
Shopper

(Edinboro, PA) - August 1, 2011
It is amazing to me the quality and how fast I received my 3pc split panel art collection. I admit I was nervous to order this and not sure how it would turn out but it is amazing. We ordered a landscape picture of a recent trip and it is beautiful. The comments we received about the picture have been great. Many people have thought it was something we bought in a store not a picture we took, but most have thought it was a painting. Thank you for bringing one of our favorite memories to life and in such a quality way.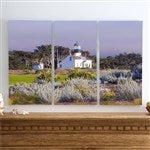 Abstract Canvas
By
Shopper

(Natchez, MS) - July 12, 2011
The canvas was perfect! The production was fast and shipping was a zap! Look forward to purchasing more canvas!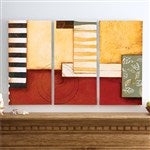 South Padre Island 3pc Split-Panel
By
Thea W.

(San Benito, TX) - July 8, 2011 (
See all reviews by this customer
)
I have been looking for a company who would transform my husband's award winning photos into a 3-panel canvas and I FOUND it--Personalization Mall! They took a beautiful picture of the sunset at South Padre Island, TX, over the causeway and made it into a fantastic wall art presentation. The colors are extremely true, the split was done magically, and the end result is gallery worth.
They did it very quickly and the packaging for the shipping was very good.
I'll be using this service again.
Thank you very much.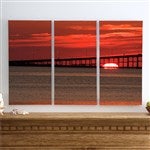 Great Quality
By
Kimberly M.

(Indianapolis, IN) - June 13, 2011 (
See all reviews by this customer
)
I purchased 2 of these canvases, 1 for our master bedroom of a sunset my husband took on our honeymoon and 1 for our family room of downtown indianapolis that my husband took from a roof top. The honeymoon pic was old as we have been married for a while and my husband's camera then was only a 5 mega pixel. The pic only had a "good" rating which is only one step from "unusable" on the site and it still came out amazing!!!! It is not as clear as the downtown pic which was taken last year with a 13 mega pixel camera and had the highest rating but when you place them on the wall you cannot tell the difference. You would have to basically get right in front of the picture to see the difference. I took a chance with the "good rating" and I AM GLAD I DID!!!!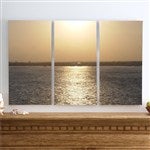 Very nice
By
Shopper

(Bellaire, TX) - January 24, 2011
It arrived a day before the estimated date. The picture looks lovely. My only complaint is I wish the edge wrap was of a mirrored image and not a continuous image. But it's really not a big deal.

Amazing for the price
By
Shopper

(Annandale, VA) - January 6, 2011
I did some research of split-panel canvas art, and I didn't find anything under $250-$300 until I came across Personalization Mall. For the price, the finished product is amazing. I just received mine yesterday and it looks wonderful! I would definitely recommend this for a gift. Plus, I did a Google search for a coupon code and ended up getting $14 off.

Incredible for the price!
By
Fred G.

(Las Vegas, NV) - December 29, 2010 (
See all reviews by this customer
)
We shopped all over for these and found them at MUCH higher prices elsewhere, so we were skeptical that for this price it would turn out nice. We sent our custom sunset photo and waited. When the panels arrived we were surprised and VERY pleased with the beauty and quality of the panels. Wish they offered different sizes, but we are very happy with this purchase!

brings Florence, Italy to life
By
Thesese H.

(West Milford, NJ) - December 15, 2010 (
See all reviews by this customer
)
I ordered a 3 piece canvas of photos taken in Florence and one of Venice. I did not alter the Florence photo and the result came out just wonderful! With the Venice photo, I needed to do a bit of cropping and the original photo was not as clear so ultimately the canvas is a bit muted but it adds to the romance of the night time photo! I am extremely pleased with the artwork and the customer service.

Photo Split Canvas - Great!
By
Kerry B.

(Warrington, PA) - November 2, 2010 (
See all reviews by this customer
)
WE ordered this on Sunday and it was here by Wednesday. It is beautiful!! Great quality. Would absolutely recommend! Love it!

Fabulous!
By
Arynn S.

(Boise, ID) - October 25, 2010 (
See all reviews by this customer
)
The price was by far better than any other personalized 3 panel canvas's around! I bought this for my living room and it's definitely a conversation starter :)

Wow!
By
Elicia H.

(Lexington, KY) - October 15, 2010 (
See all reviews by this customer
)
I get so many compliments on this it's unbelievable! I have the photo hanging over my bed and people go nuts over it. Seriously nuts I tell you! Highly recommended!! Great quality!

Nice
By
Allison C.

(Monrovia, CA) - August 30, 2010 (
See all reviews by this customer
)
Nice way to have personal art. Good price. Prompt delivery.

Amazing 3 piece canvas photo
By
Shanda M.

(Ramsey, MN) - August 27, 2010 (
See all reviews by this customer
)
I am very impressed with my purchase of the 3 piece canvas photo. I ordered on a Thursday, and received the picture on the following tuesday. The quality is great, the color is great, I am very pleased with this product!

Very nice quality for price.
By
Elicia H.

(Lexington, KY) - May 24, 2010 (
See all reviews by this customer
)
I purchased a 3 piece split panel to go over my bed and wasn't sure what to expect. It turned out good, but I wish I had ordered it bigger and I had not edited the contrast. Those are my wrong doings though. I give the product 5 stars and recommend to anyone, just be careful when editing, I don't recommend altering it because it is difficult to see your changes when it is small.

Great Product
By
jules C.

(tulsa, OK) - May 12, 2010 (
See all reviews by this customer
)
Picture looks amazing! We ordered on tuesday night, and it got here on friday with regular shipping! Perfect for Mother's Day!

Lou in MI
By
H L L.

(Caledonia, MI) - May 5, 2010 (
See all reviews by this customer
)
Saw that Teresa T.'s item arrived in two days. Sorry it took so long. My order arrived the very next day WITHOUT paying for express delivery. The photo canvas looks great - excellent quality. And you can't beat the service anywhere.

Excellent!
By
Lauren R.

(San Francisco, CA) - March 22, 2010 (
See all reviews by this customer
)
Love this! Great price, great quality, excellent service. Thank you!

Beautiful!
By
Teresa T.

(Gurnee, IL) - January 25, 2010 (
See all reviews by this customer
)
We received our canvas in TWO days!! It's beautiful and good qulaity. I would have liked something slightly larger over my fireplace, but the unique personal photo is definately a show stopper. We had about 20 people over for dinner this weekend and they were all amazed with the photo, the quality, and the price. I told them all about the incredible service, too!

Great Gift
By
Tony D.

(Saint Louis, MO) - December 7, 2009 (
See all reviews by this customer
)
Had a personal picture of the boys made for my mom, for Christmas. They did a very nice job and looks great. She is going to love it!