nice gift
By
Michelle P.

(Salem, MA) - December 31, 2011 (
See all reviews by this customer
)
This mug is a nice gift. I wish it had a few more options on age and race.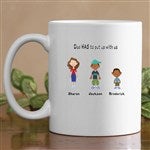 Mug love
By
Noelle P.

(Acworth, GA) - December 30, 2011 (
See all reviews by this customer
)
my mom really loved her mug. She is not the typical soccer mom, if fact she pokes fun at these women. So, it's a gift any mom can enjoy, especially when you put her pooches on the mug with her kids!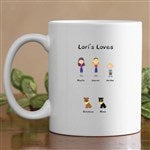 Wonderful Christmas Gift
By
Daisy R.

(Philadelphia, PA) - December 26, 2011 (
See all reviews by this customer
)
I bought this mug for my mom with the title We love Mom~Lela. Lela is what my daughter calls her. She was so excited because it said Lela since all grandmother things either say grandma,nana or mama but never Lela. And when she noticed all the characters in the bottom resembling her, my dad, my brothers,sister,my husband,my daughter,our dog and their cat, she began to cry!!! Such a wonderful personal gift at a great price. It arrived very quickly! We loved it so much we ordered the cookie jar for my mother in law. I will definitely recommend this company and order from them again!!!!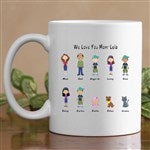 Good Quality Mug
By
Shopper

(Lafayette, CO) - December 25, 2011
I should give this 5 stars; the mug came out as described. I only give it 4 stars because my mother didn't really like it.
1) The mug was too big for her, I wish there were other size mugs to choose from. A tea cup would have been better.
2) I should have known better... don't personalize a mug with all the kids' names if one of this kids isn't with us anymore. It made her sad.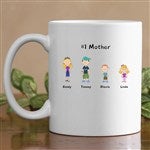 Cute mug
By
Shopper

(Taylor Ridge, IL) - December 22, 2011
This mug turned out great! I purchased it for my mother as a Christmas gift. I put my 2 sons and my niece on it with the title of best grandma ever. I was thrilled when it came in because it turned out so cute.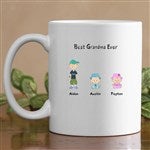 Most of the cup is bare!!!
By
Laura M.

(Henderson, NV) - December 15, 2011 (
See all reviews by this customer
)
I ordered this for Grandma. i loved the little people printed on these coffee cups. They were so cute. They are just on 1/4 of the cup. I had my 6 kids names put and little people on there, but still most of the cup is just bare, and boring. Wished i would have gotten a different one :(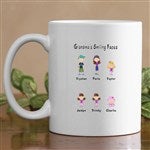 Grandma's Gift
By
William T.

(Eden Prairie, MN) - December 15, 2011 (
See all reviews by this customer
)
This is a fantastic gift to give to grandparents! My mother will love it that it's coming from my daughter.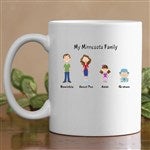 Very cute
By
Shopper

(Sherman, TX) - December 6, 2011
I got this as a gift for my mom and although she hasn't seen it yet I know she'll love it. The mug arrived very quickly and in good condition. The only reason I'm giving it 4 stars instead of 5 is due to the fact that the characters looked very.. printed and pixelated up close; but I don't imagine that being a fixable trait. Overall, very cute and great product!
(I also kind of wish that the characters were printed on both sides of the mug instead of only one.)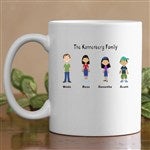 great for grand kids to give as a gift
By
Shopper

(El Paso, TX) - November 20, 2011
what a great gift for a young child to give to their family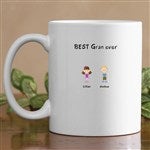 CUTE - but not enough choice
By
Sarah J.

(Canada) - October 26, 2011 (
See all reviews by this customer
)
I made this mug for friends that we have coffee and games night with regularly. I was a bit disappointed that all the adult men and women look the same just with different hair - but it looks great regardless.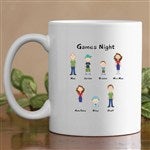 Love it, love it, LOVE IT!
By
Shopper

(Plainville, MA) - June 27, 2011
perfect gift for the tea or coffee drinker in the family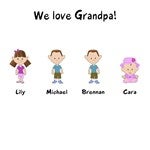 great idea
By
Shopper

(New Port Richey, FL) - June 17, 2011
These mugs are a very nice gift for anyone special in your life. I ordered two, one for each of my sons who are both new daddy's for father's day. They are perfect and shipping time was incredibly fast. I highly recommend this company and thank them for providing a gift my sons will cherish.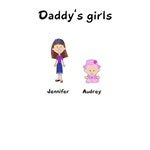 Cute but TOO SMALL
By
Heidi L.

(Wading River, NY) - May 21, 2011 (
See all reviews by this customer
)
I ordered 4 of these mugs and they are very cute. BUT the pictures on them and the writing is VERY SMALL. I was disappointed when I opened the box. This is the FIRST time I have ever been disappointed from Personalization Mall.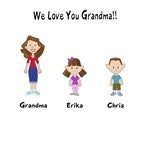 Awesome Customer service
By
Shopper

(Lake Charles, LA) - May 13, 2011
The mug was broken when my Mother inlaw recieved it the 1st time,we called and wasnt on the phone even 5 min. and they sent her a new one!!! will shop here again!!!!!!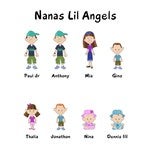 Great gift item!
By
Jeni P.

(Syracuse, NY) - May 12, 2011 (
See all reviews by this customer
)
I purchased this mug for my mother-in-law on Mother's Day. I thought the idea of having the little photos of the cartoon babies with our children's names underneath was adorable and she absolutely loved it! She drinks coffee from it every morning.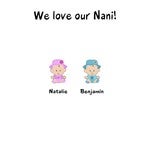 Personalized Mugs rawk
By
Shopper

(Apex, NC) - May 18, 2014
My family has ordered many of these mugs over the years and they are always, always, always great. They last a long time and don't seem to fade. It's neat to pull a mug out we created 8 years ago and compare the growth of our family since then. Great as a tangible timeline. I recommend them for anyone, especially grandparents.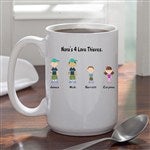 best mug loved by mother in law
By
Shopper

(Perth Amboy, NJ) - December 31, 2013
Couldn't have asked for better mug. Mother in law loved the pics used for this. True Great gift idea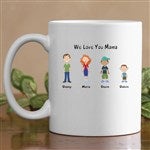 Good buy!
By
Justin S.

(Baltimore, MD) - December 30, 2013 (
See all reviews by this customer
)
Mug came out very cute. Looks exactly as web picture portrays it.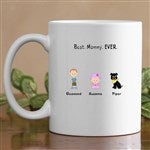 Really Cute
By
Laura N.

(Lexington, KY) - December 11, 2013 (
See all reviews by this customer
)
I bought 5 mugs for my employees for Christmas , they loved them !!! They just got a big kick out of them - very pleased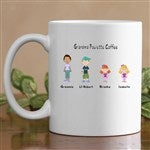 overall wonderful
By
Laura C.

(ashburn, VA) - November 19, 2013 (
See all reviews by this customer
)
I love these I have now ordered 6 of these and they have all been good quality only wish that for some of the ones I did they had more than one outfit for each hair ccolor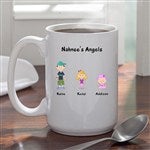 Mugs
By
Mary G.

(San Jose, CA) - September 24, 2013 (
See all reviews by this customer
)
They make wonderful Christmas gifts.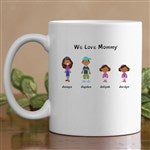 Nan's the best!
By
Shopper

(E. Bridgewater, MA) - July 6, 2013
Nicely done! On schedule as promised and as colorful, and unique as hoped.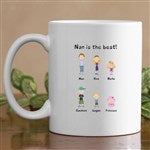 FAMILY Characters Mug
By
Shopper

(Edwardsville, IL) - June 10, 2013
Just needed a 15 oz. coffee mug for my new Keurig Coffee Maker and this one was
so neat. Like it ALOT.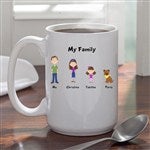 just as described
By
chaneita S.

(opelousas, LA) - May 24, 2013 (
See all reviews by this customer
)
looked just like picture! but thats always. never had any complaints with any order from this site!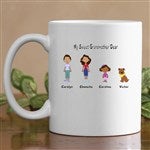 Cup for Mother's Day gift
By
Shopper

(Greeneville, TN) - May 20, 2013
I purchased this cup for my daughter for Mother's Day and she loved it. It was personalized beautifully. Everything that I have ordered from this company has been exactly the way that I expected---perfect! Thank you for good work.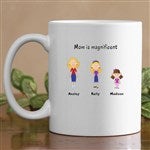 great
By
charles Y.

(pittston, PA) - May 17, 2013 (
See all reviews by this customer
)
she loved it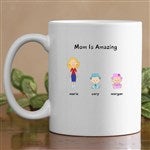 Was a hit
By
Elizabeth C.

(Greer, SC) - May 16, 2013 (
See all reviews by this customer
)
Recieved on time.. My daughter and grandchildren were so happy with the mug..Perfect for Mothers day gift..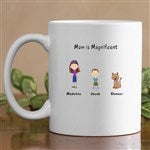 A tear jerker
By
kristal O.

(hampton, VA) - January 7, 2013 (
See all reviews by this customer
)
I ordered this item for my sister as a small gift. She called me crying because she said it was the best gift she has ever recieved. She loved how the gift featured her entire family including the dog! It was personalized with family name as well as everyone's first name...she uses it everyday! Great product, one my plenty of browine points!

AMAZING GIFT
By
Shopper

(Canton, PA) - December 31, 2012
I bought 3 of these as gifts from my kids to their Aunts and uncle. They were a hit. I think they in joyed getting something with their name on it as well a personal message from the kids. I recommend these for the hard to get person in your family. They are great for men and women. And they are from the heart and not just from the store. And make great gifts for any occasion. I plan on buying more for other members of the family. And you can't beat the price.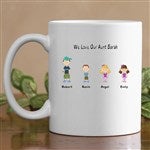 disappointing
By
Shopper

(Philadelphia, PA) - December 21, 2012
I was a little disappointed when I received the product. The characters are a little bit small for the mug.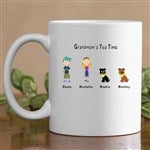 Adorable character mug
By
Jacqueline A.

(Philadelphia, PA) - November 25, 2012 (
See all reviews by this customer
)
I purchased two of these mugs for my parents as Christmas presents. My sister and I cracked up when they arrived; the characters we chose remind us so much of our parents. I'm sure they're going to love these mugs as much as we do.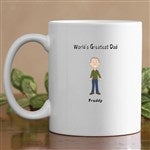 Cute idea & product
By
Shopper

(Grass Lake, MI) - November 20, 2012
This mug is very, very nicely done. It was received in record time, as well. The website was user friendly-- even the personalization part. The only thing lacking, that I can see, is that there were not enough varied options for each choice: for example, I did my mug for a family of nine-- mom, dad & seven kids... so, the first three kids I made the "big sisters and big brothers", the second three kids I made "little sisters & little brothers" and the final child was the baby... that said, I had two older brothers right next to each other & since the only thing that differed between the two was hair color, it kinda gives the impression that they are twins, which they are not. It may be a better idea to chane the clothes along with the hair color options. Just a suggestion. I am very pleased with my mug and know it is going to be a big hit, as it is a gift.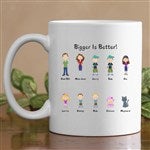 Sweet Gift for Dad's
By
Anna P.

(Bessemer, MI) - November 17, 2012 (
See all reviews by this customer
)
I ordered this for my husband as a gift. He loves it almost as much as my girls. It turned out great. Love it.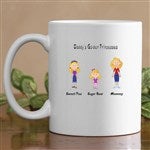 Very Cute!
By
Shopper

(Crown Point, IN) - November 16, 2012
I bought 2 of these for my grandchildren to give to their mom and dad. They are going to love them! The mugs are so cute and very detailed. I showed them to my sister and she wanted to know where I purchased them so she could order! You won't be disappointed!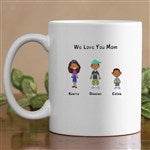 Use it almost every day for my coffee
By
Shopper

(West Allis, WI) - August 1, 2012
I really like this coffee mug..real cute but wish the characters were bigger.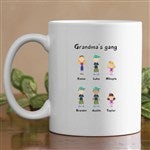 Great character mug
By
Shopper

(McGraw, NY) - May 15, 2012
It was just as delightful as I hope that it would be. You can't help but smile when you look at the little characters.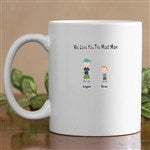 Mothers day cup
By
Jennifer M.

(Topeka, KS) - May 14, 2012 (
See all reviews by this customer
)
Very detailed and the mother it was purchased for loved it!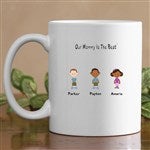 Coffee Mug
By
Shopper

(Commerce Township, MI) - May 8, 2012
Perfect Gift!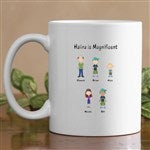 Cute 'Personal' gift
By
Shopper

(Russellville, KY) - April 23, 2012
Everything about it is great....will make a Great 'grand'mother's day gift!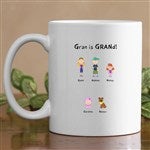 I love it
By
Gloria B.

(Aldan, PA) - April 23, 2012 (
See all reviews by this customer
)
It is so cute and lovely