Review of Photo Mug
By
Amanda L.

(Corning, NY) - October 8, 2009 (
See all reviews by this customer
)
This mug is great. It is so much nicer than those plain white mugs most places sell. One word of caution though...the picture is smaller in reality than it appears when you order it so just make sure that it is a good quality photo that is at least a semi close-up so that you are not dissappionted in the end result. My photo was of my father low on the ground with an animal so it would be similar to a two person upper body picture and it turned out wonderfully. Thank you personalization mall!

Great quality
By
Shopper

(Maud, TX) - June 26, 2014
Great lookin coffee cup! The only thing is Grandpa said he wished the picture would of been on the other side so that when he is drinking coffee he can look at his grandson. (Grandpa is right handed)

Photo Mug
By
Shopper

(Redding, CA) - November 30, 2011
The mug was a great Christmas gift for Grandpa. Just make sure to have the perfect picture with great quality. Perfect gift though for the coffee lover!

Not enough options
By
Shopper

(Gilbert, AZ) - July 24, 2011
Nice cup, but the "title" options were limited. Our girls called their grandpa, "Poppy" and the only option available was "Poppie." We should be allowed to write whatever we want, provided, we'd only have a max amount of characters for the customization.

Otherwise nice purchase for the price!

Beautiful.
By
Melissa G.

(San Jacinto, CA) - June 27, 2011 (
See all reviews by this customer
)
We order from this site often, and have never been disappointed. This mug was no exception. The mug it's self is high quality, as well as the printing. It was very well received by the person we purchased it for!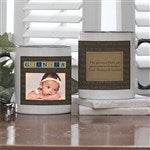 Amazing
By
Skyler G.

(London, KY) - April 30, 2011 (
See all reviews by this customer
)
I absolutely loved this cup. I purchased this for my father in law as a birthday gift. My only complaint is I wish the picture was bigger. But for that price and the quality it cannot be beat!!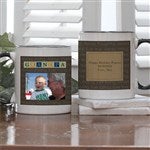 Great Gift
By
Michelle S.

(Springfield, MO) - December 29, 2010 (
See all reviews by this customer
)
I liked this mug a lot! As did my father who I gave it to as a gift. The picture looked great and is a nice mug. The only reason I didn't mark it as 5 stars is because ideally for a right handed person I would rather have had the picture on the other side. That would have made it perfect!

Nice gift
By
Jennifer A.

(bronx, NY) - December 27, 2010 (
See all reviews by this customer
)
Good value for your money

Awesome Product, Bad Shipping
By
Shopper

(Stansbury Park, UT) - December 20, 2011
I loved the mug when I received it! However, they shipped the product in a box without any bubble wrap, therefore my mug handle broke.

wish photo could be bigger
By
Shopper

(Bethel, MN) - January 8, 2011
was fine, just wish photo could be bigger and to have more options with the writing

Product ok, but tacky way of advertising...
By
Jennifer C.

(Fernley, NV) - December 20, 2010 (
See all reviews by this customer
)
The mug turned out fine for what we were expecting, but they do print "PersonalizationMall.com" in BIG letters on the bottom. I am not interested in your advertising when I'm trying to give a gift....find another way of advertising. I will not purchase again from this website again because of that.

Not as good as other items
By
Shopper

(Centreville, VA) - December 13, 2012
I have been pleased with every item I've purchased from this website, so I was surprised when I received this mug today and was disappointed. The picture seems smaller than it appears in the preview and is almost lost (because of the size) on the mug with the dark background and words. The quality and design are otherwise fine, I just wish the photo was bigger.

Review of Mug
By
Jamie C.

(San Lorenzo, CA) - October 2, 2009 (
See all reviews by this customer
)
The quality of the mug is great, however, I was dissapointed with the size of the picture on the mug. In the example of the mug pictured online, I assumed my picture would be bigger. It's hard to tell, without looking very closely at the mug, who's even in the picture. I would not buy this product again.

Review of Photo mug
By
Bonnetta E.

(Blackhawk, SD) - October 8, 2009 (
See all reviews by this customer
)
The mug itself was great and the photo i wish would have been larger as it appeared in the review but it was broken when i received it. i find it such a hassle to send anything back without hours of trying to phone an actual person to report it and then to have to go to the post office and repack and ship it back i just figured it wasn't worth my time. it's fine if you don't order anything breakable.