It's adorable!
By
Cindy S.

(PineValley, CA) - December 22, 2009 (
See all reviews by this customer
)
Great quality...just what I expected!

Excellent Gift!
By
Kathleen L.

(Franklin, MA) - October 9, 2009 (
See all reviews by this customer
)
This is my second purchase of a personalized baby outfit for a gift -- it comes in a GREAT gift box -- and is simply adorable! This is the type of gift everyone seems to really love -- it got lots of attention -- that's for sure! Great quality too.

Just Like the Picture
By
Karlyn E.

(Ogden, IA) - October 2, 2009 (
See all reviews by this customer
)
I loved the fact that you could preview exactly what your personalization was going to look like before actually placing the order. The baby gift looked exactly as it did online. I'm happy to be able to give this gift to my new baby cousin!

Beautiful set...size is 0-6 mo, not newborn
By
wendy T.

(Richmond, VA) - March 28, 2014 (
See all reviews by this customer
)
Love the set, looks great. I doubt it will fit her when she comes home though. Will work great for pics in a few months~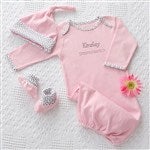 Good quality
By
Shopper

(Shawnee, KS) - February 3, 2014
A little disappointed in how the outfit was wrinkled due to the small packaging.
Good quality! Loved by the mom to be!

She is going to be so cute for her first pictures into the world!
By
Shopper

(Keizer, OR) - May 1, 2012
A little costly, worth it for my keep sake item for my little girl.

Lucia's gift
By
Shopper

(tampa , FL) - April 22, 2012
Very good all around service and product. Cost too high though

welcome home baby gift set
By
lois M.

(brookhaven, PA) - January 21, 2011 (
See all reviews by this customer
)
Quality is slightly less than expected ,but the items are cute.

Didn't know it was an "iron-on".
By
Destiny T.

(Houston, TX) - April 7, 2010 (
See all reviews by this customer
)
This outfit is adorable and I can not wait to bring my baby home in it! BUT I did not realize when I was "personalizing" her outfit, it is simply an iron-on piece with her name on it. That was disappointing -- I thought it would look more professional, not like something I can do at home. And I am afraid when I wash it, it will crack and split up because of the plastic iron-on.

Cute
By
Amy R.

(Fort Campbell, KY) - March 2, 2010 (
See all reviews by this customer
)
It is a very cute set, but it really is only an iron on transfer. I was hoping for more of an embrodiery detail for the price. I had read mixed reviews so I wanted to see for myself. Really is iron-on, but still cute! Those who are creative/artsy could probably do this on their own.

A Little Disappointed
By
Rosalena B.

(Vidor, TX) - April 27, 2012 (
See all reviews by this customer
)
Love the outfit but the only disappointment is I hoped her name would be embroidered on and not an ink type material that when I wash It may go away!! Other than that cute outfit!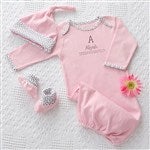 not great
By
Sandra K.

(Harrison, OH) - January 6, 2010 (
See all reviews by this customer
)
Though the item was cute with the personalization and all, the quality of the fabric wasn't great and probably wasn't worth the money spent.

I'm conflicted
By
Lisa P.

(Crystal, MN) - February 27, 2012 (
See all reviews by this customer
)
Arrived at my home in record time, BUT when I opened the box I was pretty dissapointed in the outfit. First of all, it was all bunched up inside the box and really wrinkled. Secondly, the name was not crisp, there was blurring around the edges of the letters, not enough to ruin the outfit, but it's definately there. Not horrible but not great either.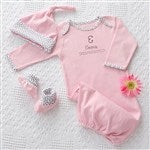 Iron On
By
Stacy O.

(Drums, PA) - March 20, 2010 (
See all reviews by this customer
)
I agree with the last two posts. It was very disappointing to see that the personalization of the name was an iron-on transfer. For $40, I thought it would be embroidered or printed directly on the outfit. I could have done this myself with an iron-on application from a craft store and saved the money. It came in very cute packaging and the outfit overall was nice but I am very disappointed about the iron-on decal. It should be noted in the description.

How do you know exact size?
Please advise me on the actual size of this outfit? I contacted the website and they couldn't tell me. So i am a lil skeptic on ordering. The baby will weigh around 6 lbs when born in 3 weeks, can anyone advise me if this will be too big? Thanks!

disappointed
By
Shopper

(arley, AL) - January 28, 2013
I have ordered a total of 3 of these over the years. The last one was for my soon-to-be daughter. The trim on the collar and sleeve was less than black in color (faded gray looking) whereas the others definitely matched the black dots on the personalization of the gown. I contatcted customer support about this and they wanted me to send pictures to them showing the faded color. When I took the picture with my iphone, they picture did not accurately show the faded dots. Disappointed with this one...

personalization is an IORN ON patch
By
Peggylynn C.

(Hope Mills, NC) - February 12, 2010 (
See all reviews by this customer
)
I purchased this item for a babyshower--- I received it yesterday and come to find out that it is an IORN ON sheet that was printed w/ the babys name and iorned on to the outfit.. For the price that I paid I expected something more.. not a big square patch that was iorned.......... I really don't want to even give it as my gift now.. I also purchased two other items and the same result.. IORN ON............