Nice quality
By
Shopper

(Twinsburg, OH) - April 26, 2011
The mouse pad came and it was almost what I expected. The yellow wasn't as bright as I expected it to be. Plus the website didn't state what the material was of the mousepad so I wasn't sure what I was going to get. Overall though very nice gift. Came in an awful smelling bag...but the item itself was great! Can't wait to give it to my hubby for his graduation!

Great!
By
Shopper

(Colorado Springs, CO) - March 10, 2011
I purchase this mouse pad for my hubby, he love it! specially when he saw one of his favorites quote printed on it! Good prices, Great quality! Thank you!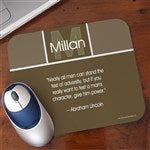 Great for Bosses!
By
Shereese C.

(Indianapolis, IN) - December 31, 2010 (
See all reviews by this customer
)
I used this mouse pad as an opportunity to showcase some of my boss' most common and memorable statements. I put her name across the top and then chose five of her most unforgettable quotes for the main area and presented this mouse pad to her during the team Christmas lunch. She absolutely loved it. It nearly brought her to tears - not sure if that was because the gift was so thoughtful or if she was just ecstatic to see that her team has actually been listening to her! There are so many possibilities with this mouse pad and the fact that it's nice and durable makes it perfect for anyone. Great gift idea!

Good buy
By
Kistina M.

(Cleveland, OH) - December 9, 2010 (
See all reviews by this customer
)
I did enjoy this product and thought it was very nice and elegant but I would like to have had more freedom to maybe add a photo on this design with the same display, just smaller words. Other than the few limitation, it was a great purchase and am happy to have it.

Great looking!!
By
Marina G.

(Carrollton, TX) - November 29, 2010 (
See all reviews by this customer
)
Wow, what style & quality! The fact that I included my own quote, made it that much more special to see it in print. Love it!

Graduation Gifts or General Gift
By
Charlene A.

(Mason, OH) - May 25, 2010 (
See all reviews by this customer
)
I like the Mouse Pad, good quality, and I think it is a nice personalized gift for anyone, especially students who are going to college or a personalized gift for at-home or office use.

Great gifts
By
Chris B.

(Eufaula, AL) - May 18, 2010 (
See all reviews by this customer
)
The mouse pads were exactly as I had hoped. They will make great gifts. CB

Mouse Pad
By
Deb F.

(Winnebago, IL) - March 20, 2010 (
See all reviews by this customer
)
Everything was great,except....It had a strange "smell", I was almost embarrased to give it as a gift.

looks and feels great
By
Alessandro P.

(Cliffside Park, NJ) - December 20, 2009 (
See all reviews by this customer
)
Excellent construction. This isnt one of those flimsy mouse pads like other companies offer. The quote was a little bit crook-ed. Which should be fixed. Great overall.

lousey gift box.$2.50 box that was to be sent via the mail that had to com
By
Leroy V.

(Washington, NC) - March 19, 2012 (
See all reviews by this customer
)
Disappointment and expensive for gift boxes @ 2.50 that had your logo and could not be sent via mail. will not opt for boxes ever.

Wrong quote
By
Shopper

(Frostburg, MD) - January 1, 2012
I must say I liked the mouse pad that I ordered but the wrong quote was put on it. Maybe if there was a way to block out the quote number if you are going to write your own quote that would help in the future for making a mistake. Otherwise I liked the product.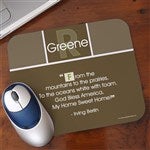 Nice enough!
By
Shopper

(New York, NY) - August 14, 2011
Great for personal office gift!

Mouse pad
By
Gloria Yvonne A.

(Chicago, IL) - December 28, 2009 (
See all reviews by this customer
)
Little disappointed in the Letter accross the front of the name. Colors blended in.