Very pleased
By
Shopper

(Grand Island, NY) - March 9, 2013
Great product, very heavy and feels expensive. I was pleasantly surprised.

Slate Plaque
By
Donald T.

(Independence, OH) - February 13, 2013 (
See all reviews by this customer
)
Beautiful quality piece made a excellent house warming gift.

good quality
By
terry B.

(plainfield , IL) - January 8, 2013 (
See all reviews by this customer
)
elegant

Very nice!
By
Brenda M.

(Canal Winchester, OH) - December 29, 2012 (
See all reviews by this customer
)
This is a great plaque. Great value. It turned out better than I had hoped and looks much better than on website. Very sturdy & heavy.

house number personalized slate plaque
By
Brian N.

(Bay City, MI) - December 21, 2012 (
See all reviews by this customer
)
We have been looking for a long time for something to place on our newly sided house and when we found this item we new it was the one. After we recieved the item we could not believe the quality. We love this item - it proudly hangs on the front of our house for everyone to see.

Perfect marker
By
Shopper

(Pittsburgh, PA) - December 17, 2012
This sign is sturdy and classic

Recipient Loved It!!
By
Shopper

(Broomfield, CO) - October 13, 2012
Although I did not receive the actual product as it was a gift for my mother, she absolutely loved it. She said it is perfect! They are very pleased and would definitely recommend it.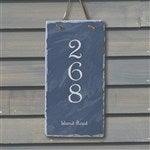 Perfect!
By
Martha S.

(Warminster, PA) - July 24, 2012 (
See all reviews by this customer
)
This item is exactly what I was hoping it would be. Better than picture and much nicer finish than expected. I would recommend this House Number Slate Plaque to everyone. It also would make the perfect gift. I am extremely pleased with my plaque.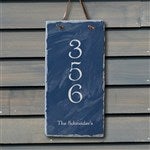 Great looking plaques-quick service
By
Leslie L K.

(Ridge, NY) - June 17, 2012 (
See all reviews by this customer
)
I ordered 2 plaques for my condo both of which I hung outside by my front door and back patio doors. They are lovely ... just what I wanted. Everyone admires them and asks where I got them - I refer them to your website. They add a touch of class to my home which is important when living in a condo community because everyone's place looks the same. The black with gold lettering I hung in the front with my street address and my full name and the green with gold I hung with the condo number only by the patio area. I don't know how they will hold up in the elements but I am about to find out! Thank you.

Classy, unlike others, worth the $$
By
Shopper

(Oshkosh, WI) - June 10, 2012
I was looking for an address plaque that was different than the average for my house. Loved the way this looked and it was just as I ordered it. Nice quality. I think I may have to replace the leather hanger b/c I think the sun with dry it out so looking for something more sturdy to secure just in incase. Husband said a thin wire cable of some kind.

great quality!
By
Shopper

(Nevada, MO) - November 30, 2011
I purchased one of these as a housewarming gift to a friend. It was beautiful and the quality was outstanding! Better than I expected.

It's Perfect
By
Shopper

(Asheville, NC) - July 22, 2011
I had a problem finding a product that could accomodate my address, which contains a fraction (I must have the last 1/2 address in the US, because no vendor had a product that could show that.) At last I found PersonalizationMall.com and and the beautiful slate plaque. I really wanted it so I called their Customer Service number. They were able to get my address on the plaque and it is perfect for my little duplex. The number is easily seen from the street. The color is such a natural one (I got the blue) that it will work no matter what Arts & Crafts color I paint the house. I highly recommend both the specific product I bought and the customer service I received.

Very pleased
By
Carolyn M.

(Saint Charles, MO) - May 20, 2011 (
See all reviews by this customer
)
The plaque is exactly what I was looking for. Much more unique than standard house numbers. I removed the rope and used screws in the holes.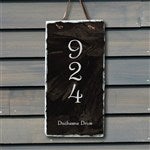 Just what I was looking for
By
Shopper

(West Roxbury, MA) - May 14, 2011
Looking for the final touch to complete my enclosed entry way. This was it! This piece is of high quality at an inexpensive price -- I've gotten a lot of compliments since adding it.

Exactly what I was looking for
By
Nicole S.

(Amherst, MA) - May 2, 2011 (
See all reviews by this customer
)
My husband and I spent a great time looking locally for a simple sign for our house without any luck. I then happened upon this website and sign. It's exactly what I was looking for. It's simple and clean looking; not over done or too "cute" like many signs I saw. Just a very nice way to enhance the entry way to our home. The quality is great for the price.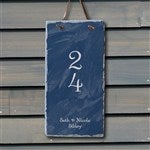 Quality Item
By
Shopper

(Redwood City, CA) - March 5, 2011
The plaque was a bit bigger than expected and the quality was better than expected, as usual..great service from Personalization Mall.

more than pleased
By
Kristie V.

(dyer, IN) - October 28, 2010 (
See all reviews by this customer
)
Our family address plaque is more beautiful than I imagine, especially for the cost. The colors are perfect for our front door area. It is quite heavy, but looks beautiful now that I found a bigger nail.

Great!
By
Cassie B.

(Clarksburg, MA) - July 29, 2010 (
See all reviews by this customer
)
Looks great! and Price is great! Looks like I spent more than what I really did!

loved it
By
Darlene L.

(Manchester, CT) - July 26, 2010 (
See all reviews by this customer
)
it's a lot nicer then i expected and for the price it was great!

Lovely
By
Holly P.

(Fair Grove, MO) - June 23, 2010 (
See all reviews by this customer
)
The color combination & style are just lovely for our home!

Looks Great!
By
Sara N.

(Schenectady, NY) - April 12, 2010 (
See all reviews by this customer
)
As much as I liked the rawhyde rope to hang the plaque, the wind would have carried it right off the house...so we used screws to attach it to the siding thru the existing holes and it looks great! The entire plaque is glazed so it's very easy to clean. The item was also packaged very securely...after watching the delivery person drop it on the ground, there was no damage!

Address Plaque
By
Priscilla H.

(Orange Lake, FL) - March 15, 2010 (
See all reviews by this customer
)
I received my address plaque in a timely manner and I just love it. I ordered the black with silver writing, it definately met my expectations. I would recommend this to anyone, you would not be dissapointed.

my best friend loved this...
By
Andrea T.

(New York, NY) - February 1, 2010 (
See all reviews by this customer
)
i bought this for my best friend who just bought a new home...she absolutely loved it!! I got her the chocolate and gold combo, she said it was gorgeous! Woulh highly recommed this as a housewarming gift :)

Exceeded Expectation
By
myrna S.

(Doral, FL) - December 30, 2009 (
See all reviews by this customer
)
Writing from Kingston, Jamaica. I had been eyeing this product for months. Finally I placed my order. When the item came I was delighted to find that it looked better in person. I was pleased to find that the surface is smooth and beautiful. I am pretty sure it will be different from all other address signs in my community. Absolutely thrilled. If I weren't so selfish, I would give one as a gift...not a chance:).

excellent housewarming gift
By
Geraldine T.

(Fort Myers, FL) - October 2, 2009 (
See all reviews by this customer
)
Recipient is so elated to receive such gift. Very reasonably prices and good delivery service.