Yard Magnet
By
Peggy I.

(Afton, VA) - August 2, 2012 (
See all reviews by this customer
)
I really like the yard magnets from Personalization Mall. I am hoping though that the magnet does not fade over time like my other magnets have...

Address marker
By
Jack K.

(Ronkonkoma, NY) - May 14, 2012 (
See all reviews by this customer
)
This sign is very nice, but the only thing I didn't like too much is that the address part is just on y magnetic hold. I would prefer one where the face was permanent, other than that it is beautiful and does a nice job in front of my house.

Features I liked and didnt like
By
Shopper

(Midland, MI) - December 15, 2011
I loved the look of the stake and magnet. Very pretty. I was however a little dissapointed that the stake was so short (we will have to find something to extend the stake to make it taller) and the plack part was a little smaller that I thought it may be. But over all I was happy with the product and will be ordering again.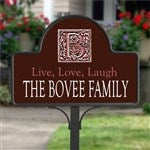 MONEY PIT SIGN
I would just be careful with choosing colors....white lettering will no longer show up as the background fades.....otherwise I loved the sign....it added a nice humble abode touch to my home....also I put a solar spot on it and it shone up just fine....would order again....sometimes the magnetic part would not stick after awhile...I took some glue and stuck it back down and that worked...

"You get what you pay for"
By
Shopper

(Holden, ME) - June 21, 2011
We like our sign. It was done accurately, and is very tasteful. We were looking for a low cost alternative to a custom made sign. The first day we put it out was raining and the bottom edge of the magnet lifted due to the moisture getting under it. Once it dried out it has been fine. Very nice looking.

Nice Touch
By
Shopper

(Wausau, WI) - May 31, 2011
I really like this little magnetic sign and post but I was disappointed that the monochromatic color above the white text is very difficult to read or see, especially if you're not right on top of the sign.

Yard Stake
By
Shopper

(Powder Springs , GA) - May 22, 2011
This was a gift for my parents. They loved it !!

Attractive touch
By
Shopper

(Franklin, TN) - February 28, 2011
This sign lends an attractive touch to the front of our Condo, and allows people to distinguish ours from the neighbors.

Nice, but...
By
Shopper

(SACRAMENTO, CA) - February 26, 2011
Very nice product. My only complaint is that there not enough contrast, and the letters and numbers fade into the background (we got the green one). Great idea, though.

Cute.cute.cute
By
Debbie H.

(McMinnville, TN) - December 16, 2010 (
See all reviews by this customer
)
I am happy with my purchase of the floral yard stake. The
monogram/personalization is on a magnet allowing you to not be stuck with only one design. I like having the ability to change with the season or even a special event! I recommend this product!

Letter hard to see but good sign
By
Tim T.

(Southern Pines, NC) - July 27, 2010 (
See all reviews by this customer
)
I thought it was going to be bigger. The monogram letter is hard to see, i.e. blends in with the picture. The first line is a bit small. If I get another sign I will make the address the second line. The second is big enough to see from the road.

Very well made
By
Frank F.

(Lemont, IL) - December 15, 2009 (
See all reviews by this customer
)
I thought this item was exactly as it was pictured on the website. Large enough to see from a distance and well made. The magnet is high quality and seeing it in person prompted me to order two other magnets to use with the yard sign. This will be a perfect first Christmas gift for my daughter and son-in-law to use in their new home.