Yard Stake
By
Shopper

(Powder Springs , GA) - May 22, 2011
This was a gift for my parents. They loved it !!

Attractive touch
By
Shopper

(Franklin, TN) - February 28, 2011
This sign lends an attractive touch to the front of our Condo, and allows people to distinguish ours from the neighbors.

Nice, but...
By
Shopper

(SACRAMENTO, CA) - February 26, 2011
Very nice product. My only complaint is that there not enough contrast, and the letters and numbers fade into the background (we got the green one). Great idea, though.

Cute.cute.cute
By
Debbie H.

(McMinnville, TN) - December 16, 2010 (
See all reviews by this customer
)
I am happy with my purchase of the floral yard stake. The
monogram/personalization is on a magnet allowing you to not be stuck with only one design. I like having the ability to change with the season or even a special event! I recommend this product!

Letter hard to see but good sign
By
Tim T.

(Southern Pines, NC) - July 27, 2010 (
See all reviews by this customer
)
I thought it was going to be bigger. The monogram letter is hard to see, i.e. blends in with the picture. The first line is a bit small. If I get another sign I will make the address the second line. The second is big enough to see from the road.

Very well made
By
Frank F.

(Lemont, IL) - December 15, 2009 (
See all reviews by this customer
)
I thought this item was exactly as it was pictured on the website. Large enough to see from a distance and well made. The magnet is high quality and seeing it in person prompted me to order two other magnets to use with the yard sign. This will be a perfect first Christmas gift for my daughter and son-in-law to use in their new home.

A little small
By
Shopper

(Leonia, NJ) - September 9, 2013
The metal post is of good quality and easy to push in the ground. The sign itself is a little smaller than expected. This sign would best be used as a garden sign instead of an address welcome sign in the front of your house.

size a problem
By
calvin K.

(port st.lucie, FL) - October 5, 2012 (
See all reviews by this customer
)
a bit too small. three to four in. larger would be perfect.

Doesn't stay in place
By
Dena S.

(Ashland, MO) - June 23, 2011 (
See all reviews by this customer
)
This product looks nice and is a great center piece in my flower bed. However, the moment the wind blows or it starts to rain the magnet blows away or falls off. We have been lucky we were able to find it after a few storms. If you buy this you will need to have something else besides the magnet to hold it in place.

Magnetic Yard Sign
By
Judi F.

(Pittsburg, KS) - October 7, 2009 (
See all reviews by this customer
)
I love the sign (holder), but this particular color combo doesn't really show up well enough for my liking!

It would be better (for me) if the customer were able to make the color selections for the background as well as the color of the design!

Not quite as expected
By
Shopper

(Gainesville, VA) - June 16, 2013
The product is a good size and sturdy. I must admit that we were disappointed that the personalized face is only a sticker. Ours had bubbles that could not be smoothed out. Guess I was expecting a bit more for the price. Looks good from a distance, but would not buy another or give as a gift.

Yard stake with magnet
By
Harry W.

(Shamokin, PA) - August 31, 2012 (
See all reviews by this customer
)
Yard stake and the monogram lettering should be double in size. Monogram and height makes it almost impossible to place outside where it can be seen.

Great at first...
By
Shopper

(Bethpage, NY) - December 7, 2011
this item was great at first, however the graphics faded to white after a little less than a year.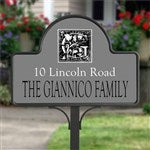 Floral Monogram Yard Stake Magnetic Graphic Only
By
Fred G.

(Bethpage, NY) - November 16, 2009 (
See all reviews by this customer
)
Magnetic graphics offer an adequate selection of styles and colors. I would like to see more color selections as the current choices seem to blend in with landscapes and get lost. My biggest problem is that the image fades. Example: the pretty Spring/Summer Tulip graphic faded badly. I was hoping to build a selection for all seasons, however, after 1 season, the graphic faded so much that it is hardly ledgible, much less re-usable. If UV inks and/or coatings are used this problem would not exist. If they are used...they are not working! I've ordered a new non seasonal Magnetic Graphic...I hope it does not fade through the winter.

Disappointed
By
Shopper

(Townville, PA) - November 30, 2011
Within two years, this item was totally faded and unrecognizable. When contacted, customer service recommended repurchasing it. What was intended as a nice housewarming gift didn't last as expected!

The Magnet doesn't stay on the base
By
Shopper

(Graysville, TN) - July 8, 2011
Looks good, but the magnet doesn't stick to the yard stake. The stake is good quality, and its a great concept, but they need to find a better quality magnet for the insert.