Beautiful
By
Shopper

(Parker, CO) - September 5, 2011
Beautiful bowl!!! Love the size!!! We bought this for a wedding gift and loved it when it arrived (and so fast too!). We know our friends receiving it will just LOVE it too! Thank you so much for doing a great job.

Great quality
By
Ashley J.

(HAMPTON, VA) - July 24, 2011 (
See all reviews by this customer
)
I gave this to my Mother as a popcorn bowl, and she absolutely loved it. Great quality. Great purchase!

Great gift item
By
Shopper

(East Longmeadow, MA) - June 6, 2011
This bowl is very heavy and nice. My friend loved it! Perfect gift. I really hope that the design holds up with washing.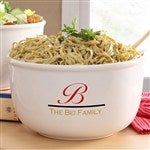 Love it!
By
Chelsea A.

(Oxnard, CA) - June 8, 2010 (
See all reviews by this customer
)
I purchased this for my husband and we are both thrilled at the quality! It turned out so great and got here so quickly! I am so glad I found this site and hope to use it for future occasions.

I learned to read the small print....
By
Lynne Z.

(Carrollton, IL) - February 12, 2010 (
See all reviews by this customer
)
Love the size of the bowl! Daughter bought for Dad as a birthday gift for use as an "ice cream" bowl. Yes, he eats an enormous amount of ice cream! lol But, ole Mom failed to see the small print on the bottom of the bowl stating NOT to put it in the dishwasher... hand wash only. The entire monogram "melted" off and was now a plain bowl. Re-ordered and no more dishwasher! The bowl itself is deep, heavy and perfect. I gained another perfect mixing bowl and Dad got his ice cream bowl replaced! ; )

GREAT BOWL
By
Elaine A.

(Warwick, RI) - December 7, 2009 (
See all reviews by this customer
)
This is a terrific bowl. It is deep and will hold lots of goodies such as spahetti, salad or any other large quantity food item. It is sturdy and looks quite elegant on the table.

A winner!

Great Customer Service/Love the bowls also
By
Stacy M.

(Katy, TX) - October 5, 2009 (
See all reviews by this customer
)
I ordered two of these bowls for gifts inwhich each was personalized differently. One of the bowls arrived broken in several pieces. When I called your site they asked a few questions and said they will send me another right away. I asked if I had to send the broken one back and they said no, throw it away. It was wonderful customer service and I will surely order from your site again. The bowls are the perfect size and beautiful. I want one for myself now. Thank you.

Bigger than expected.
By
elizabeth S.

(phoenix, AZ) - March 19, 2013 (
See all reviews by this customer
)
This bowl was bigger than expected. I bought it as a wedding gift and had it shipped to the bride before the wedding. I was surprised to see it used at the wedding reception. :-) this bowl would be great for chips or salad because of it's size.

Super Cute- nice big bowl
By
Shopper

(Saint Louis, MO) - October 22, 2012
Excited to give this as a gift. :-)

Nice appreance
By
Natisha H.

(Ft. wayne, IN) - June 2, 2010 (
See all reviews by this customer
)
I ordered this as a wedding gift and the personalized wooden spoons on this site to go with them.The bowl is a great size and would fit a large salad nicely.The bowl arrived promptly and packaged nicely for safe travel. I gave this iteam a 4 instead of a 5 because the "monogram" on the bowl is some kind of sticker and not monogramed right onto the bowl. Im not sure how it will hold up to washing or peeling. The bowl looks really nice and elegant/fun,I hope it wears well and dont peel. All in all it was a great product for the money, not sure if I would buy it again. I'll check with the wedding couple on down the road and see how its holding up!! :)

Personalized Serving Bowl
By
Teresa P.

(Maple Lake, MN) - November 27, 2009 (
See all reviews by this customer
)
Good quality heavy duty serving bowl. I loved the personalized lettering. One problem, a small chip on the enamel above the lettering on the rim. I don't think it's typical.

Just a design suggestion...
By
Darlene B.

(San Diego, CA) - October 12, 2009 (
See all reviews by this customer
)
I thought from the picture that the line under the initial was a deep green color which I think would be more attractive than the black. All in all, it does look attractive and seems to be of good quality. For durability I would prefer it could be dishwasher safe.

Not as pictured
By
Michelle M.

(Chatham, IL) - April 12, 2011 (
See all reviews by this customer
)
Had wanted this for months and was disappointed when I received my bowl. It is not bright white but a bone color, which kept the monogramming from really "popping" like in the picture. Also, the bowl is not as tall as pictured and there is not as much space above or below the monogramming, and the monogramming seems hidden by the lip of the bowl. You have to bend down or pick the bowl up to see the monogramming. Which is fine as long as whoever picks it up doesn't spill whatever is in the bowl on themselves! Have loved everything else I have ever gotten from Personalizationmall - too bad this one did not turn out the way it looked in the picture.

Monogram isn't a monogram
By
susan H.

(The Woodlands, TX) - January 30, 2010 (
See all reviews by this customer
)
I have always been thrilled with the many purchases I have made through personalizationmall.com, until I received this bowl. At first glance, it looks great, however, the "monogram" is just a clear sticker. You cannot wash the bowl, because the sticker comes off and then you have a plain white bowl.