Hilarious
By
Tara M.

(Dyersburg, TN) - May 10, 2013 (
See all reviews by this customer
)
I bought this for my husband and I put a nickname of his on it. It is absolutely hilarious and he loves it. Haven't used it much yet but it appears to be good quality and looks nice.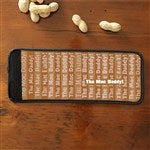 personalized can wrap
By
Shopper

(Ashland, MO) - February 9, 2013
These turned out really nice. I was hoping for some other colors though. The blue was too feminine so the only color I could get was the black and it's a little dark. It will probably be better in the long run so it won't show dirt as much though. Overall, I really liked them just would like a darker blue option.

Small Type
By
Shopper

(Hilton Head Island, SC) - September 9, 2012
This bottle wrap is cool but the writing is not as bright as I would have liked. The font is small and the color is almost faded. The overall quality of the product is very good and it shipped very fast!

Q z
By
odett G.

(san diego, TX) - July 14, 2012 (
See all reviews by this customer
)
Good

Good product
By
Shopper

(Mount Orab, OH) - January 1, 2012
Good idea, he will use it and since it has his name all over it he will never loose it. Cute stocking stuffer.

Great gift idea
By
Tawny D.

(North Las Vegas, NV) - December 29, 2011 (
See all reviews by this customer
)
I got these for some cousins for Christmas and they all liked them very much. It was a nice way to give something special with out breaking the bank. I got wat I paid for.


Loved the art!
By
JUDITH O.

(SAN JUAN, PR) - June 23, 2011 (
See all reviews by this customer
)
The product is good for price, but what I loved more was the personalized art. It looks exactly as the picture! The wrap is a little bit larger than can size.

beer huggies
By
Melinda M.

(O fallon, IL) - December 27, 2010 (
See all reviews by this customer
)
Did like the way they came out & the recipient seemed happy to get them. Wish they didn't cost so much or would have gotten more but it was great didn't have to wait weeks to get and got in days so quick thanks!

Very nice
By
Christy C.

(Indio, CA) - July 13, 2010 (
See all reviews by this customer
)
My daughter and I each got our own personalized drink huggie. We love personalized things and we love soda! The only thing that could have made it better for me, and I would have given it 5 stars is if you could freeze them so the drinks would stay a bit colder as you're drinking them. Now that would have put this item over the top!

personalized huggies
By
gerard D.

(newport, RI) - March 11, 2010 (
See all reviews by this customer
)
Very good, could use more characters for longer sayings, messages

Great Koosie!!
By
Amanda S.

(Pompano Beach, FL) - February 17, 2010 (
See all reviews by this customer
)
These are a great idea and I love how your personalization is throughout the whole koozie. I was also pretty surprised at the high quality of the back side of the koozie. The drink WILL NOT slip out at all and that was my only worry. The only thing I wish was a little different is the size of the main font. I wish it was just a little bigger. But other than that, it's great and the gift was a HUGE hit!!

awesome!
By
christina C.

(port chester, NY) - December 15, 2009 (
See all reviews by this customer
)
I have always been looking for a way to personalize coozies for our annual trip to the Keys with our friends, but I only needed four of them and all the other sites and stores had very high minimum order requirements or were simply too expensive to justify for a fun gift. So I had given up on the idea until I randomly came across this site and featured item. I ordered four, each in a different color and they arrived within days. They looked exactly as they appear in the picture and I am very happy with them. My only complaint is that they are not a real coozie without a bottom to truly insulate your beverage. That is why I had to give it 4 stares and not 5. But hey- beggars can't be choosers.

Personalized huggie
By
Sherine T.

(San Antonio, TX) - December 9, 2009 (
See all reviews by this customer
)
This product is great quality. I didn't rate it 5 stars because it could be just a little longer. It is basically for 12oz cans. Bottles don't fit as snuggly, they barely get around the bottle.

Very cute cozies
By
Joanne N.

(Orlando, FL) - October 20, 2009 (
See all reviews by this customer
)
I loved these cozies - great to make quick, easy and cheap personalized gifts for friends or family! The item was exactely as it appeared online.

Personalized drink wrap
By
Shopper

(Hilo, HI) - December 24, 2013
exactly what I ordered and better than what I expected. only thing is that the sewing could have been better.

Not as great as I would have liked.
By
Jennifer M.

(Fort Lauderdale, FL) - December 24, 2009 (
See all reviews by this customer
)
The colors are not vibrant enough (I ordered one of each). They looked kind of faded and almost like they were not professionally done.

IT ONLY COMES WITH ONE
THATS MENNED UP IT ONLY COMES WITH ONE