Best.....gift.....ever
By
Regina S.

(Austin, TX) - December 29, 2011 (
See all reviews by this customer
)
this is a beautiful piece that will last forever. The leather is high quality and the wording came out stunning. This was a gift to a family member whom reads a lot, I will be coming back for more.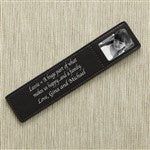 Ink seems flaky
By
Melissa D.

(Pleasant Hill, CA) - December 11, 2011 (
See all reviews by this customer
)
The leather seems like good quality, but the ink used is somewhat uneven. It's a little freckled in some letters, which makes it seem like it will flake off over time. It's decent for the price, but I probably would not buy it again in the future. We bought two, 1 with silver ink, 1 with gold, and I don't know if it made a difference, but the gold ink came out more even. Also, in the preview picture, it appeared that there would be about 3/4 of an inch of blank leather on each side of the writing, but the final product had the writing spaced out across the whole bottom part of the bookmark. That's not a bad thing, but it wasn't quite what we were expecting. But I LOVE the fact that Personalization Mall even has the preview feature, because other sites do not and it really is a great feature to have when you're trying to decide how to personalize a product.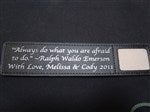 Love it!
By
Shopper

(Quartz Hill, CA) - October 17, 2011
Going with tradition I got this for my husband for our 3 year(leather) Anniversary gift! It turned out beautiful! So happy with my order... the inscription turned out very nice as well! Good quality product that I know will last forever!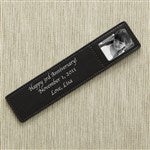 Retirement Gifts
By
Candice C.

(Fort Washington, MD) - June 22, 2011 (
See all reviews by this customer
)
This year, my department had a mass exodus of retirees as did my company in general. Over the years, I have developed personal relationships with each of these employees and wanted to get them each a gift. Since we work in a library, I thought what better gift to give than a personalized bookmark. So, I ordered four, each with different quotes and engravings,. I love the product! The lettering was professionally done and the leather looked wonderful. I am proud to be able to give each of these people a token to let them know that they are appreciated.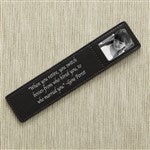 Product features that I like
By
Toni V.

(Rialto, CA) - June 12, 2011 (
See all reviews by this customer
)
The quality is very good. I am very happy with the workmanship of the leather and scroll work. This is going to make a great graduation gift.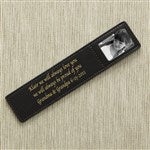 Crooked
By
Shopper

(Cleveland Heights, OH) - May 31, 2011
Very nice gift, came just the way I viewed it. HOWEVER, the lettering was crooked. Had I been more of a perfectionist, I would have sent it back and had them re-make it. Otherwise I really liked it.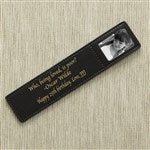 great
By
Shopper

(Boca Raton, FL) - February 14, 2012
great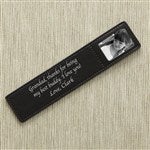 Nice, but printing may flake off
By
Erica S.

(Minneapolis, MN) - June 21, 2010 (
See all reviews by this customer
)
The bookmark itself is very nice and made of quality leather for the price. The only concern is that the personalized printing looks like it might flake off over time.

Font too big
By
Erika M.

(Holliston, MA) - December 9, 2010 (
See all reviews by this customer
)
It looked so cute online but when I opened it at home the font was huge. Very disappointed.

Flakey
By
Shopper

(Chesapeake, VA) - October 28, 2011
This is a nice gift for parents or grandparents, and I know that they will love looking at their grandson whenever they use it to read out of a book or their Bibles, but yes, it will flake off. For this amount of money, the company should have done a better job making sure the lettering was properly put on the bookmark.

Personalized Bookmark
By
Natalie P.

(Cohoes , NY) - June 23, 2010 (
See all reviews by this customer
)
This was a perfect gift for my intern who graduated in the education field. She loved it!

Great bookmark!
By
Shopper

(Post Falls, ID) - June 6, 2012
Loved the bookmark but the picture opening was quite small. It was tough to find a picture to put in it that looked good that small. I used it as a grad. gift for a good friend who loves reading and Justin Bieber.