awesome necklace
By
alisha G.

(new york, NY) - December 21, 2009 (
See all reviews by this customer
)
this necklace is one of the coolest i own. the font is really modern but not too childish and the sterling silver is really great quality.
i've gotten all great compliments every time i've worn it.

Delicate and Dainty
By
Yvonne E.

(Stone Mountain, GA) - May 13, 2013 (
See all reviews by this customer
)
I bought this necklace for my daughter-in-law and had both her name and my son's names added. The tags are delicate and dainty-not so large to imply vanity, not so small it can't be seen. This is the second purchase I've made from Personalization.com (the other was silver cufflinks for my son-he LOVES them!) and I am pleased with my purchases. I just wish that they had offered the same gift box option that they did with the cufflinks-I ended up using a ring box from another recent purchase to give the necklace to her.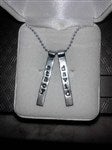 Name bar and chain
By
Cheryl L.

(Lakewood, OH) - January 28, 2013 (
See all reviews by this customer
)
I love, love, love my name bars. I got one with the names of my grand-daughter and grandson and wear them all the time. I love them so much. I have wanted them for some time but they were much more expensive at other places. I was so happy when I found them on your site at such a reasonable price. The only thing I did not care for was the chain. It was very chintzy/cheap looking. I took the name bars off and put them on another chain and am very pleased. I would recommend buying the name bars only and purchasing a sterling chain elsewhere. But I totally recommend the name bars - great value and exactly what you see! Shipping was fast and delivered exactly when promised.

cute!
By
Shopper

(Marietta, GA) - December 27, 2011
cute and dainty. great for tween and teens, too small for grown-up. perfect for girl we got it for!


great piece
By
Joelle D.

(Mountain Top, PA) - November 11, 2011 (
See all reviews by this customer
)
This is a great piece to wear and can be worn with all styles, I just thought it was a bit bigger that is why I only gave it the 4 stars. All your products are beautiful and I order over and over but this is the first one where I was hoping for a change to it.

Good--Wish there were more letters!!
By
Shopper

(Vacaville, CA) - May 28, 2011
I purchased this pendant as a gift for my friend, who lost her baby last year. I gave it to her on his birthday as a memorial she could wear. It was of the same high quality I've come to expect from Personalization Mall, which is why you are my go-to website for special occasion gifts. My friend loved it. My only issue is that there are so many common first names that are seven letters or more. The pendant looks like it could easily accommodate an additional letter. I would love to give more of these as gifts and have them for my own childrens' names, but need more letter space!!

name pendant
By
Debra C.

(Warwick, RI) - May 16, 2011 (
See all reviews by this customer
)
I really do like this alot with just a couple of exceptions. It is a bit small and does not accomodate long names

lovely necklace
By
Sharon R.

(Hamilton, OH) - November 30, 2010 (
See all reviews by this customer
)
The bar was a little smaller then I expected, but it is very nice in quality and I'm sure my granddaughter will love it.

Great gift for mothers and grandmothers
By
Kristin J.

(Maineville, OH) - August 25, 2010 (
See all reviews by this customer
)
I ordered this as a gift for my mother and had her grandchildren's names on the pendants. She absolutely loves it. I may end up ordering one for myself.

pendant
By
Jan B.

(Winnsboro, TX) - July 21, 2010 (
See all reviews by this customer
)
This is a sweet pendant that i purchased for my granddaughters. I was expecting it to be larger, but this will do just fine. If this came in a larger size (longer) longer names could fit on it. I have other granddaughters who would love this pendant, but their names would not fit on it.

pretty nice
By
katrina T.

(West Chester , PA) - June 16, 2010 (
See all reviews by this customer
)
I like the font (lettering) but wish the pendant was a little bigger, also wish there was an option for a longer chain.

Petite Necklace
By
Beatrice A.

(Burbank, CA) - March 17, 2010 (
See all reviews by this customer
)
Its very cute for a young teenage girl. The chain seemed a little short to me but I have not measured it to verify the 18".

Nice necklace
By
Gavin W.

(Benton, AR) - December 31, 2009 (
See all reviews by this customer
)
I like this necklace, but don't think it is worth the price. My wife liked it so that's why I got it. It is nice, but too much money for the product.

Teeny
By
Shopper

(Lincoln, RI) - June 15, 2013
It is very small. Cute to add to another pendant. Too small to wear alone.


Stamped Name Bar Pendant
By
Shopper

(CHARLOTTE, NC) - August 1, 2011
Product was smaller than I expected and the material seemed a little "light". I expected a more substantial product. Overall a good product.

leaves a bit to be desired
By
mary S.

(martinez, GA) - January 15, 2010 (
See all reviews by this customer
)
i was excited about this but when i received it, i was disappointed. the item looked like something that cost $14.95 instead of $34.95. the letters were not well spaced such that the last letter is squeezed in. love the chain.

Pretty but small
By
Leigh Ann C.

(Orange, CA) - January 6, 2010 (
See all reviews by this customer
)
This piece is pretty however it is quite smaller than I thought.

I gave this a 2 star BECAUSE.......
By
KellyAnn B.

(Mastic Beach, NY) - November 15, 2011 (
See all reviews by this customer
)
I gave this 2 stars because the letters are not spaced apart evenly. I got the name DEVIN. It was printed DE VIN. Like the E and the V are too far apart. It looks strange. I'm not sure what I'm going to do with this yet. I asked 2 people if they noticed anything about the necklace looking at it-they BOTH picked out the spacing. BUT if not for that I would have given it a 5. DONT GET ME WRONG, This is a cute necklace and worth the price. Im just disappointed because I'm a loyal PM customer and EVERY PERSONALIZED ITEM I BUY IS FROM THEM ONLY! I love this company! And this is the ONLY one I was let down about.

way too small
By
Tamara D.

(Country Club Hills, IL) - January 30, 2011 (
See all reviews by this customer
)
I knew it was going to be snap nut did not thing it was going to be 2 times smaller then my pinky finger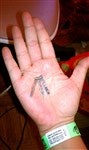 Name not so clear
By
debra F.

(summit hill , PA) - December 28, 2010 (
See all reviews by this customer
)
The picture on website is a little deceiving....
You can't really see name as clear. It looks like the name stood out more...almost as if it were written in black, but the actual pendant didn't look like that!

not what you would expect from PM
By
Shopper

(University Heights, OH) - December 18, 2013
This is not what I expected from Personalization Mall. The Engraving was tiny and the pendant looks dingy. I was giving this to my niece for her birthday and now I have to reconsider just because I don't feel like it is up to par. I should have read the other reviews.