Fantastic quality
By
Shopper

(Granger, IN) - December 6, 2011
We ordered personalized frames at gifts for our parents and they turned out fantastically. I will definately use this site again!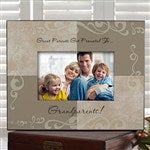 Fabulous frame for my friends!
By
Donna M.

(Decatur, IN) - November 29, 2011 (
See all reviews by this customer
)
This will be a beautiful, personal gift for my dear friends. I may order again as I need gifts!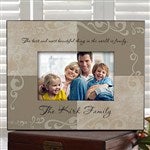 Fantastic!
By
Kay D.

(Ponca city, OK) - November 14, 2011 (
See all reviews by this customer
)
I received the picture frame and was so impressed.
I very well may be ordering another one this year.
I like the service and the quality is excellent.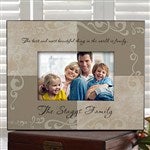 Beautiful gift
By
Samantha I.

(Bourbonnais, IL) - November 4, 2011 (
See all reviews by this customer
)
I actually customized this frame as a gift for my sister and included a sweet saying at the top and our names at the bottom. It looks beautiful and I know she's going to love it! It arrived looking exactly like the preview I had seen on this site and I was thankful to get exactly what I had hoped for. It's a gorgeous, excellent quality frame. I actually might return to make one for myself!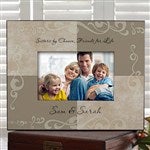 Beautiful Results - Family Sentiments
By
Sandra W.

(Vista, CA) - October 15, 2011 (
See all reviews by this customer
)
While personalizing this product and viewing/editing this purchase, I had no idea it would be this professional and very expensive looking when it arrived. The weight, size and finish is absolutely awesome. The writing is very professional looking. I went back and bought 3 more for Christmas presents.... I'm going back again for 4 more for presents before they're sold out!!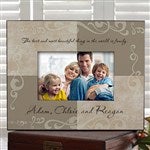 Better than I anticipated
By
Honey L.

(saint petersburg, FL) - October 2, 2011 (
See all reviews by this customer
)
The frame was actually much nicer than I anticipated. Something comparable to this item at some other retailers who personalize frames would be 3 times the price and not nearly as nice. I was truly impressed and I will definitely buy here again. A friend at work was so impressed she took the web address off the package and ordered something that day. Great!! Truly great!!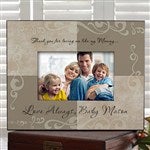 Great Gift
By
Shopper

(Fouke, AR) - September 26, 2011
Very pleased with picture frame!! Great gift for any occasion.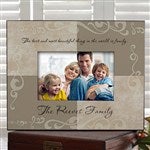 Better than expected
By
Mary T.

(Montgomery, AL) - August 6, 2011 (
See all reviews by this customer
)
Ordered several of these. Am very pleased with how beautifully they turned out. It was by far much better than expected. The pictures do not do this frame justice.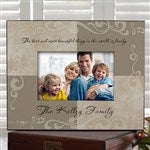 Great gift!
By
Shopper

(Baltimore, MD) - August 1, 2011
This frame was a gift for a 2nd marriage couple who didnt have a wedding. They loved the frame and it is awesome that you can make it say whatever you want!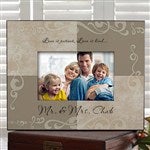 happybride
By
Katie P.

(Albuquerque, NM) - June 27, 2011 (
See all reviews by this customer
)
I ordered this frame for one of my bridesmaids and personalized it to honor our friendship over the years. The frame was shipped to my house in about 3 days and came in looking great and very professional. I'm really pleased with how it looks and I know that my friend is going to absolutly love it! I'm really loving this website, it's been great for all of my personlized wedding gifts!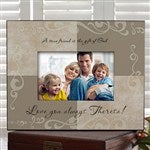 For my daughter
By
Lydia M.

(Fairfield, PA) - May 24, 2011 (
See all reviews by this customer
)
My daughter recently married into a family of 3. She loved this for the family wedding picture. I've not seen it but she said it was wonderful. Came incredibly fast.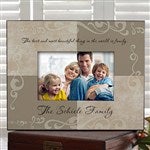 I'm Happy
By
Gail O.

(Boulder City, NV) - April 9, 2011 (
See all reviews by this customer
)
These are perfect and exceeded my expectations of quality and beauty. They're good quality, glossy finish, and perfect for gifts for my family reunion this summer.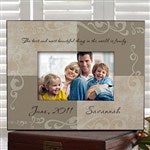 Great Retirement Gift....
By
Lynn S.

(Elgin, IL) - April 1, 2011 (
See all reviews by this customer
)
I purchased this picture frame for a good friend and co-worker who will be retiring. The frame is beautiful and my friend will get many years of enjoyment from it. The writing was nicely done and I put the company name and dates of employment on the bottom of the frame. I cannot wait to present it to her at the retirement party. I think it is very helpful that you can view the frame before you order it. I did make a few changes before I completed the order so it was perfect.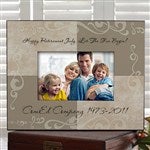 Love It!
By
Kathy L.

(saint mary, MO) - July 7, 2014 (
See all reviews by this customer
)
I purchased this after my grandson was born for my daughter & son-in-law. We are all very pleased. The quality and style are perfect. What a great gift when a second child arrives, or for any occasion.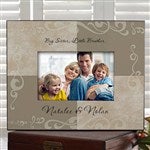 Love it!
By
Shopper

(San Diego, CA) - April 21, 2014
We ordered this personalized frame as a gift for family. I was extremely happy with the quality of the frame & the beautiful personalization. The recipients loved it. I would definitely order it again.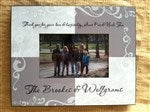 Lovely gift!
By
Shopper

(loveland, OH) - December 13, 2013
This was ordered for my 30 yr old daughter . She Loved it! Will order for others because it was shipped promptly too!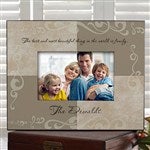 Beautiful Picture Frame!
By
Shopper

(Knoxville, TN) - November 30, 2013
This frame is even prettier than it looked online. Very nice quality and fast shipping.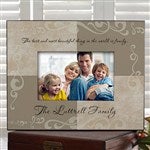 Great personal gift!`
By
karen M.

(Eureka, IL) - November 21, 2013 (
See all reviews by this customer
)
Love this picture frame as I have all of the frames I have gotten from your site. Your service is fast, the quality top notch and the entire experience wonderful!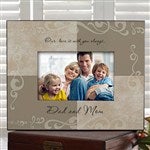 Family Sentiments Frame
By
Shopper

(Sacramento, CA) - May 23, 2013
I recently purchased the Family Sentiments Frame for a gift. It arrived promptly and was in perfect condition with the correct personalization! The quality of the frame is just beautiful. It's a lovely frame and makes a wonderful addition to anyone's home!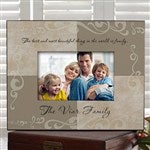 Looks better online!
By
Shopper

(SAINT MARTINVILLE, LA) - April 22, 2013
This item really looks good online but not so much in person. I was a little disappointed with this item as well. It seems that the overlay on the frame isn't even with the actual frame.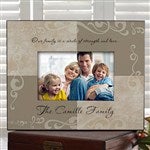 Family frame
By
Shopper

(Springfield, KY) - April 15, 2013
Frame was exactly as finished picture showed.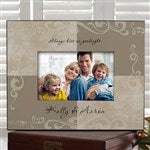 Thanks
By
Natalie B.

(Las Vegas, NV) - February 18, 2013 (
See all reviews by this customer
)
I purchased the frame for a friend and he simply loved the personalized note and meaning.Thank you so much for helping me send him something so special.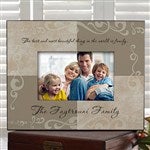 good quality
By
jose M.

(san jose, CA) - February 9, 2013 (
See all reviews by this customer
)
super nice !! and worth it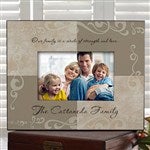 wonderful!
By
Shopper

(Greenfield, WI) - January 2, 2013
I was sick of paying 20.00+ for engraving frames at Things Remembered so I started looking elsewhere. After Pottery Barn provided me with a so-so engraved frame, I found this website. Awesome frame. Stylish and more contemporary than the old metal engraved frames!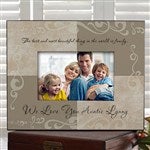 picture frame
By
Shopper

(burnsville, MN) - December 29, 2012
nice job and enjoyed the phonts too...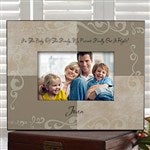 Excellent quality! Amazing price!
By
Tiffany Y.

(Lytle, TX) - December 3, 2012 (
See all reviews by this customer
)
Ordered this frame for friends of our family for Christmas. I am thrilled with the purchase! It is exactly as pictured, and I couldn't be happier! I am eager to buy one for myself! This is my first order from this site, and I am already ordering again! There are so many wonderfully personalized gifts to choose from. Love this site!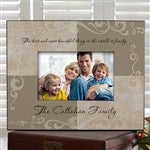 Maggoe
By
Dorothy W.

(Hemet, CA) - December 2, 2012 (
See all reviews by this customer
)
This was the first time I was evcr disappointed in my purchase. I have shopped many times and was always happy before. On the top line on the frame I chose to use the family sentiment but it is so small it is hard to make out. I wish I had chosen to use their names instead. They would have stood out more. I do like the way the family name is written.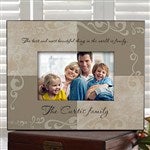 Beautiful Frame at a Reasonable Price
By
Shopper

(Maple Shade, NJ) - November 30, 2012
What a great price for a personal gift. This frame was even nicer than I expected and I am looking forward to giving it as a gift!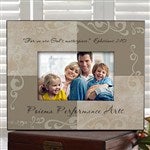 Personalized Photo Frame
By
Rose V.

(Cocoa Beach, FL) - September 11, 2012 (
See all reviews by this customer
)
This personalized photo frame is a big hit with the recipients...Thank you Personalization Mall!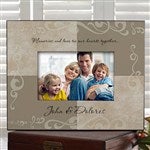 Love that I can use any wording for any occasion!
By
Shopper

(Evansville, IN) - September 5, 2012
Wow! This frame is beautiful! Looks great online and looks even better in person. Love that I could change all the wording to fit the picture going in this frame. I recently gained a sister-n-law and made this frame to fit us as sisters now. It's perfect. :)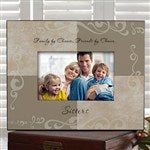 Happy Shopper
By
Shopper

(Wappingers Falls, NY) - August 6, 2012
I bought 2 of these frames...the first after I placed the order I thought of the better wording but it was too late to change it...so I had to order another one or I wouldn't of been happy with the gift...my advice to all is to try the wording a few different ways before you place the order...that's what is so great about this site...you can see what it looks like before you order it...I will surely practice what I preach from now on :))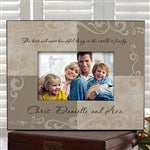 Love
By
Shopper

(Quincy, MA) - March 9, 2012
I adore this frame. It was wicked easy to personalize and it arrived in record time. I plan on using PersonalizationMall.com for gifts for family and friends.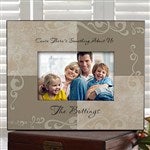 Beautilful
By
Amy W.

(Louise, TX) - March 2, 2012 (
See all reviews by this customer
)
I ordered this fram because I thought it would be a beautiful frame to put a family photo in, and it is great! I love it, and it came in quick and just how I ordered it.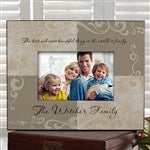 Great!
By
Shopper

(Spencer, IN) - December 31, 2011
My grandparents were extremely pleased with this item. The quality of the item seems to be excellent, and the personalization makes it unlike any other.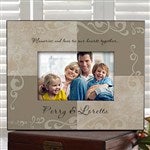 What a great value!!!
By
Madelaine E.

(Lemont Furnace, PA) - January 14, 2010 (
See all reviews by this customer
)
Bought this as a birthday present for my sister-in-law. What a beautiful frame and an awesome price!!! AND its personalized too! I think I'm going to order more for the rest of my family and hang onto them until their birthdays =) Thanks so much...I will DEFINITELY be ordering from Perosnalization Mall again!

Perfect
By
Lisa R.

(Dyer, TN) - January 5, 2010 (
See all reviews by this customer
)
This was a great gift for my aunt. She loved it. Looked exactly the same as it does in the picture!

Thoughtful
By
Awilda Lee O.

(Ramsey, MN) - December 28, 2009 (
See all reviews by this customer
)
I love this, I gave one to my daycare provider and some friends who are starting families! Super cute!

Very nice Quality
By
Connie M.

(Qulin, MO) - December 28, 2009 (
See all reviews by this customer
)
I was very pleased when I recieved the picture frame, very good quality. I will be ordering again from Personalization mall.com. I really like the way that you can see how the product looks after you personalize them, that way if you do not like how it looks you can change things around and look at it again.

Beyond my wildest expectations
By
Debbie W.

(St. Albans, WV) - January 4, 2010 (
See all reviews by this customer
)
I ordered two of these frames for each of my bosses. They were speechless and thrilled. Needless to say, that makes it a big winner for future gifts!

Awesome Frame!!!
By
Joy M.

(San Francisco, CA) - December 28, 2009 (
See all reviews by this customer
)
I really loved this frame! I gave one to each families and they all loved it. The frame was beyond the size I was expecting which was good, the smooth texture was really nice, and the writing was exactly like the sample picture they have shown which was great! Quality is great! Love it! Ten thumbs up!!! =)