Beautiful family gift
By
Shopper

(South Plainfield , NJ) - December 23, 2013
I brought this as a gift for my neighbor. I can't wait to give it to them.

The Frame is Beautiful
By
Lauren C.

(Wayne, NJ) - December 3, 2013 (
See all reviews by this customer
)
I was very pleased with this product. It arrived quickly, and looks beautiful. I would definitely order the Family Sentiments Personalized frame again as a gift.

Beautiful Picture Frame!
By
Shopper

(Knoxville, TN) - November 30, 2013
This frame is even prettier than it looked online. Very nice quality and fast shipping.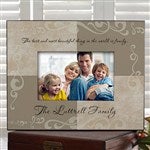 Great personal gift!`
By
karen M.

(Eureka, IL) - November 21, 2013 (
See all reviews by this customer
)
Love this picture frame as I have all of the frames I have gotten from your site. Your service is fast, the quality top notch and the entire experience wonderful!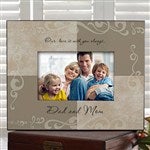 Wonderful Gifts
By
Sharleen B.

(Agoura Hills, CA) - November 12, 2013 (
See all reviews by this customer
)
What do you give for a baby shower when you prefer giving a baby gift after the baby is born? When I stumbled into your site, I had my answer. this was the perfect "family" gift. The photo can be changed to accommodate the addition of the growing family. The contemporary motif together with the warmth of the engraving will fit in any home design.

Beautiful personalized frame
By
Shopper

(Orefield, PA) - September 27, 2013
Quality of frame and engraving is very good. Purchased several of these and am pleased with the quality of this product. Frames arrived as promised. Short turnaround time.

They loved their family name on the frame
By
A N.

(Corona, CA) - September 3, 2013 (
See all reviews by this customer
)
This was a gift for my relatives that had their favorite sport and their name on the picture frame...they LOVED it! The quality of the photo frame was great, and I am pleased that my family enjoyed their gift so much.

Great quality
By
Kathy E.

(Parker, CO) - May 27, 2013 (
See all reviews by this customer
)
The frame is beautiful and I'm excited to give it to my brother - they are going to love it!

Family Sentiments Frame
By
Shopper

(Sacramento, CA) - May 23, 2013
I recently purchased the Family Sentiments Frame for a gift. It arrived promptly and was in perfect condition with the correct personalization! The quality of the frame is just beautiful. It's a lovely frame and makes a wonderful addition to anyone's home!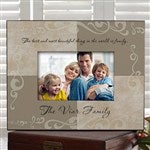 Family frame
By
Shopper

(Springfield, KY) - April 15, 2013
Frame was exactly as finished picture showed.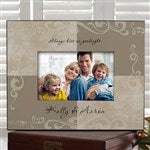 Thanks
By
Natalie B.

(Las Vegas, NV) - February 18, 2013 (
See all reviews by this customer
)
I purchased the frame for a friend and he simply loved the personalized note and meaning.Thank you so much for helping me send him something so special.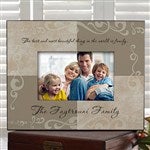 good quality
By
jose M.

(san jose, CA) - February 9, 2013 (
See all reviews by this customer
)
super nice !! and worth it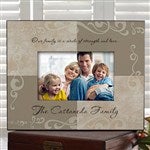 wonderful!
By
Shopper

(Greenfield, WI) - January 2, 2013
I was sick of paying 20.00+ for engraving frames at Things Remembered so I started looking elsewhere. After Pottery Barn provided me with a so-so engraved frame, I found this website. Awesome frame. Stylish and more contemporary than the old metal engraved frames!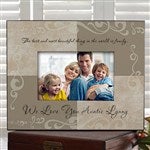 Special Family frame for Special Couple
By
Shopper

(Youngsville, LA) - January 1, 2013
Very satisfied! This was a unique gift for a special couple & new family. Peronalization was very easy & much quicker online ordering than dealing w/local merchants & kiosk personalization places that always disappointed me in the past w/delays, errors, long waits, long lines, etc. Hate the drive back & forth, too, during holiday rush! All my personized gifts online this holiday were EASY, quick, convenient, high quality, not at all expensive--& best of all--never left my house--delivered to my door! My gifts were all welcomed & graciously appreciated! I know they will be cherished for years to come & NOT regifted! Won't ever do personalized gifts any other way again! I especially loved all the quantity of gifts to choose from that most local places don't offer--including monogramming on blankets, etc.! Gave me more inspiration to gifts I wasn't planning before--allowed my Xmas shopping to be much simpler!

Looked great and arrived on time as promised!
By
Eileen M.

(LISLE, IL) - December 31, 2012 (
See all reviews by this customer
)
The frame was perfect! Plus it arrived in time as promised...would order this item again.

picture frame
By
Shopper

(burnsville, MN) - December 29, 2012
nice job and enjoyed the phonts too...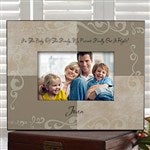 Versatile Frame
By
Ricki and David P.

(Fullerton, CA) - December 26, 2012 (
See all reviews by this customer
)
Nicely done, as usual. We had ours done for a group, rather than a family. When we ran into a little problem with delivery, customer service was superlative, as always!

Excellent quality! Amazing price!
By
Tiffany Y.

(Lytle, TX) - December 3, 2012 (
See all reviews by this customer
)
Ordered this frame for friends of our family for Christmas. I am thrilled with the purchase! It is exactly as pictured, and I couldn't be happier! I am eager to buy one for myself! This is my first order from this site, and I am already ordering again! There are so many wonderfully personalized gifts to choose from. Love this site!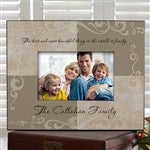 Beautiful Frame at a Reasonable Price
By
Shopper

(Maple Shade, NJ) - November 30, 2012
What a great price for a personal gift. This frame was even nicer than I expected and I am looking forward to giving it as a gift!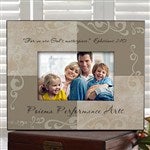 Great frame!
By
Shopper

(Fairview, OK) - November 25, 2012
Love this frame! Looks even better than the personalization preview. Very good quality. Packaged well in an easy to wrap box perfect for a Christmas present. Shipping was fast!

Great quality product
By
Shopper

(Louisville, KY) - November 21, 2012
Beautiful and nicely done - the personalization looked very professional and the frame looked very high quality.

I love this
By
Dawn B.

(Niverville, NY) - October 26, 2012 (
See all reviews by this customer
)
I love that I was able to customize the top and bottom. I am excited about giving this gift on Christmas.

Beautiful and speedy!!
By
Laura A.

(Stevensville, MT) - October 12, 2012 (
See all reviews by this customer
)
We ordered these frames, and they arrived quickly, and LOOK GREAT!! We love them and we loved that we were able to personalize them!

Personalized Picture Frame
By
Shopper

(Draper, UT) - September 21, 2012
The picture frame was shipped and received before the arrival date. The frame is good quality and I am thinking about buying more for Christmas gifts.

nice
By
Shopper

(Ogallala, NE) - September 16, 2012
Love

Personalized Photo Frame
By
Rose V.

(Cocoa Beach, FL) - September 11, 2012 (
See all reviews by this customer
)
This personalized photo frame is a big hit with the recipients...Thank you Personalization Mall!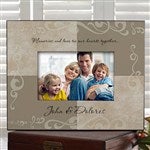 Picture Frame
By
Shopper

(minden, LA) - September 10, 2012
Loved the picture frame! It made a great gift!

Love that I can use any wording for any occasion!
By
Shopper

(Evansville, IN) - September 5, 2012
Wow! This frame is beautiful! Looks great online and looks even better in person. Love that I could change all the wording to fit the picture going in this frame. I recently gained a sister-n-law and made this frame to fit us as sisters now. It's perfect. :)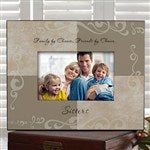 Happy Shopper
By
Shopper

(Wappingers Falls, NY) - August 6, 2012
I bought 2 of these frames...the first after I placed the order I thought of the better wording but it was too late to change it...so I had to order another one or I wouldn't of been happy with the gift...my advice to all is to try the wording a few different ways before you place the order...that's what is so great about this site...you can see what it looks like before you order it...I will surely practice what I preach from now on :))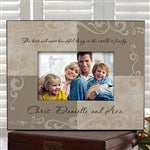 The perfect frame
By
Shopper

(Dublin, CA) - July 2, 2012
I wanted a personalized frame for someone who started a new job and was given their own desk. I loved the designs options that were offered, ordered the frame, received confirmation immediately and the frame was sent out within 2 days. Once I received it, it was even prettier in person. I would definitely order something from them again!

High quality, great price
By
Shopper

(Monrovia, CA) - June 26, 2012
I was pleasantly surprised at the quality of the frame that I purchased from personalization mall. Very nice product and a great price.

Housewarming Gift
By
Shopper

(Bradenton, FL) - May 15, 2012
I bought this as a housewarming gift for my friend and her family. She loved it. I also bought the "Her Heart of Love Personalized Cookie Jar." The quality is excellent. I can't wait to see it in her house.

Family frame
By
Shopper

(Oxford, CT) - May 1, 2012
Given as Christmas gift. I love to find something different each year for family personalized gifts. Happy memories.

birthday gift
By
Shopper

(Haymarket, VA) - March 20, 2012
Very nice....always give my daughter a box of her "favorite things" on her birthday,,,candy, snacks, etc....put a picture of her and her family in this and placed it at the bottom of her box....she loved it....

Love
By
Shopper

(Quincy, MA) - March 9, 2012
I adore this frame. It was wicked easy to personalize and it arrived in record time. I plan on using PersonalizationMall.com for gifts for family and friends.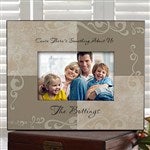 Beautilful
By
Amy W.

(Louise, TX) - March 2, 2012 (
See all reviews by this customer
)
I ordered this fram because I thought it would be a beautiful frame to put a family photo in, and it is great! I love it, and it came in quick and just how I ordered it.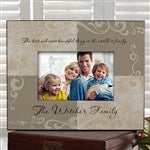 Extremely satisfied!
By
Shopper

(Jamestown, IN) - January 4, 2012
This frame is beautiful! It exceeded my expectations. The quality was also above my expectations! I would definitely recommend purchasing this frame. This was a gift for Christmas but I will probably be ordering one for myself.

Great!
By
Shopper

(Spencer, IN) - December 31, 2011
My grandparents were extremely pleased with this item. The quality of the item seems to be excellent, and the personalization makes it unlike any other.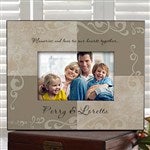 Beautiful...
By
Rebecca M.

(Mooresville, NC) - December 30, 2011 (
See all reviews by this customer
)
I have ordered several items from your site and have never been disappointed. I am always pleased with the fine quality and how quickly my order was recieved. Excellent work.

Great Gift (and for yourself)
By
phil L.

(bridport, VT) - December 29, 2011 (
See all reviews by this customer
)
I bought one for a gift and loved it so much we got one for ourselves! It is beautiful and looks great with a wedding picture in it!