Great thank you gift for deserving individual
By
Cheryl N.

(Simi Valley, CA) - October 14, 2009 (
See all reviews by this customer
)
A professional person, endeared to my family, is forced to retire. He has seen us thru every type of illness and offered all counseling. This is a treasure to be enjoyed rather than flowers or candy. This is timeless for a person who has helped structure our lives.

Makes a good gift for in-laws!
By
Whitney D.

(Bismarck, IL) - October 8, 2009 (
See all reviews by this customer
)
It made a good present to give to my in-laws! It was very pretty and good quality. I'd recommend it!

Great Gift Idea
By
Jean B.

(Clifton Park, NY) - October 7, 2009 (
See all reviews by this customer
)
I am so happy with this sentimental picture frame and can't wait to give it to my family. You have 4 sayings to choose from and they are all heart felt. I agree with the other comments; beautiful, quick shipment and wonderfully priced.

the frame was more beautiful than I expected
By
Alan W.

(Seabrook, TX) - October 2, 2009 (
See all reviews by this customer
)
I have always been pleased with eveything I have purchased. This frame was the MOST beautiful of all the gifts I have received
Thanks for your professional work
Marsha Waxman

Great!
By
Diana C.

(Orlando, FL) - October 1, 2009 (
See all reviews by this customer
)
I ordered 2 of these for my son's Godmother & Godfather and I couldn't have been happier with these frames. The colors are pretty (and neutral enough that they could go with any decor). I ordered them at 10pm one night & by 3pm the next day I received notification that they had shipped.....Personalization Mall sells good quality products & they are sooo fast! I handed the frames out this past Sunday & my Son's Godparents thought these frames were beautiful & they loved that they were personalized. I would definitely recommend this product & I will definitely be shopping on Personalization Mall in the future.

Expensive look
By
Shopper

(Jersey City, NJ) - December 16, 2013
I love this photo frame! It has a sleek look, neutral colors would accent any home decor, has an expensive look only thing there is nothing to cover the photo once inserted, photo may have to be laminated 1st to protect againt damage, that's the reason for the 4 stars other than that I would have given it 5! Overall still a good buy

Lovely gift!
By
Shopper

(loveland, OH) - December 13, 2013
This was ordered for my 30 yr old daughter . She Loved it! Will order for others because it was shipped promptly too!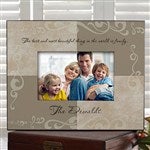 Photo frame
By
Shopper

(ESCONDIDO, CA) - September 25, 2012
Wish the print was a little bigger and slightly more legible, but the photo frame was cute!

Personal picture frame
By
Shopper

(Las Vegas, NV) - September 15, 2012
Product was high quality and as expected. Delivery was longer than anticipated for purchase of this type

Great product
By
David S.

(Mineola, NY) - February 29, 2012 (
See all reviews by this customer
)
I purchased this photo frame as a gift for my wife. It is a great looking piece and there are multiple sayings that can be put on it including writing your own. The personalization is a great touch as well. Design should work with many decors. Very pleased with item.

product quality
By
Shopper

(everett, WA) - December 20, 2011
Iliked it but it had a little acratch in the front, i am always happy with what i buy at this site but this time not so much.

Loved it
By
Shopper

(gloucester city, NJ) - December 19, 2011
This came out super cute!. There was just a little damage in the corner when i recieved it but other then that love it!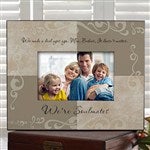 great value
By
Shopper

(Cincinnati, OH) - December 16, 2011
this was a wonderful personal gift idea for my children and their family; the value and price made it a great xmas gift.

Good but not the best one...
By
Kristal T.

(Jersey City, NJ) - August 26, 2010 (
See all reviews by this customer
)
It looks good, but it doesnt have that wow factor when you compare other things from this website. I'm a big fan of this website, and i order something almost every week. I'm not satisfied completely with this item. I wish I would have bought those wooden engraved frames in place of this.

It was a gift
By
Karina K. D.

(Palm Springs, CA) - March 4, 2010 (
See all reviews by this customer
)
I bought 2 of these as a gifts and had them sent to the recipients so I wasn't able to see them but received very positive replies about them! Both recipients loved it and said it was "fancy".

Fine Frame
By
Andrea F.

(middletown, NY) - February 25, 2010 (
See all reviews by this customer
)
Loved it, just felt that the print was a bit small. Liked that I could personalize my own saying or use one that was already slotted for the frame.

Nice Product
By
Susmita C.

(Gilberts, IL) - November 19, 2009 (
See all reviews by this customer
)
I really like this picture frame, however wished the actual display area would be a bit larger. Also liked how the writing came up, very vivid and clear. I would recommend this product to everyone.. Thanks..

Looks better online!
By
Shopper

(SAINT MARTINVILLE, LA) - April 22, 2013
This item really looks good online but not so much in person. I was a little disappointed with this item as well. It seems that the overlay on the frame isn't even with the actual frame.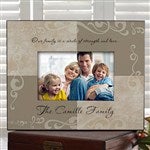 Good item, but...
By
Robin G.

(Bartlett, IL) - December 21, 2011 (
See all reviews by this customer
)
Good quality and MY fault I didn't note that the finish is high gloss. Definitely a gift for a woman, not a man. Just too feminine in appearance. BUT the item would make a great hostess gift or best friend gift...

Personalized Picture Frame
By
Patrick M.

(Magnolia, TX) - December 21, 2009 (
See all reviews by this customer
)
Overall, the quality is okay; however, on the edges of the back part of the frame there are some places that are not completely covered with color that look sort of like chips. Also, it is difficult to get the pciture in without leaving marks where the brackets slide in and out. I was a little disappointed, to be honest.

Maggoe
By
Dorothy W.

(Hemet, CA) - December 2, 2012 (
See all reviews by this customer
)
This was the first time I was evcr disappointed in my purchase. I have shopped many times and was always happy before. On the top line on the frame I chose to use the family sentiment but it is so small it is hard to make out. I wish I had chosen to use their names instead. They would have stood out more. I do like the way the family name is written.