breathtaking
By
Amanda W.

(Amarillo, TX) - March 25, 2013 (
See all reviews by this customer
)
We ordered the server set first and loved it so much we had to order the matching flute set and my husband and I are more than pleased with our order that I will definitely continue to shop for personalized items through their site!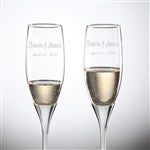 Nice Flute
By
Shopper

(Wheatley Heights, NY) - December 26, 2012
These toasting flutes are very nice. The metal base is heavy so they will not tip easily, which is good. Just made it space-wise on the engraving. Would have been nice to have a choice of fonts on this glass. The "sparkle" at the base was nice, but not as "sparkly" as I expected. Overall a nice gift.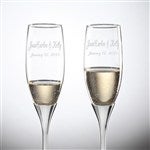 First Wedding Purchase
By
Brianna P.

(Miami, FL) - December 5, 2012 (
See all reviews by this customer
)
Just got these last week with the matching knife and server set. I was taken back by the packaging, very beautiful and it can be used for storage after the wedding as well! The flutes itself have a very stable base that seems very sturdy which is always good. The engraving was the perfect size and the was just right. Everyone is in love with this set. Can't wait to use it on our wedding day :)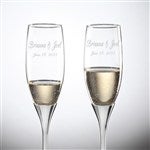 Bought for my summer wedding. Perfect!
By
Shopper

(Gloucester, MA) - December 4, 2012
These are perfect and the quality is great. The glasses are heavy and come in a nice box for storing them after.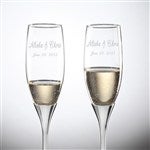 Classy and Stylish
By
Dierdre W.

(Mount Vernon, NY) - August 28, 2012 (
See all reviews by this customer
)
I ordered this item for a friend's wedding and included the cake and knife set. It was so beautiful that I ordered it again for a second friend's wedding. It is well packaged, classy and so stylish. It ships right away and has always arrived earlier than I expected. It was so easy to order and the website shows the order to verify names and dates to give a chance to review and edit. I know they will enjoy it for the wedding and many anniversaries afterward!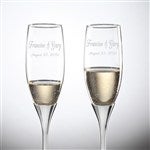 Wedding flutes
By
Suzanne A.

(Truckee, CA) - August 17, 2012 (
See all reviews by this customer
)
Could not have purchased a better set. The flutes are very elegant. I'm giving to my daughter at her bridal shower. Highly recommend!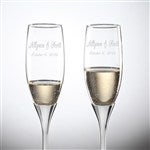 Love-Love-Love!!
By
Amanda V.

(Hammond, IN) - July 30, 2012 (
See all reviews by this customer
)
I was thrilled with the quality and fast shipping that I received with this purchase. The flutes are gorgeous and the engraving is perfect. The stones on the flute bases are exactly like the cake carving set, I bought both and couldn't be happier with my purchase. This is a great company, I've had nothing but good experiences with Personalizationmall.com. Even when I thought an item was a little sub-par, they rectified the situation and sent me out another item. I will continue to purchase from this company, they have awesome customer service.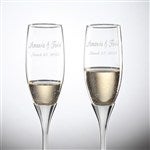 Glitter champagne flutes
By
Esta W.

(Carmichael, CA) - July 6, 2012 (
See all reviews by this customer
)
The engraved, glitter champagne flutes came a little earlier than the promised date. They are very elegant, and reasonable compared to buying them at a store and having them engraved. My daughter and her soon to be husband really like them. Tomorrow the glasses will be put to the test at their wedding! I really like them and would highly recommend them to anyone looking for wedding flutes. Esta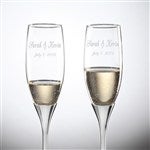 Bridal Shower Gift
By
Tara S.

(Melbourne, FL) - June 29, 2012 (
See all reviews by this customer
)
These were so elegant looking! Had several compliments and were shipped very quickly! Love this website. :)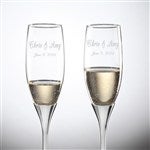 Glitter Wedding Flute Set
By
Annalisa M.

(chino, CA) - January 10, 2012 (
See all reviews by this customer
)
It pairs very nicely with the matching cake and knife server set. Would recommend to others!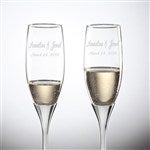 Totally exceeded my expectations!
By
Catherine B.

(South Lake Tahoe, CA) - August 8, 2010 (
See all reviews by this customer
)
I ordered the Glitter Galore Engraved Wedding Flute Set and was totally blown away. This set of wedding flutes completely exceeded my expectations. They are beautiful. The engraving is gorgeous and the box that they come in is incredible. The box alone is a great way to store them safely. I would not hesitate in purchasing this flute set!

Loved them
By
Rosa S.

(Miami, FL) - August 5, 2010 (
See all reviews by this customer
)
I bought these flutes for my daughter's wedding and she loves them. They will make an excellent addition to her day. She thought they were classic, simple and most of all beautiful. Thanks

Classy & Gorgeous!
By
Maureen P.

(Matawan, NJ) - August 3, 2010 (
See all reviews by this customer
)
These personalized champagne flutes are just gorgeous and the satin lined box they come in is such a classy added bonus and makes a great presentation! I cannot wait to give these as a gift at my cousins bridal shower in a few weeks! I have NEVER been disappointed by anything I have ordered from here from birthday, anniversary, baby and now wedding gifts! The quality is exceptional and the prices are incredible! Plus, you don't have to wait forever for whatever you order! I LOVE Personalization Mall and will be back again and again!!!

Beautiful & Expensive Look
By
Jasmeet B.

(La Palma, CA) - July 27, 2010 (
See all reviews by this customer
)
I bought these Flutes for my Best Friends Bridal Shower gist and she absolutely loved them. They look expensive and very rich looking.
I have not seen them myself but the way she sounded she was excited!

Exceeded our expectations!
By
Eileen H.

(Newburgh, NY) - June 28, 2010 (
See all reviews by this customer
)
I ordered this set for my daughter's upcoming Bridal Shower. I was a tad aprehensive about ordering something like this online, but the ordering process was fantastic! The fact that I could preview what the engraving would look like before I ordered was a huge selling point. The order arrived quickly and EXACTLY how I ordered it with no surprises! The set looks lovely and is reasonably priced. I will definitely order from this site again in the future!


Could'nt be happier with my purchase!!
I bought this set of champagne flutes for my daughter and future son-in-laws upcoming wedding this January 2011. I had searched for quite sometime before finding the personailzationmall.com site. These are spectacular and exceed my expectations! They have sparkle, glimmer, shine, and are so classy! If you are considering ordering these flutes you will not be disappointed! They are packaged in a lovely silver keepsake box and delicately wrapped. They arrived quickly too! I can not wait to give these to my daughter for her wedding shower!

Super Excited!!
By
Vanessa A.

(Anchorage, AK) - June 21, 2010 (
See all reviews by this customer
)
I am super excited to see these!! I had them shipped to my moms house, and she received them today!! She is the pickest person I know and was not to happy that I ordered them without her approving them. She called me and said, "I cant beleive how beautiful these are!" She is very impressed with the box they came in. Im glad I ordered these!!

Glitter Galore!
By
Lori S.

(Albuquerque, NM) - July 2, 2010 (
See all reviews by this customer
)
This wedding flute set is a great value for the price. The glasses are beautiful and a wonderful keepsake that we will have to commemorate our special day for years to come. I would recommend this set to anyone looking for something special to keep and display to remember their wedding day, or even as a gift to any bride and groom.

flutes
By
Anh N.

(Gladstone, MO) - July 23, 2010 (
See all reviews by this customer
)
great flutes and free engraving. Great for the price!

Loved it
By
Lisa M.

(Brooklyn, NY) - July 9, 2010 (
See all reviews by this customer
)
It came out just how I expected. I love giving gifts that are personalized at a price that is reasonable.

Excellent
By
Maggie P.

(Boston, GA) - July 5, 2010 (
See all reviews by this customer
)
The wedding flute set is absolutely breath taking. The attention to detail went above and beyond my expectations. The quality of your merchandise is heads above the rest.

Beautiful gift
By
Linda E.

(North Arlington, NJ) - September 10, 2010 (
See all reviews by this customer
)
The photo of the wedding flute set doesn't do it justice. they are even nicer in person. My son and his fiance' were thrilled with the gift, and so was I.

Great quality
By
Caren B.

(Garfield, AR) - September 3, 2010 (
See all reviews by this customer
)
Very pleased with service, delivery, and quality of product. Would recommend these flutes to others.

Beautiful!
By
Kelly L.

(Sarasota, FL) - August 26, 2010 (
See all reviews by this customer
)
These champagne flutes are simply gorgeous. They have a nice feel when you hold them...not too light, not too heavy. They came packaged so nicely. I can't wait to give them to my daughter as a bridal shower gift!

Bling for the Bride and Groom
By
Tina L.

(Kearneysville, WV) - October 19, 2010 (
See all reviews by this customer
)
Very eloquent toast vehicles with a splash of bling without looking gaudy. Timely delivery, well packaged in a satin filled box... a place they can be stored when not in use for years to come!

Great Service!
By
LeeAnn S.

(Wind Gap, PA) - October 12, 2010 (
See all reviews by this customer
)
Beautiful, sturdy, well-packaged/protected set, and great service from PersonalizationMall.com also! Ordered on-line on a Monday, order shipped Tuesday, I paid for 2-day shipping and order was delivered on Thursday....presented them to my son and future daughter-in-law Thursday night at the rehearsal dinner and they were used for the wedding toast on Friday evening!

Perfect
By
Julie D.

(Richmond, VA) - September 15, 2010 (
See all reviews by this customer
)
These are gorgeous. They are nice and heavy and beautifully decorated, perfectly engraved. They came in a nice box with satin lining in the shape of the glasses so they won't break. My daughter says they're going to take them out of the box for every anniversary toast.

Very Pleased
By
Julie M.

(Kingman, AZ) - August 12, 2010 (
See all reviews by this customer
)
This gift for the bride and groom not only delighted them, but we the givers as well. The quality was top notch, and the delivery of the item was very timely. Thank you for a job well done.
Julie

Beautiful!
By
ginger P.

(Sanford, NC) - August 11, 2010 (
See all reviews by this customer
)
The wedding flute set was even more beautiful than the online pics. Great and fast service! Our daughter and her fiance are thrilled,

Another one of the Best Ideas
By
Lyn T.

(Faunsdale, AL) - August 10, 2010 (
See all reviews by this customer
)
I am so pleased with the quality of this item, the choices of text was wonderful. Once the lighting hits the crystal bottom the gleam is wonderful. A true addition needed for a gift given as a true memory for the couple.

Love them!
By
Tracy M.

(Aliso Viejo, CA) - August 25, 2010 (
See all reviews by this customer
)
I actually bought this set for me and my groom for our wedding (we haven't received any flutes yet, and wanted to make sure we would have something nice for the reception). They're different and fun - one of the many reasons I was attracted to them in the first place. The silver stems create a more contemporary look, while the crystals add a fun element...and a definite sparkle if your reception's outside! Can't wait to use these in 11 days :)

Beautiful Gift
By
Cheryl W.

(Mission Hill , SD) - August 18, 2010 (
See all reviews by this customer
)
I gave these beautiful glasses as part of the wedding gift for my son and daughter-in-law. They were perfect.

Pleased with product!
By
DIANA S.

(HUNTINGTON STATION, NY) - August 13, 2010 (
See all reviews by this customer
)
Glasses are very pretty. Etching is gorgeous. Fairly priced! Quick delivery! Very pleased with the product and I am sure the Bride and Groom will be very please as well! I would shop this site again without hesitation!

Gorgeous
By
Shopper

(Butte, MT) - September 4, 2011
I love these...however on the site it looks like diamonds but is little squares filled with glitter. That was the only thing I was like huh that's odd...but they still look amazing.

The base crystal part looks really cheap
By
Shopper

(Surprise, AZ) - February 3, 2012
Well...here is the reason why I only gave it 3 stars. The crystal base is the main reason I bought this set, but they don't look as nice as the photos. They remind me of some cheap christmas decorations. It's chintzy. I am quite disappointed. I think they can make it much nicer with this kind of price.
But to be fair, they still look pretty in a distance. The quality of glass(crystal) part is nice.

sparkle
By
Shopper

(CHICAGO, IL) - May 7, 2012
the sparkle @ the bottom of the flutes made the gift unique!

Engagement
By
Shopper

(Lake Orion, MI) - April 8, 2013
I bought these flutes as an engagement gift for my friends. They are great quality, the personalization was perfect as usual, and very sturdy stem. The base is made up of small square jewels all tightly packed together making it very flashy- make sure this is something the couple would like...

future Mrs.
By
Shopper

(Carmel, IN) - January 16, 2011
The glasses look to me as being etched not engraved... SO I have to be extra carefull when washing them, and they photographed much nicer for Personalzation.com. I was a bit disapointed in their appereance. I will use them on my wedding. over all satisfied, not overly HAPPY though.

Beautifully Designed Champagne Flutes
By
Shopper

(Cincinnati, OH) - January 5, 2011
I recieved my item VERY quickly. I love the design of the glasses, but maybe it's just me...I am very picky, and I think it would have been nice to see more rhinestones exhibited on the top of the glass stem of the flute to attribute to the dazzling rhinestones embedded at the base of the stem. Also, more monogram options should be available, like interlocking initials, etc.. Lastly, customers should be offered alternatives to have their names engraved boldy, rather than in such thin lettering. Aside of these suggestions, I am pleased with my purchase! So I guess I'm left to complete the customization myself! (SMILE)

Nice and beautiful, but not what I expected
By
Kristin P.

(Kenai, AK) - June 29, 2010 (
See all reviews by this customer
)
The presentation/product wrapping was very impressive on the glasses. They come in a beautirul box with cut outs which will be great for storing. The glass themselves are pretty hefty in construction and the little glitter rhinestones on the bottom are beautiful. BUT I guess I thought they would be a little bit nicer. They seem cheaply put together and the flute size is TINY. The way the glass sits in the stem looks to be crooked on one of them but maybe im just being an over analizing bride to be. These glasses will be very beautiful at the wedding and im excited they came super quick in the mail!