Cheers!
By
Shopper

(Myersville, MD) - April 27, 2013
More than I expected. Simply beautiful.

breathtaking
By
Amanda W.

(Amarillo, TX) - March 25, 2013 (
See all reviews by this customer
)
We ordered the server set first and loved it so much we had to order the matching flute set and my husband and I are more than pleased with our order that I will definitely continue to shop for personalized items through their site!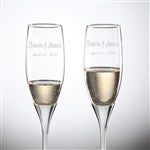 Perfect
By
Shopper

(Charleston, SC) - March 10, 2013
So excited to use these glasses at our wedding! Love the box they come in as well.

Gorgeous
By
Shopper

(La Vista, NE) - December 9, 2012
They turned out amazing! They made me even more excited for the big day!

First Wedding Purchase
By
Brianna P.

(Miami, FL) - December 5, 2012 (
See all reviews by this customer
)
Just got these last week with the matching knife and server set. I was taken back by the packaging, very beautiful and it can be used for storage after the wedding as well! The flutes itself have a very stable base that seems very sturdy which is always good. The engraving was the perfect size and the was just right. Everyone is in love with this set. Can't wait to use it on our wedding day :)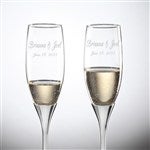 Bought for my summer wedding. Perfect!
By
Shopper

(Gloucester, MA) - December 4, 2012
These are perfect and the quality is great. The glasses are heavy and come in a nice box for storing them after.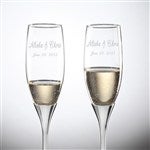 Excellent
By
Patricia M.

(Lexington, KY) - September 10, 2012 (
See all reviews by this customer
)
Very nice, fast shipping. We are very happy

Classy and Stylish
By
Dierdre W.

(Mount Vernon, NY) - August 28, 2012 (
See all reviews by this customer
)
I ordered this item for a friend's wedding and included the cake and knife set. It was so beautiful that I ordered it again for a second friend's wedding. It is well packaged, classy and so stylish. It ships right away and has always arrived earlier than I expected. It was so easy to order and the website shows the order to verify names and dates to give a chance to review and edit. I know they will enjoy it for the wedding and many anniversaries afterward!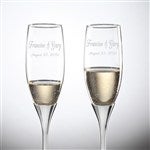 Wedding flutes
By
Suzanne A.

(Truckee, CA) - August 17, 2012 (
See all reviews by this customer
)
Could not have purchased a better set. The flutes are very elegant. I'm giving to my daughter at her bridal shower. Highly recommend!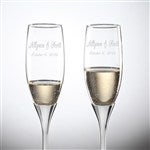 Stunning
By
Nicole S.

(West Harrison, NY) - August 2, 2012 (
See all reviews by this customer
)
Bought these champagne flutes for a very close friend as an engagement gift + they are beautiful glasses. The glitz on the bottom of the glasses has a stunning look. I bought the knife + cake server to match + together it was a beautiful gift. Always nice to give a personalized gift with names + date. Makes people feel special!

Beautiful flutes
By
Shopper

(Coatesville, PA) - August 1, 2012
Etched/engraved nicely - packed & shipped very well. Will be the toast of the wedding

Love-Love-Love!!
By
Amanda V.

(Hammond, IN) - July 30, 2012 (
See all reviews by this customer
)
I was thrilled with the quality and fast shipping that I received with this purchase. The flutes are gorgeous and the engraving is perfect. The stones on the flute bases are exactly like the cake carving set, I bought both and couldn't be happier with my purchase. This is a great company, I've had nothing but good experiences with Personalizationmall.com. Even when I thought an item was a little sub-par, they rectified the situation and sent me out another item. I will continue to purchase from this company, they have awesome customer service.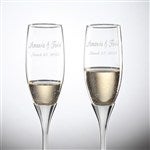 Glitter champagne flutes
By
Esta W.

(Carmichael, CA) - July 6, 2012 (
See all reviews by this customer
)
The engraved, glitter champagne flutes came a little earlier than the promised date. They are very elegant, and reasonable compared to buying them at a store and having them engraved. My daughter and her soon to be husband really like them. Tomorrow the glasses will be put to the test at their wedding! I really like them and would highly recommend them to anyone looking for wedding flutes. Esta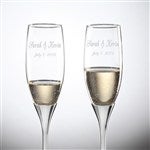 Bridal Shower Gift
By
Tara S.

(Melbourne, FL) - June 29, 2012 (
See all reviews by this customer
)
These were so elegant looking! Had several compliments and were shipped very quickly! Love this website. :)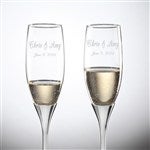 HAPPY MOTHER OF BRIDE
By
vivian K.

(Elmhurst,, IL) - June 25, 2012 (
See all reviews by this customer
)
I AM SO HAPPY WITH THIS ITEM AND VERY PLEASED I FOUND THIS WEBSITE. THE PEOPLE ARE VERY EASY TO WORK WITH AND VERY NICE. THE BRIDE JUST LOVES THE GLASSES AND THE ENGRAVING IS JUST BEAUTIFUL. WILL BE LIFE LONG FRIENDS WITH PERSONLZATION MALL.COM

Champagne Glasses
By
Shopper

(Chicago, IL) - May 9, 2012
Just received my order and these are absolutley gorgeous!

beautiful glasses
By
Shopper

(weirton, WV) - January 23, 2012
The glasses are as described, the engraving is perfect.
Hope the bride is as happy as with them as I am.

Glitter Wedding Flute Set
By
Annalisa M.

(chino, CA) - January 10, 2012 (
See all reviews by this customer
)
It pairs very nicely with the matching cake and knife server set. Would recommend to others!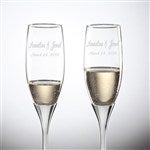 Adorable Flutes
By
Shopper

(Laurel, MD) - December 29, 2011
These are just gorgeous. We bought them as our son and his bride's wedding gift, and we know they are just going to adore them.
We were really impressed by the beauty and the "uniqueness" of the item.
Thank you so much.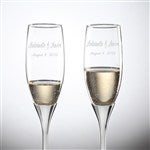 Glitter Accents Engraved Wedding Flute Set
By
Shopper

(Martinsburg , WV) - December 27, 2011
Very fast to recieve item and they are just gorgeous! Thank you.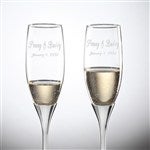 Beautiful Bling!
By
Shopper

(WESTBURY, NY) - August 29, 2011
I ordered the glasses and they arrived two days later. They came in their own lined box which is nice. The outside of the box could have been nicer but the glasses were gorgeous. Nice and heavy with clear engraving. The couple loved them.

Glitter Accent Glasses are beautiful!
By
Shopper

(Flanders, NY) - August 1, 2011
If you know a bride who loves "bling", well these make "bling" look elegant. Beautiful. The picture on the site does not do them justice.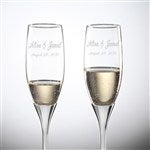 Excellent product!
By
anna K.

(Brookyn, NY) - June 20, 2011 (
See all reviews by this customer
)
Very beautiful product & great quality!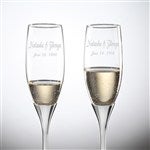 Perfect match for the cake knife and server
By
Shopper

(Brooklyn, NY) - June 14, 2011
Love, love, love this set! Was a little pricier than others I've seen but none were as special as these. Wanted something different for my daughter's wedding and these were perfect!!! So happy and she'll be soooooo blown away by all the bling!!!!

JUST BEAUTIFUL
By
Shopper

(Santa Rosa, CA) - May 6, 2011
I bought these for my new daughter-in-law. She was so impressed she plans on having them at the reception to have their first toast out of. Just loved the glasses that I bought a second pair for a cousin's wedding. They are worth every penny.

Perfect for the Bling Theme!
By
Shopper

(Baton Rouge, LA) - May 2, 2011
I wish that the flute stems were completely covered in rhinestones instead of just the base of the flutes..nevertheless they are perfect for the Bling Themed wedding or party!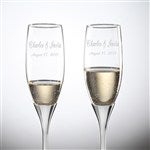 Gorgeous
By
Victoria I.

(Midlothian, IL) - April 4, 2011 (
See all reviews by this customer
)
Gorgeous! I love glitter so this was perfect!

Glitter Galore Engraved Wedding Flute Set
By
Shopper

(vancouver , WA) - April 1, 2011
They look amazing love it so much....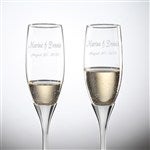 Better than expected!
I received these as a wedding gift today at my bridal shower and they are so cute! Very classy and way better than the picture!!! I am so pleased and can't wait to use them on my wedding day!

Perfection
By
Shopper

(Denton, TX) - March 8, 2011
I purchased these flutes, and the serving set that matches! The glasses couldn't havent been more perect & were delivered faster then anything I've ever ordered before! I can't wait to use them on our wedding day!

A GREAT WAY TO CELEBRATE!
By
Patricia C.

(Newark, OH) - March 4, 2011 (
See all reviews by this customer
)
I purchased these to celebrate our anniversary. They arrived and were prettier than expected. And the best part, and unbeknownst to me . . . My daughter purchased the exact same ones as a wedding present for one of her friends. Good taste runs in this family!

BEAUTIFUL!!!
By
Miranda M.

(Alameda, CA) - February 28, 2011 (
See all reviews by this customer
)
These flutes cannot have been anymore perfect!! The engraving add's a beutiful personal touch and the design if the most gorgeous thing I have ever seen. I call this item ver UNIQUE!!

perfect wedding gift
By
Shopper

(Sonoma, CA) - February 25, 2011
I was a little hesitant to get these for my friends as their wedding gift but was SO relieved when I opened the box. they are great. The base with the little sparkle gives it some bling without being offensive. And the contrast of the glass and silver stems is classy and just a little different.
I couldn't have asked for anything better.

Beautiful!!!!!
By
Michelle W.

(converse, TX) - February 25, 2011 (
See all reviews by this customer
)
I wasnt sure how these would actually look in person after being customized, But OMG...they are beautiful and I loveeeeeeeeeee them. Cant wait to order another set FOR ME.

Gorgeous
By
Suselis M.

(Huntsville, AL) - February 16, 2011 (
See all reviews by this customer
)
I just received my flute set and OMG I am so happy. The engraving is SOOOOOO pretty I love the font they used and it just looks so elegant and BLINGY!! The flutes are just gorgeous and I couldn't be happier.

We love them
By
Mila D.

(Brighton, MA) - February 16, 2011 (
See all reviews by this customer
)
We got these flutes for our wedding and they are much better than expected and even hoped for! We were concerned they might look cheesy. They are perfect for the price, personalization and appearance. The package arrived promptly in a very nice box. I would recommend this item to everyone.

high quality
By
Shopper

(kennewick, WA) - February 15, 2011
Great quality, sparkly!

Like Them Very Much
By
Shopper

(Colfax, CA) - February 14, 2011
These turned out great. I do wish there were more options for glass choice and when a name is initials without periods, it automatically makes the second initial lower case. Other than that, I love them...good job on them.

Sparkly!
By
Shopper

(Oswego, NY) - February 11, 2011
The personalization came out great. The base is very sparkly, exactly what I wanted. It almost has a vintage look to it which is perfect for my wedding theme!

Perfect
By
Shopper

(Saint George, UT) - February 9, 2011
Looked how I imagined. Perfect for my wedding!