Lovely Set
By
Shopper

(Bronx, NY) - April 15, 2014
I wanted a relatively reasonably priced set that had complimentary engraving and a tasteful design on it (I am not partial to the hearts and wedding ring designs offered), so I took a chance on this design, based on the other reviews. My server set and matching flutes just arrived and they are absolutely lovely, with great weight to it. The engraving is nicely done too. I am not disappointed at ALL. A very lovely set!!!

Stunning glasses!
By
Nicole L.

(Chicopee, MA) - March 24, 2014 (
See all reviews by this customer
)
Absolutely stunning flutes. Product came just as described, engraving was beautiful! It was packaged very well, which will make easy storage until the big day. Also the glitter accent bottom is gorgeous, there is a layer of clear over it so nothing with fall out. Definitely a home run with these!!!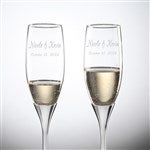 flutes
By
Claudia J.

(Crowley, TX) - March 15, 2014 (
See all reviews by this customer
)
Better than expected.

daughter loves them
By
Shopper

(Phoenixville, PA) - February 18, 2014
Bought these as a valentines gift for my dauighter and future son-in-law. Haven't seen them myself yet, but she texted me as soon as she got them telling me how beautiful they are. Certainly a hit!

wedding
By
Shopper

(Jersey city , NJ) - February 9, 2014
Beautiful!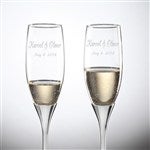 Beautiful and sparkly
By
Shopper

(Fishkill, NY) - January 21, 2014
I was very happy with the finished product, was even prettier in person.

Beautiful!
By
Christine T.

(Fort Wayne, IN) - January 20, 2014 (
See all reviews by this customer
)
I ordered these for my daughter's upcoming wedding and they were absolutely beautiful! I am giving them to her at her wedding shower this coming May and it's so hard for me not to show them to her a head of time! I couldn't believe how quickly I received them! Great service and quality!!!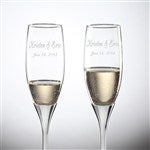 FLUTE WEDDING SED
By
Shopper

(Omak, WA) - December 17, 2013
So pleased with high quality, engraving and excellant service!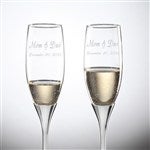 Beautiful flute glasses! Vintage, classy touch
By
Linda D.

(Hartsdale, NY) - November 23, 2013 (
See all reviews by this customer
)
These flute glasses are absolutely beautiful! I really looked forward to using them at my wedding. They are so elegant. The rhinestones on the top of the base look stunning, and the stem makes it look vintage - these details are not overdone at all. I am not into too much bling and these were perfect for me. I had a modern yet vintage style at my wedding, and these glasses would have been great. When they arrived, one was cracked. I called immediately, and they were supposed to send out a replacement flute with one day shipping - no cost to me (how responsive and wonderful!). They did mail out another flute, but it went via two day shipping, and I didn't have them in time for my wedding. However, the company was VERY accommodating. I HIGHLY recommend these glasses!! Just don't wait until the last minute like me, in case you do need a replacement.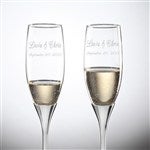 Glitter Flute Set
By
Cathy M.

(Livermore, CA) - November 10, 2013 (
See all reviews by this customer
)
Beautiful set. Can't wait to give them to my Son and Future Daughter in Law for their wedding day!!!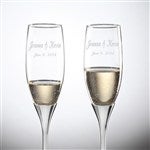 Like jewelry for our Anniversary Table!
By
Shopper

(Youngsville, NC) - September 11, 2013
This flute set arrived beautifully boxed encasing the lovely jewel flutes. The box presentation was lovely enough to take with us to a very upscale restaurant and utilize them during our exquisitely delectable anniversary dinner. The glitter accents are not for one who is looking for a "bling statement" but instead is for those looking for delicate elegance. We received many compliments on the flutes and the box they came in. Treat them with care, and I'd suggest hand washing and drying.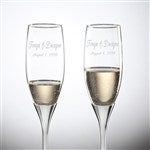 Wedding Flute Set
By
BRENDA S.

(PONCHATOULA, LA) - September 7, 2013 (
See all reviews by this customer
)
I ordered the Wedding Flute Set for my daughter for her wedding. They are beautiful and she was very happy with them. I also ordered the matching cake server set. I know the flutes and cake server will compliment her cake table beautifully on her wedding day.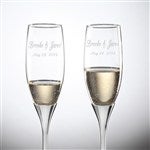 Awesome
By
Shopper

(New Haven, CT) - August 13, 2013
I ordered these as a gift for my brother and his beautiful bride. They loved them. It went perfect
With the cake and table setting. Pacakge arrived just on time.
Thanks so much.

Wedding Flutes!
By
Ronnelle C.

(APO, AP) - July 31, 2013 (
See all reviews by this customer
)
I loved the way that they turned out! They were perfect and as I expected! They came in time, and they were packaged beautifully! Also remember that it says crystal shimmer accents! But it is beautiful!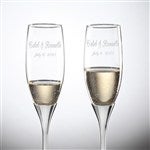 Great Engagement Gift
By
Chitrali S.

(Arlington, VA) - July 15, 2013 (
See all reviews by this customer
)
I got this for my girlfriend for her engagement present. They were absolutely gorgeous especially all the glitter and silver stones everywhere. They came out great! Definitely recommend!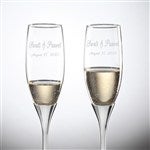 In addition to the cake serving set...
By
Amanda B.

(Canada) - June 10, 2013 (
See all reviews by this customer
)
Bought these for our wedding on September 1, 2013 and very happy with the product. They look very expensive (though they were reasonably priced)and I especially love the fact the rhinestones have a layer of glass over top so over the years the rhinestones won't be falling out! the packaging was beautiful, tucked into satin for nice presentation. I recommend this product and cannot wait to use them :) I write the same review for the matching cake serving set which we also bought.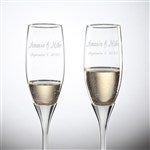 Bridal Day Gifts
By
Shopper

(Valencia, CA) - May 17, 2013
These are the perfect match to the cake knife and server set! Gorgeous!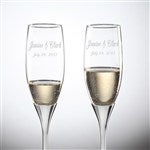 Love This Site
By
Shopper

(Wibaux, MT) - May 15, 2013
I've ordered from this site twice now and have had great service and quick delivery! Also great pricing!

The wedding flute set was beautiful and the engraving was perfect! Definitely recommend this!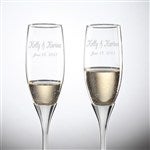 Cheers!
By
Shopper

(Myersville, MD) - April 27, 2013
More than I expected. Simply beautiful.

breathtaking
By
Amanda W.

(Amarillo, TX) - March 25, 2013 (
See all reviews by this customer
)
We ordered the server set first and loved it so much we had to order the matching flute set and my husband and I are more than pleased with our order that I will definitely continue to shop for personalized items through their site!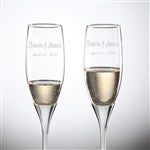 Perfect
By
Shopper

(Charleston, SC) - March 10, 2013
So excited to use these glasses at our wedding! Love the box they come in as well.

Gorgeous
By
Shopper

(La Vista, NE) - December 9, 2012
They turned out amazing! They made me even more excited for the big day!

First Wedding Purchase
By
Brianna P.

(Miami, FL) - December 5, 2012 (
See all reviews by this customer
)
Just got these last week with the matching knife and server set. I was taken back by the packaging, very beautiful and it can be used for storage after the wedding as well! The flutes itself have a very stable base that seems very sturdy which is always good. The engraving was the perfect size and the was just right. Everyone is in love with this set. Can't wait to use it on our wedding day :)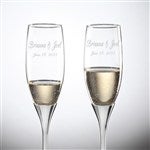 Bought for my summer wedding. Perfect!
By
Shopper

(Gloucester, MA) - December 4, 2012
These are perfect and the quality is great. The glasses are heavy and come in a nice box for storing them after.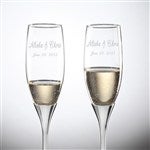 Excellent
By
Patricia M.

(Lexington, KY) - September 10, 2012 (
See all reviews by this customer
)
Very nice, fast shipping. We are very happy

Classy and Stylish
By
Dierdre W.

(Mount Vernon, NY) - August 28, 2012 (
See all reviews by this customer
)
I ordered this item for a friend's wedding and included the cake and knife set. It was so beautiful that I ordered it again for a second friend's wedding. It is well packaged, classy and so stylish. It ships right away and has always arrived earlier than I expected. It was so easy to order and the website shows the order to verify names and dates to give a chance to review and edit. I know they will enjoy it for the wedding and many anniversaries afterward!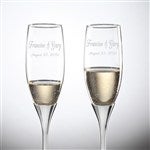 Wedding flutes
By
Suzanne A.

(Truckee, CA) - August 17, 2012 (
See all reviews by this customer
)
Could not have purchased a better set. The flutes are very elegant. I'm giving to my daughter at her bridal shower. Highly recommend!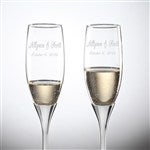 Stunning
By
Nicole S.

(West Harrison, NY) - August 2, 2012 (
See all reviews by this customer
)
Bought these champagne flutes for a very close friend as an engagement gift + they are beautiful glasses. The glitz on the bottom of the glasses has a stunning look. I bought the knife + cake server to match + together it was a beautiful gift. Always nice to give a personalized gift with names + date. Makes people feel special!

Beautiful flutes
By
Shopper

(Coatesville, PA) - August 1, 2012
Etched/engraved nicely - packed & shipped very well. Will be the toast of the wedding

Love-Love-Love!!
By
Amanda V.

(Hammond, IN) - July 30, 2012 (
See all reviews by this customer
)
I was thrilled with the quality and fast shipping that I received with this purchase. The flutes are gorgeous and the engraving is perfect. The stones on the flute bases are exactly like the cake carving set, I bought both and couldn't be happier with my purchase. This is a great company, I've had nothing but good experiences with Personalizationmall.com. Even when I thought an item was a little sub-par, they rectified the situation and sent me out another item. I will continue to purchase from this company, they have awesome customer service.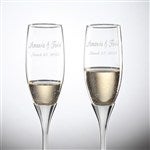 Glitter champagne flutes
By
Esta W.

(Carmichael, CA) - July 6, 2012 (
See all reviews by this customer
)
The engraved, glitter champagne flutes came a little earlier than the promised date. They are very elegant, and reasonable compared to buying them at a store and having them engraved. My daughter and her soon to be husband really like them. Tomorrow the glasses will be put to the test at their wedding! I really like them and would highly recommend them to anyone looking for wedding flutes. Esta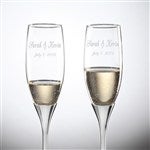 Bridal Shower Gift
By
Tara S.

(Melbourne, FL) - June 29, 2012 (
See all reviews by this customer
)
These were so elegant looking! Had several compliments and were shipped very quickly! Love this website. :)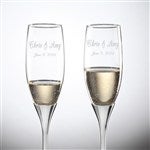 HAPPY MOTHER OF BRIDE
By
vivian K.

(Elmhurst,, IL) - June 25, 2012 (
See all reviews by this customer
)
I AM SO HAPPY WITH THIS ITEM AND VERY PLEASED I FOUND THIS WEBSITE. THE PEOPLE ARE VERY EASY TO WORK WITH AND VERY NICE. THE BRIDE JUST LOVES THE GLASSES AND THE ENGRAVING IS JUST BEAUTIFUL. WILL BE LIFE LONG FRIENDS WITH PERSONLZATION MALL.COM

Champagne Glasses
By
Shopper

(Chicago, IL) - May 9, 2012
Just received my order and these are absolutley gorgeous!

beautiful glasses
By
Shopper

(weirton, WV) - January 23, 2012
The glasses are as described, the engraving is perfect.
Hope the bride is as happy as with them as I am.

Glitter Wedding Flute Set
By
Annalisa M.

(chino, CA) - January 10, 2012 (
See all reviews by this customer
)
It pairs very nicely with the matching cake and knife server set. Would recommend to others!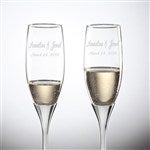 Adorable Flutes
By
Shopper

(Laurel, MD) - December 29, 2011
These are just gorgeous. We bought them as our son and his bride's wedding gift, and we know they are just going to adore them.
We were really impressed by the beauty and the "uniqueness" of the item.
Thank you so much.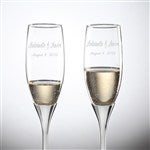 Glitter Accents Engraved Wedding Flute Set
By
Shopper

(Martinsburg , WV) - December 27, 2011
Very fast to recieve item and they are just gorgeous! Thank you.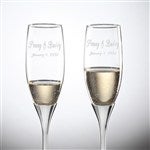 Beautiful Bling!
By
Shopper

(WESTBURY, NY) - August 29, 2011
I ordered the glasses and they arrived two days later. They came in their own lined box which is nice. The outside of the box could have been nicer but the glasses were gorgeous. Nice and heavy with clear engraving. The couple loved them.

Glitter Accent Glasses are beautiful!
By
Shopper

(Flanders, NY) - August 1, 2011
If you know a bride who loves "bling", well these make "bling" look elegant. Beautiful. The picture on the site does not do them justice.