Very cute the kids loved them.
By
Jan L.

(Omaha, NE) - March 11, 2013 (
See all reviews by this customer
)
I was a bit disappointed in the steam being very thin, but the kids loved them and that is what mattered. Also having the date on the glass would have been nice, we just had the names.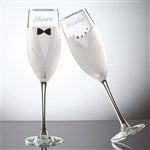 Very Nice!
By
Shopper

(VALENCIA, CA) - October 24, 2011
I really loved this just that crystal wasn't lined correctly. one side is higher than the other but... not THAT noticable except me. overall it's really nice. it's good enough to have it for keepsake.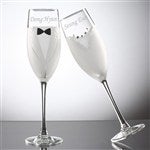 Overall it was good
By
Rosanna C.

(Brooklyn, NY) - October 3, 2011 (
See all reviews by this customer
)
bought this for my friends bridal shower. and there was a mistake with my order. the bride's name was totally wrong. it was suppose to be "mrs. chow" but i received a "bianca". i called them up and asked for them to replace my order and sent them a picture of this flute set. they were quick to respond and i got my order before the bridal shower. everyone loved this gift i got and it looks more expensive than it is.

Very Nice
By
Sandra H.

(Monroe, NY) - April 20, 2010 (
See all reviews by this customer
)
Was exactly what i ordered...Very Nice Quality.

Wedding gift
By
Wesley Y.

(Canada) - April 7, 2010 (
See all reviews by this customer
)
The package arrived quickly and the set of flutes is just beautiful! They used a nice piece of cloth to wrap the inside of the package, although you see a little bit of foam..but overall, well worth the buy!

only one minus
By
Melanie G.

(Miami, FL) - February 25, 2010 (
See all reviews by this customer
)
These flutes are beautiful, and are packaged very securely so there is no need to worry about them breaking. The only minus that I see is that there is no option to inscribe the date.

A perfect gift..
By
Ace A.

(San Diego, CA) - February 12, 2010 (
See all reviews by this customer
)
I was surprised that the Groom's tie was not etched on but glued on. Nevertheless i liked the quality. Delivery was fast and it was packaged carefully. I plan to order again in the near future. The only negative is that there are no presentable packaging available for this product.

Nice glasses!
By
Dennis H.

(Brick, NJ) - December 18, 2009 (
See all reviews by this customer
)
These are nice! If I was ultra picky I would complain about one of the glasses having a small dimple in the side, but I'm not, so I think they make a nice addition to our home. I wish it said swarovski somewhere on the bottom, or maybe came with a card or something that identified the crystals as swarovski, rather than me telling my wife about it when she opens the set on xmas. Overall satisfied.



Gift box missing
By
Patricia V.

(Victoria, TX) - October 1, 2009 (
See all reviews by this customer
)
I love these glasses and my best friend too who's wedding it was...the only thing I forgot to check and kind of expected was a gift box for that price...so I had to go and get a gift box, what was not easy to find I have to say! but seems to be a okay quality and the names came out very nice...

Nice Gift - Authentic Swarovski ?
By
Nirali G.

(Fords, NJ) - October 31, 2009 (
See all reviews by this customer
)
First - The glasses are NICE!!
Issues

1) No Gift Box -- They come in a recycled brown box bubble wrapped inside. Yes they are well protected and all but how do you want me to present it to the recipient at the party/event ? In a bubble wrap? Or go out burn gas, money and time to buy a gift box that would barely do justice to the presentation of an expensive gift.

2) No Swarovski Logo -- How does the recipient know the value or the brand of the glass? I am paying for the customization and for the BRAND. What good is the glass if they don't mention any where what brand is it?

Even though they can be a GREAT gift I don't think I got the value for the premium price I paid for these.


Bad experience
By
RUI L.

(New York, NY) - February 1, 2010 (
See all reviews by this customer
)
I was shopping for a wedding gift. I bought this, and received about two weeks ago. I have to say this is actually a very lovely wedding gift. However, the problem is no gift box coming with it. It comes with the USPS shipping box and soft wraps. This item is in the PersonalizationMall.com Wedding Gift Directory, this is a wedding gift, and as a wedding gift it suppose to have a nice gift box, a nice looking. Now I have to try some where else to find a gift box that fits the thing.

I was also thinking to return it. However, since the gift is personalized, I cannot get refund, but only store credit.

I have to say, dispointing.


Wedding gift
By
Diane C.

(Ireland) - December 14, 2009 (
See all reviews by this customer
)
A great shame that this gift does not come in a box (was delivered in bubble wrap which is great for delivery, but not so pretty to give as a wedding gift).

Could do with more sparkles/swarovski..

Excellent fast delivery to Dublin, Ireland.