Quality address yard stake at a great price!
By
Joe T.

(Goose Creek, SC) - May 31, 2014 (
See all reviews by this customer
)
I was pleasantly surprised with the overall appearance and quality of this stake. I have priced several others, but this one was a metal stake with a professional appearance under $50. I definitely would recommend this product to a friend.

Excellent!
By
Kristie G.

(Carteret, NJ) - May 7, 2014 (
See all reviews by this customer
)
Great product and even better price! Good quality, looks great and better than what I expected! Would recommend!

Best Purchase Ever!
By
SHELLEY T.

(PASADENA, TX) - May 6, 2014 (
See all reviews by this customer
)
I can't believe the quality and price of this yard stake and magnet! Not only does it look like it cost a whole lot more but the way it was shipped to me was superb! They really took the time to wrap it securely so no damage would occur during shipping. And, the fact that, should I ever move, I would be able to reuse the stake and purchase only the magnet to revise the address. What a brilliant idea! I am extremely impressed with this company!

love it!
By
Linda S.

(Forney, TX) - April 28, 2014 (
See all reviews by this customer
)
had one for a couple of years and it got somewhat faded and torn, so ordered this one to replace it - the black color looks great!

this is my second one for the same Stake
By
VICKI C.

(Madison Heights, MI) - April 13, 2014 (
See all reviews by this customer
)
I have used this magnetic stake for years. My first magnet only is faded from sun I have had it so long. I purchased this second one and I just love it. I recommend these very highly. They look elegant and the price is right.

Sign
By
Annette G.

(Hahira, GA) - April 12, 2014 (
See all reviews by this customer
)
I love my yard sign. It looks so good in my front yard.

Loved it!
By
Shopper

(Newport News, VA) - April 12, 2014
It was just what our new home needed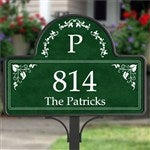 Amazing!
By
Shopper

(MISSION VIEJO, CA) - April 5, 2014
I ordered this lawn sign after reviewing several other custom signs. I decided to purchase this is sign because of the style and low cost. When the sign arrived I was thrilled to find the sign was actually a solid piece, heavily weighted and excellent quality. Because of the low price I expected it to be a temporary solution. Now that it arrived I'm confident it will survive several years, no problem. So excited! And it looks fabulous. I will be ordering from this site again very soon. Thanks!

Charming Address Sign
By
Shopper

(Langhorne, PA) - April 4, 2014
I recently purchased 2 yard signs and was pleasantly surprised at how study they are. They have a charming design and will be a lovely addition in front of our home. I also liked that you can purchase additional magnetic insets for change of season... nice concept. The price was very good as well.

Better than I expected!
By
Shopper

(Aston, PA) - March 31, 2014
This item was a gift I purchased for someone. When it was delivered, I opened it to make sure it was exactly what I wanted, and it was actually better than I expected!

The quality was better on every level. The stake was nice and heavy, and the decal on the magnet was really beautiful. I'm VERY happy with it, and the recipient is too!

Beautiful Sign
By
Regina I.

(Royersford, PA) - March 29, 2014 (
See all reviews by this customer
)
We love this sign! Way better than expected, thank you so much!

Elegant
By
Shopper

(Rockingham, NC) - March 28, 2014
I ordered two sets of yard signs (for a family member as well as myself)I'Very please with my yard sign. Definitely adds to my yard.

Very nice!
By
Shopper

(Charlotte, NC) - March 2, 2014
I love this garden stake, and will def order more magnets to display different seasons and occasions. Love that you can change it by just sticking another on the magnetic stake. I love PM and am never disappointed.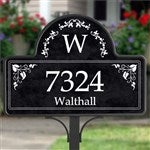 Very Happy
By
Shopper

(Freeburg, IL) - February 10, 2014
I am very happy with our sign, and hope that it lasts for a long time. I also like that I can replace the magnet affordably. I plan to buy one as a present for an upcoming wedding.

Looked and gam and gave to my grandmother
By
Sallie R.

(Montgomery , AL) - January 31, 2014 (
See all reviews by this customer
)
It came it to her and was perfect! Was not however magnetic? It looks better than the picture! It's great! Would buy another if needed tomorrow

Love this yard stake!
By
Shopper

(Macon, GA) - January 31, 2014
This is a very nice addition to my yard. It looks really nice and my husband even likes it. This would make a nice gift too! Fast shipping which is also a plus!

Quality Product
By
Julie S.

(Rogersville, MO) - January 26, 2014 (
See all reviews by this customer
)
This was an affordable and high quality product that arrived quickly to our home. The ability to change out the display magnet with other options was what drew myself to this item. The address displays nicely from the road to alert guest as to correct home.

Wow
By
Linda L.

(Metairie, LA) - December 31, 2013 (
See all reviews by this customer
)
I just got my yard stake and it is beautiful. We just purchased a "new house" in the country and this stake really set the setting of country living OFF!!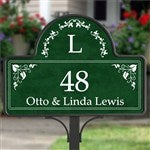 So nice
By
Joyce G.

(Cincinnati, OH) - December 26, 2013 (
See all reviews by this customer
)
I bought this for my mother as a Christmas gift. She loved it and I love the fact that it can be changed.

Seasonal yard sign
By
Bert B.

(Knoxville, TN) - December 18, 2013 (
See all reviews by this customer
)
We have a long driveway and use several yard stake signs. We change them out seasonally. We love the ease of changing the magnets. Take the old one off, put the new one on in 2 seconds. They're great!

Very Nice!!!!
By
Shopper

(Cumberland, ME) - November 17, 2013
I purchased 2 of these and they were both beautifully done! Lettering is perfect. The stake was a surprise as it is short so close to the ground. I intend to point one, that points the way to my office, in a great planter so it is within a visual field immediately and the other in the ground near the front of the house.
Would DEFINITELY recommend these sturdy and true to colr signs!

just right
By
Shopper

(Sayville, NY) - October 20, 2013
We bought this item for the Christmas season, because our front door number is blocked by the hanging wreath. Haven't used it yet but it looks fantastic and is better than expected. It came unbelievably quick and in perfect condition. The green color is very sharp. The contrast with the lettering is great. Quality is excellent for this price.

Great Value
By
Vincent C.

(Frederick, MD) - September 28, 2013 (
See all reviews by this customer
)
We have this in our front yard in a mulch bed. We also have a light on it at night and the lettering is reflective, which makes it look fantastic. A great buy for the money.

Quality
By
marie C.

(lake mary, FL) - September 10, 2013 (
See all reviews by this customer
)
Easy to use website, great quality for cost, fast shipping! Have recommended and will order again!

Exceptional
By
Cheryl R. S.

(Dale City, VA) - September 8, 2013 (
See all reviews by this customer
)
The yard stake magnet with stand looks exceptionally beautiful. It exceeded my expectations. I would highly recommend this product to anyone who want something different to display your address.

Yard Stake
By
Debbie D.

(Riverside, CA) - August 18, 2013 (
See all reviews by this customer
)
This turned out wonderful. I love the way it looks in the front yard.
Sometimes you can't read an address so It's nice having this up in front.
It's also a very strudy yard stake. I plan on purchases some as christmas gifts.

Elegant
By
Lydia K.

(Chicago, IL) - August 14, 2013 (
See all reviews by this customer
)
I purchased several of these signs and love this one in particular for everyday use. I ordered it in beige and it goes great with our house and front deck. It is easy to read and very elegant looking. I love these magnetic signs. Fun to change for the seasons and holidays!

address magnet
By
Ken W.

(Judsonia, AR) - August 12, 2013 (
See all reviews by this customer
)
color was excellent lettering was very clear

Very nice!
By
Becky W.

(Nipomo, CA) - August 10, 2013 (
See all reviews by this customer
)
I like the sign very much. It looks like it will do great out in California weather. Only time will tell. I would definitely buy this product again.

Gave this as a house warming gift
By
Shopper

(Clermont, FL) - August 9, 2013
Receiver of gift was very appreciative, commented on how sturdy it was and how it makes their home even more inviting to guests.

Very Pleased
By
Shopper

(Folsom, CA) - August 5, 2013
I ordered the yard stake for our new home ... and now it is the go-to Christmas present of 2013. Good quality and great price!

Great Gift Item
By
Shopper

(Madill, OK) - July 29, 2013
Purchased the monogram address yard stake as an anniversary gift...was pleased with the size, color and the overall look. It made an excellent gift and got lots of great comments.

Magnet Sign
By
JUDY V.

(CATHEDRAL CITY, CA) - July 16, 2013 (
See all reviews by this customer
)
I am really pleased with this item, can't wait to give this gift.

LOVE IT!
By
Julie C.

(Kalamazoo, MI) - July 8, 2013 (
See all reviews by this customer
)
It is great quality and it looks AWESOME. I got this for my dad's 80th birthday, because seriously he has everthing.. and he LOVED it!! He couldn't wait to find a place in his garden where everyone could see it.. Thank you for a great quality and beautiful gift!!

Wow
By
Shopper

(Austin, TX) - June 30, 2013
Love it!

Address marker
By
Sylvia H.

(Americus, GA) - June 20, 2013 (
See all reviews by this customer
)
I am pleased with the address yard marker I ordered from Personalization Mall. It looked exactly as promised, and it lets visitors know that they have arrived at the correct place.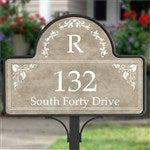 I LOVE IT! It's so elegant.
By
Deborah F.

(Shawnee, KS) - June 11, 2013 (
See all reviews by this customer
)
I am so happy that I bought this, it came fast and its looks very nice.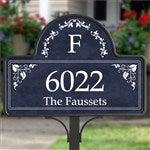 Great Produc
By
Shopper

(Schertz, TX) - June 11, 2013
This is my second address yard stake that I've purchased (2 different houses) and you can't beat it for the price. I used a rubber mallet to get it in the ground and you do have to be careful with that or you'll bend the frame. My only complaint is that I wish they didn't require a monogram at the top. The monogram looks rediculous, especially when your house number is only one number. They really have no options for a sign that just has your address and nothing else. I really wish they would offer that option. Other than that, I've had my other sign for a few years and it still looks great and has no sign of fading. Very happy with this product.

Great product!
By
Janeen A.

(Salina, OK) - June 10, 2013 (
See all reviews by this customer
)
We received our yard stake with magnet last week and are very happy with it. The stake is fairly heavy-duty and the magnet fits perfectly. For the price, it is of much higher quality than I expected!

Great Value
By
Deborah L T.

(Culver, OR) - June 6, 2013 (
See all reviews by this customer
)
I was very impressed when I received the sign which I bought for Father's Day, what made it even better was the fact that I could buy additional magnets for different occasions . I love it and will definitely purchase more as gifts.