Great item, reasonable cost, FAST shipping
By
Cynthia W.

(Phoenix, AZ) - December 6, 2009 (
See all reviews by this customer
)
We ordered two of these for birthday gifts for our children's playmates. The Pirate and sports were HITS. The kids loved that their names were personalized. Being that we live in AZ, we love the metal better than those cheaper plastic sports bottles that others sell..... keeps drinks colder sooooo much longer. GREAT BUY, fast shipping. Our 4 children will now be getting them for Christmas as well.

Another big hit with the boys
By
Anna B.

(Pineville, LA) - December 25, 2012 (
See all reviews by this customer
)
Our grandson's were excited that these bottles matched their wallets and that they could clip them on their pants. The only thing about these metal bottles is that with cold drinks the bottles are cold to the hands.

Adorable, but metal gets too cold!
By
Shopper

(DELRAY BEACH, FL) - August 24, 2012
I got this for my son who is 2 and must have everything his big sister (age 5) has! The bottle is good quality and adorable. The personalization is awesome. BUT, the bottle is made out of metal, so if you put ice in it, it gets really cold. So cold that my son won't hold it! Otherwise, we are really happy with this product. My daughter loves hers - she doesn't care that it is cold!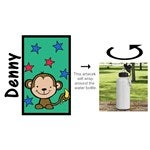 Great buy
By
Shopper

(Lindsay, TX) - May 15, 2012
I bought this for my son who is 6 yrs and he loves it. It thinks it is neat how he has two different lids to choose from. The design was exactly how it appears on the internet. Will purchase another one for my daughter.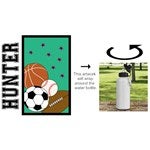 Water bottle
By
Sidney Z.

(Reno, NV) - April 8, 2012 (
See all reviews by this customer
)
Decent quality. Just got it. We'll see how well it holds up to a child's abuse. Seems good to go.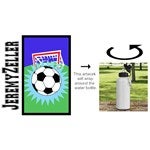 Good Water Bottle - Dents from Drops
By
Cynthia O.

(Fremont, CA) - December 9, 2011 (
See all reviews by this customer
)
I bought three of these in various designs for my children. The designs are bright, clear, and so fun showing off their individual interests (two "boy" designs and one "girl"). The children get lots of complements and adults ask where they got them. My only complaint is that they dent easily when dropped on a hard surface (concrete or ceramic tile). Didn't see any dents after a fall onto the grass. Bottom line: delighted with my purchase and would do so again.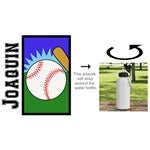 Great!
By
Shopper

(GAINESVILLE, FL) - August 27, 2011
Exactly what I expected.

Pleased & ordering more
By
Shopper

(West Orange, NJ) - March 19, 2011
We bought 3 bottle for our children and the printing and graphics are clear and bright. Easy to open, even for a 3-yr old. 10-yr old is proud to show his off. Narrow opening - we had to get a new bottle brush to clean the inside well. Planning on buying 1 for each player on our team - less plastic waste & everyone can find his easily!

cute kid's water bottle
By
Shopper

(Munster, IN) - February 21, 2011
Everyone was happy with this purchase; mom loved their name on their bottles, kid's were delighted too, while grandma was happy with their smiles.

Beats Plastic
By
Doretha C.

(Ferriday, LA) - August 19, 2010 (
See all reviews by this customer
)
Nice aluminum bottle; great personalization.

Another great find at Personalization mall!
My son needed a water bottle for school and this one looked perfect. We selected the airplane and had his name added for free. When the package arrived I had him open the box and it could not get cleaned fast enought to be used ASAP. only draw back is the condensation on the outside of the bottle.

Okay...
By
Shopper

(Washington, PA) - June 20, 2011
I like the personalization & the bottle is good quality. However, the bottle is very cold to the touch and it "sweats" a lot. My son doesn't like using it because it is too cold for him to hold.

N
By
bertha Y.

(fredericksburg, VA) - March 19, 2011 (
See all reviews by this customer
)
Nice for youth. Doesnot hold suit my daughter she is 27 y.o. This was a waste of money considering the ccost.If you are a small drinker..guess it would suit you well.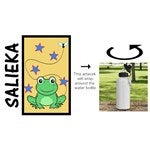 Unsatisfied
By
Sheryl S.

(Spring Valley , CA) - November 21, 2012 (
See all reviews by this customer
)
The artwork didn't stay on the bottle for long.

Personalized Water Bottle
By
Shopper

(Richmond, TX) - September 29, 2011
Do not purchase these bottles. They are very hard to get ice into them and they condensate so badly the kids can't even hold them. They are WET and SLIPPERY. Not a good buy at all. Very disappointed.