Awesome child's personal wallet
By
Angela W.

(Rochester, NY) - November 3, 2013 (
See all reviews by this customer
)
My grandson is very aware of spending & saving money. He just turned 6 yr. old, & is so excited to have his own wallet. His grandpa & myself put a few bills in his new wallet. He was truly happy when he received this gift.

Pleased
By
Shopper

(Gas, KS) - September 14, 2013
Well done! Excellent graphics and sturdy materials! My nephew will love this!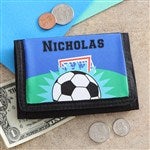 Christmas Gifts
By
Shopper

(Lebanon, PA) - September 8, 2013
I bought 6 of these wallets, for my Grandchildren and put a silver dollar in each, What a neat item, each has their own special wallet.

Really Cute Wallet
By
Tiffany V.

(Kalamazoo, MI) - September 3, 2013 (
See all reviews by this customer
)
Bought this wallet for my nephew who is about to turn 5 years old. This wallet is so cute and has great quality. Perfect for children who are just learning to count money. Will definitely continue business. A++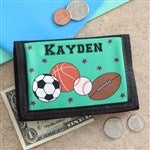 GREAT STOCKING STUFFER
By
Shopper

(North Port, FL) - September 3, 2013
I bought 2 of these for my 2 grandsons. They are both into sports, so one is getting the football wallet, and one is getting the baseball wallet. Of course both with have their names on them. They are both 8 years old, and I think they will really like them.


wonderful
By
Susan H.

(McConnelsville, OH) - September 2, 2013 (
See all reviews by this customer
)
very nice for a first wallet, very sturdy and love the frog, I think he will out grow it before it wears out

Very Nice Wallet
By
Wanda K.

(Johnston City, IL) - August 31, 2013 (
See all reviews by this customer
)
I ordered this for my Grandson 1st Birthday and I have to say he will have it for sometime I'm sure very well made as everything I have ever ordered from you all!!! Thank's for such great product's!!! I would recommend anything on this page I have ordered many thing's and have never gave less then 5 stars!!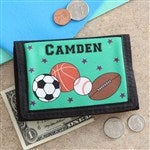 Go ahead and order!
By
Eric H.

(Pittsburgh, PA) - March 11, 2013 (
See all reviews by this customer
)
This is a quality product. My son's name is impossible to find on items in stores so I visited this site and ordered a wallet for him. He loves it, it looks great, and he will outgrow a wallet with a monkey on it before it wears out or fades. Based on my experience, I plan to make further purchases here. Try it!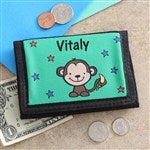 Love
By
Shopper

(Riverdale, GA) - January 28, 2013
I've been using this site for quite some time now and have been very pleased each time. My son loved his wallet. It was his very first one.

Wonderful Wallets
By
rebecca W.

(shelby, NC) - January 15, 2013 (
See all reviews by this customer
)
I ordered three of these for my young nephews. They arrived very quickly and were printed perfectly. They are sturdy and have velcro which will be easy for little hands. I am going to print some little id cards to put into the wallets, along with a few dollar bills. I can't wait to give these to my nephews.

EVAN'S PIRATE WALLET
By
Sharon E.

(Wesley Chapel, FL) - December 31, 2012 (
See all reviews by this customer
)
I wanted one more stocking stuffer for my 2 1/2 grandson Evan, his mummy said he really wanted a wallet just like daddy's. So I went on your site, it was only 7 days before Christmas, I found exactly what he would like, he loves Pirates, so I chose the Wallet with the Pirate Ship on it and his Name EVAN!! I was extremely worried that it would not get here in time for Christmas, he is a very, very special little boy, but I took a chance ,as your site said guaranteed Christmas Delivery! Wow and behold it arrived on Christmas Eve, his little face when he opened it up, he put it in his pants pocket and has taken it everywhere with him since Christmas day!! IN fact my daughter told me, every time they go to leave the house now, he says, Mummy I got my wallet!!!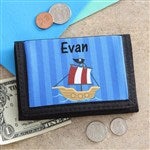 too large for children.
By
Shopper

(Jackson, TN) - December 27, 2012
It is aimed for children but its as large as an adult wallet. A child cant use ippt in their pocket. Why cant you make a smaller one for what that design is aimed at?

Big hit with the boys
By
Anna B.

(Pineville, LA) - December 25, 2012 (
See all reviews by this customer
)
Our grandson's loved these wallets. Unfortunately, they kept hitting everyone up for cash to put in them! LOL! Great quality. Very satisfied!

Perfect Gift!
By
Cobi S.

(Jupiter, FL) - December 11, 2012 (
See all reviews by this customer
)
I purchased this item as a gift for my son. He will be thrilled that his name is on it! The wallet looks just as it appeared in the preview, and the stitching is of great quality. It contains several pockets for storage which is a bonus. I received an excellent price, as it was offered as a holiday deal. I am pleased with this purchase and recommend to others!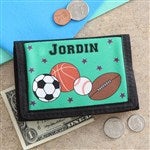 Well made, good quality
By
Shopper

(The Woodlands,, TX) - December 11, 2012
What little boy doesn't need his own wallet? This is a nice quality gift with strong velcro closure, plastic picture sleeves and little compartments. My 3 nephews will love it!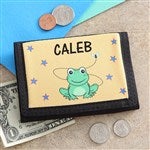 Personalized wallet
By
Margaret D.

(Tucson, AZ) - December 6, 2012 (
See all reviews by this customer
)
This is the 4th wallet I have bought. I bought 3 wallets 2 years ago for my grandchildren. I was delighted that the same quality wallet was still available. I like the photo holder. I make an ID card for each grandchild and print photos of their family. It is a great stocking stuffer. This year I will up date pictures for the other grandkids. It is a quality wallet. The velcro and stitching is good quality.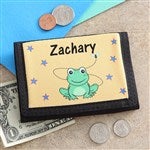 love it!
By
Danielle W.

(Virginia Beach , VA) - November 14, 2012 (
See all reviews by this customer
)
I just received the sports ball wallet in the mail. I ordered it for my nephew who is turning 5. I love the quality and the personalization. Absolutely love it. I know my nephew is going to like it and more so because it has his name!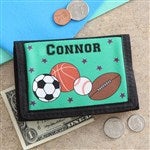 Great gift for a little boy
By
Peggy K.

(Saint Charles, MO) - November 13, 2012 (
See all reviews by this customer
)
This item was purchased for my grandson, who will be 4. It will be his first wallet, and he is just going to love it. He loves to see his name in print, and he is just starting to know the value of money. This is a great gift for any little boy.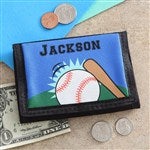 Personalized Wallets for the Boys
By
Kimberly H.

(New York, NY) - November 13, 2012 (
See all reviews by this customer
)
I love the wallets. They are high quality and will do just fine for my two boys. They are going to be so happy to find them among their Christmas gifts. We will be placing orders for more personalized items soon.

A WINNER !
By
Sandra S.

(LEBANON, MO) - October 1, 2012 (
See all reviews by this customer
)
Was a birthday gift for an 11 year old boy. He loved it! Can't go wrong with this purchase.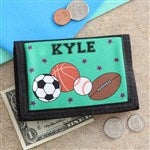 Great item!
By
Shopper

(Oregon, IL) - September 30, 2012
Oredered these for my Grandson's and they "love" them. They really like seeing their name and favorite sport on them. Great purchase!

Always a hit!
By
Shopper

(Edmond, OK) - September 22, 2012
Great quality, fast shipping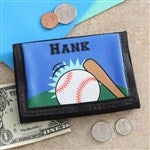 Another Great Product
By
Shopper

(Rocklin, CA) - August 5, 2012
I ordered a wallet for my 7 yr old grandson a few years ago & he has used it so much & it is still in perfect condition. His little brother has been wanting a wallet "just like his brother." So I ordered one for his 5th Birthday & he is so happy. Everything I order from Personalization Mall I have been very happy with!

kids liked them
By
Shopper

(marlton, NJ) - June 30, 2012
Kids loved them since they have space and are personalized.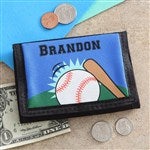 Great Birthday gift
By
Nancy N.

(Jamestown, NY) - May 20, 2012 (
See all reviews by this customer
)
I ordered a personalized wallet for two of my grandchildren and I was very happy with the look and quality.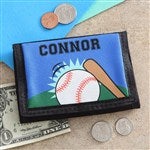 Personalized wallets
By
Shopper

(Harrisburg, SD) - April 24, 2012
They turned out to be great gifts! The wallets were large enough to hold change, money, and whatever else the kiddos wanted to put it in. My nephews absolutely love them! :) Especially since they have their own little names on them. This was most definitely worth 12 dollars.

Wallet
By
Shopper

(Baton Rouge, LA) - April 15, 2012
Turned out great!! Kids loved them in their Easter baskets!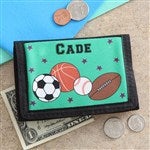 Perfect
By
Mary S.

(West Logan, WV) - April 8, 2012 (
See all reviews by this customer
)
This is for a five year old soccor fanatic. With his name on it and a few bucks in it he's gonna think he's THE MAN. I'm thinking of printing some sort of photo ID as a sport star or something (without too much information, caution ,caution people) and laminate it and put it in there also. Very cute, good buy for the money!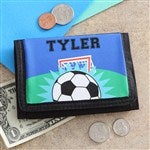 COMPLETELY SATISFIED
By
Shopper

(Andrews, TX) - April 2, 2012
The wallets I ordered for my grandchildren for Easter were wonderful. They are very nice and the personalization was exactly as pictured. I am a totally satisfied customer and will recommend personalizationmall.com to my friends and family. Thank you for a job that was VERY well done.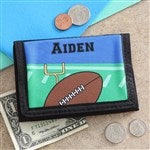 Great Item for all ages
By
Patricia C.

(Columbus, OH) - April 1, 2012 (
See all reviews by this customer
)
Instead of buying candy for Easter for my grandson 8 years old he's going to enjoy his personalized wallet for years. I'm very happy with this item and got to add photo's of us too.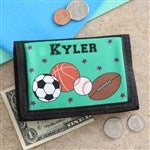 Cute Wallets!
By
Allison S.

(Brooklyn, NY) - March 27, 2012 (
See all reviews by this customer
)
My boys loved these wallets! They were excited to get them. I just wish there was a zippered pouch for change.

Wonderful Gift for boys
By
Shopper

(Chicago, IL) - January 26, 2012
My 2 little boys (ages 6 and 7) fell in love with these wallets when they received it for Christmas! They are past saving coins and are now saving $1 bills and up, so to have a colorful wallet with their name on it to save money in was a plus!!

Cute Wallets
By
Julie S.

(McLeansville, NC) - December 23, 2011 (
See all reviews by this customer
)
Ordered these for my 2 & 3 year old grandsons for Christmas. Was thrilled with the way they turned out & how quickly they arrived.

exactly as advertised
By
Shopper

(Jacksonville, FL) - December 22, 2011
product is exactly as advertised. good value for $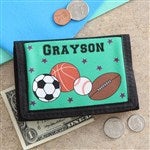 features i like about the product
By
Shopper

(everett, WA) - December 20, 2011
My nephew loved it, I wish they sell little wristlets for girls.

cutest wallet ever
By
Shopper

(Houston, TX) - December 20, 2011
This wallet is so cute and my nephew loved it. The colors are so bright and is perfect for any age over 3.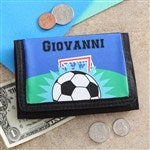 Sports Wallet
By
Nancy P.

(Ponte Vedra Beach, FL) - December 20, 2011 (
See all reviews by this customer
)
I bought the sports wallet and the pirate wallet for my grandsons who are 6 and 7. It has slots for pictures so I printed their family picture, a picture of each of them and grandma and grandpop and of course put some money in them. I gave one of them for a birthday and he loves it. The other will open for Xmas. The wallet is really well made and just exactly like the picture. A perfect gift and very reasonable. Would highly recommend purchasing this for a boy ages 6-9.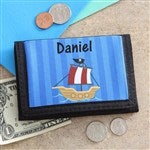 Cute and very light to carry for a young person or child.
By
Patricia K.

(Maspeth, NY) - December 17, 2011 (
See all reviews by this customer
)
My niece, nephew and grandchildren are going to love these.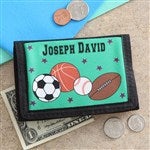 Great kids wallet!!!
By
Beth T.

(Traverse City, MI) - December 15, 2011 (
See all reviews by this customer
)
I ordered this wallet for my son for Christmas, and I lovee it!!! I got the all-star one and it looks just like the picture, plus it was a great price!!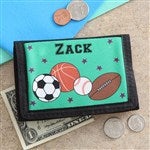 perfect execution
By
Shopper

(Jacksonville, FL) - December 12, 2011
exactly as advertised and arrived quickly