GREAT FOR KIDS
By
Shopper

(Binghamton, NY) - October 16, 2011
MY GRANDSON IS 10 YEARS OLD & IT'S HIS FIRST WALLET, HE LOVES IT, OF COURSE GRANDPA HAD TO PUT MONEY IN IT TO START HIM OFF. THANK YOU!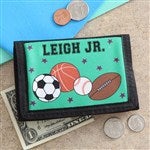 Cute...
By
Heather L.

(Elk Park , NC) - October 11, 2011 (
See all reviews by this customer
)
My son loved his wallet. It is very cute.

Cute Birthday Present
By
Melissa P.

(Roy, UT) - October 3, 2011 (
See all reviews by this customer
)
Bought this for a 7 year old. He absolutely loved it! It was his first wallet and I put 2 gift cards and a bunch of dollar bills in it. He thought he was the richest kid on earth! Perfect for young boys.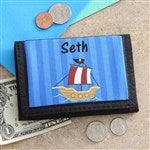 perfect for a 1st time wallet
By
Ann R.

(Mishawaka, IN) - September 25, 2011 (
See all reviews by this customer
)
pleased with item

Boys wallet
By
Shopper

(Bremerton, WA) - September 2, 2011
The wallet is very cute but not really worth the amount I paid. The website said it would ship in 1-2 days. It took 11 days to get to me and barely made it in time for my grandson's birthday.

Fun
By
Shopper

(South Bend, IN) - August 30, 2011
I wish there were more design options maybe specialized sports teams or superhero's. I bought these as a gift to the ring bearer's in my wedding and know they will love to play with them. They are a little cheezy but to a 2 and 5 year old they are perfect!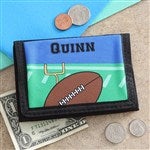 Nice gift for my grandson who is learning the value of money.
By
Shopper

(Pittsburgh, PA) - August 28, 2011
Nice item for child to keep some of their spending money in. Its durability will be tested.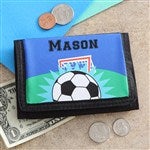 Cute
By
KIMBERLY L.

(SAN CLEMENTE, CA) - August 23, 2011 (
See all reviews by this customer
)
Cute wallet for our 6 year old - he feels like a grown up now! Small and not overwhelming - I'd recommend for any little boy!

boy's wallet
By
Shopper

(Katy, TX) - July 11, 2011
My only disappointment is that the wallet was shown as yellow and was not actually that color. The order was handled well and delivered quickly.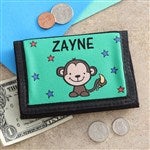 My Grandson loves it.
By
Shopper

(Sacramento, CA) - May 23, 2011
Good quality, met my expectations

Boy's personalized wallet
By
Shopper

(Livermore, CA) - April 3, 2011
Very cute. My son loved it. Only drawback is that there is not a place for change.

Boys Wallet
By
Angela P.

(Plano, TX) - April 2, 2011 (
See all reviews by this customer
)
Simple, but good for the boys.

ok
By
Shopper

(Lawrence, MA) - January 5, 2011
I bought it for my 2 year old nephew and he broke the insert right away. His parents though were nicely suprized to see his rare name on the wallet. Considering the material, I'd like to pay 6$ instead of 12.

Boys wallet
By
Loren D.

(Danbury, CT) - December 29, 2010 (
See all reviews by this customer
)
My 4 year old loves the wallet and I think it is pretty nice.

Just Like The Picture
By
GENEVA L.

(LAS VEGAS, NV) - December 22, 2010 (
See all reviews by this customer
)
I bought these as Christmas presents for my kids. When they arrived, they looked just as pictured on the website. I was tremendously satisfied. I loaded them up with gift cards from my kids' favorite stores. The pockets were good size for the cards and I even enclosed a photo. That may be my only complaint. The plastic photo holder slides in the wallet and it falls out rather easily. I don't know how long this will last. Otherwise, I am very happy with the quality.

As pleased as Apple Pie
By
Louise P.

(Dallas, TX) - December 13, 2010 (
See all reviews by this customer
)
I have two grandson three and seven years old. I wanted to find them a boys wallet of their very own; so I shopped every where,children stores,toy stores,dollar stores and had no luck in finding a boys wallet. I could not give up until I tried the web search and there it was "PersonalizeMall.com",A link that said Boys Personalized Wallet. This made my day! I place my order my wallet arrive and I was as please as me having a slice of my Moms homemade apple pie. I love them and I know my grandson will also with their names printed on them. The only mistake was my own in the spelling of one of thier names, no problem I had to re-order and I am please with the timely manner in which I received the wallet.

Coin section
By
Elizabeth E.

(Boise, ID) - June 25, 2010 (
See all reviews by this customer
)
perfect wallet, yet needs a velcroed coin section of some sort, as kids need when getting back change. so coins won't fall out (same review as girls wallet).

Boys Personalized Wallet
By
Elaine P.

(Chester, VA) - March 17, 2010 (
See all reviews by this customer
)
It was a little large to fit in the pants pocket of a 2 year old.

Children's wallets
By
Marianne H.

(Philadelphia, PA) - December 13, 2009 (
See all reviews by this customer
)
It was diffiult to find wallets suitable for young boys so I was happy to see them online. I received the personalized wallets in a couple of days. They seem to be good quality and were reasonably priced. I am pleased with the purchase. They are just what I was looking for.

great buy
By
Frances P.

(Las Vegas, NV) - October 31, 2009 (
See all reviews by this customer
)
These wallets are very cute and better than I expected, great gift for a child ( with money in it)