Necklace was disappointment
By
Christina K.

(Davenport, IA) - June 3, 2014 (
See all reviews by this customer
)
I purchased two of these necklaces for my granddaughters. For the first time in many years of being very pleased with my purchases, I have to say that these necklaces are not worth the money. The lettering is so small that you can barely make out the names.

Letters too small
By
Shopper

(Lubbock, TX) - January 19, 2014
This is the first time I've been disappointed in something from Personalization Mall. I was disappointed that the letters were entirely too small. This is for a gift and I hope they are not too disappointed in it!

Not as pictured
By
Dee H.

(Aliso Viejo, CA) - November 24, 2013 (
See all reviews by this customer
)
I was really disappointed to receive this necklace with tiny little letters. It's very hard to even see the name.

Too much money
By
christine A.

(lansing, IL) - November 16, 2013 (
See all reviews by this customer
)
I was so very disappointed with this necklace for the money I spent. The chain is okay but the letters look very very cheap. I also ordered it on November 5th & did not receive it until the 15th which was too late for the special occasion. Do not waste your money.

Personalized Silver Necklace
By
Shopper

(Austin, TX) - February 11, 2013
Should change the title to Personalized Silver Plate Necklace. Title is misleading.

Also pic is misleading. The size of the letters and spacers is very tiny. Can hardly read the name. For the price paid this is not a good value at all.

All in all disappointed in this product.

Do not buy from this company
By
Suzanne S.

(Celina, TN) - January 1, 2013 (
See all reviews by this customer
)
I ordered and the item was so tiny it would fit a year old and it was just letters and they would not give me my money back. It was letters they could reuse.

S.S
By
Shopper

(Rochester, MI) - February 25, 2012
The letter are too small. The chain is long. It doesn't worth the money I paid

disappointed
By
JOHN M.

(henderson, NV) - February 10, 2012 (
See all reviews by this customer
)
I was very disappointed with my purchase, there is nothing to compare the size of the actual letters, I got initials and not a name only 3 initials A.R.I. (short for arianna) and all three of them fit on the head of a penny with room to spare, That's how small they were. My Gift message wasn't included either, I was so disappointed. I had to go out and my great niece another gift because I was embarrassed to give her only that item!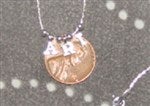 Not worth the money
By
Stephanie M.

(Brooklyn, NY) - December 16, 2011 (
See all reviews by this customer
)
This necklace is so small, cheap, and flimsy looking. Do not waste your time buying it. It is definately not worth the amount it costs. The size of the letters are the size of ants. You can hardly see them. The size of the chain is the size of string. They should be paying you just to consider wearing it!!!!

Necklace
By
Kathy B.

(Burgaw, NC) - December 16, 2011 (
See all reviews by this customer
)
The necklace was thin and very tight around the neck. Letters were very small compared to looking at the picture on line. The necklace would fit my granddaughter.

Size is deceiving
By Shopper (Old Bridge, NJ) - December 6, 2011
i read the reviews and expected the necklace to be somewhat smaller than advertised, however this is very small. Also the chain is short. Not worth the money at all.

Tiny Tim
By
Jaime T.

(Rohnert Park, CA) - October 21, 2011 (
See all reviews by this customer
)
This necklace looks big enough to read in the picture, but you have to have a magnifying glass to see it in person. I wore it today, and not only did I have to point it out to people, the had to get REALLY CLOSE to my neck to see it. I haven't ever been so unhappy with an order as I am with this one. Don't waste your money on this.
Everything else I've ordered is GREAT!! I won't stop ordering, but I will definitely make sure to do much more research before getting excited about a product again.