Too Dark
By
Shopper

(Madison, AL) - May 11, 2014
The photos on the mug are too dark to see what they are. I am very disappointed in the product.

Very disappointed
By
Jillian B.

(Waterbury, CT) - December 28, 2012 (
See all reviews by this customer
)
i was very disappointed with this product. You couldn't see the pictures at all!

You can hardly see the pictures
By
Shopper

(Canton, MI) - December 19, 2012
For the price I thought the pictures would be larger printed on the cup. Plus you can barely see the images with it being on stainless steel you really have to look hard to see them. Does not look like on there image of the cup.

couldn't see pictures
By
Shopper

(Philadelphia, PA) - December 19, 2012
This mug was much smaller than I anticipated and the pictures were very small print on the mug. In the preview, they appeared much bigger. I have ordered many products from this company and this is my first disappointment.

Not so good
By
Sherrie S.

(Port Angeles, WA) - December 12, 2011 (
See all reviews by this customer
)
I was so excited about these mugs, and they are of good quality, as is everything I get from Personalization Mall, but the photos look like ghostly images. They did not print well at all. Skip this mug and get one of the ceramic ones - the photos always look great on those.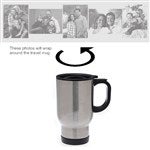 Terrible Product
By
Jessica D.

(Streamwood, IL) - December 9, 2011 (
See all reviews by this customer
)
This mug looks terrible in person and they print personalizationmall.com right under your pictures. Pictures are barely visible even if you upload pics of the best quality.

Too small!!!
By
Shopper

(Wilmette, IL) - November 26, 2011
This cup is way too small! In the photo the cup looks fairly large but in real life it is teeny! Other than that the photos come out clean and well wrapped around the mug.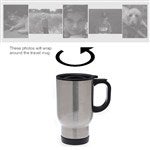 no
By Shopper (fresno, CA) - June 20, 2011
looks good

don't waste your money!
By
Shopper

(towson, MD) - June 18, 2011
O ordered this mug for Father's Day and was deeply disappointed. The mug is very light and flimsy and also, very small. The pictures were ok, but what I really disliked about this item was that they print "PersonalizationMall.com" right underneth your pictures! If there was room for text, I would have prefered, "Happy Father's Day". Not their logo! Your customized travel mug becomes a free advertisment for their company. This makes it look cheap and cheesy- like something you got for free. Nowhere on the description or on either photo angles is this shown. But trust me, you won't like it. I ordered 2 picture coffee mugs that had the logo on the bottom instead, which was much better. Please read the reviews! While this item is highly rated, many people complained of this issue. I only went back to read the negative reviews after I received my mug. Don't waste your money!

Not Satisfied
By
Shopper

(Columbia, MD) - May 31, 2011
I have gotten items from you before and the quality was great. The photos I sent for the mug on my end were clear but they showed up on the mug very dim and lacked clarity. The item I did before was a color shot and the personalized item was in color. On the mug I sent color shots and the mug generated black and white which was indicated at time of purchase. But I expected better quality in the transformation from color to b/w.

Drips and tacky logo on it
By
Shopper

(Greensburg, PA) - May 16, 2011
The rim on the cup is so thick that it drips. You have to hold your lips up to it until the liquid is back in the cup or it will drip on you. Plus the photos are small and dark. Lastly, the personalizationmall.com logo on it is tacky.

Broken
By
Shopper

(Shepherdsville, KY) - May 2, 2011
When I got this item the handle was broken and it wasn't what I was expecting. It is very small. Definitely not worth the money. I will be sending it back.

photo collage let down
By
Dolores P.

(Altadena, CA) - December 16, 2010 (
See all reviews by this customer
)
A great idea but the pictures came out too small and too dark to recognize any one. I probably will not give this as a gift. It will sit on the back shelf of my kitchen. Very disappointed with the results.

So Disappointed! Will be the last I order from here...
By
Shannon P.

(Perrysburg, OH) - April 20, 2010 (
See all reviews by this customer
)
I can not believe they printed "www.personalizationmall.com" on this mug. Its printed right below the photos and is shameless advertising. So tacky, I dont even want to give the gift now.