Name Spacing
By
Jackie M.

(Orlando, FL) - April 8, 2013 (
See all reviews by this customer
)
If you had not given me this chance to "sound off" about the product I purchased, I would probably not send this review. But since the information was right here for me, I do indeed want to express my unhappiness. The spacing of the names in the heart are not good. The first name, Bernadette, the "B" is actually so close to the line in the heart, you can hardly see it. There was more than enough room on the end of the name to space it more evenly and thus the entire picture would have been perfect. The idea and the picture is amazingly beautiful, I just think the spacing was off and the gift is not as attractive as it should have been.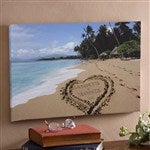 Disappointed With Poor Quality Of This Canvas!
By
Shopper

(Rancho Cucamonga, CA) - March 6, 2013
I sent away for this personalized canvas as a special wedding gift for my daughter and her new husband; She hesitated to tell me that the quality was very poor of the canvas print and actually looked quite cheap overall. Being that I sent this from out-of-state before attending the wedding, I asked my daughter to call the company to ask for any recourse (refund or replacement), but she felt the company representative dismissed her concerns and basically said there was nothing to be done. I felt really bad but just sent the new couple a check instead and will not be ordering further from personalization.com. Thanks.

Paradise Island Canvas- terribly dissatisfied
By
Shopper

(Charlotte, NC) - December 28, 2012
When I received the product I was very unhappy that I spent so much money on an item that was poor quality. The pictures on the website looked great, however when I received my order it was awful. The picture was very "pixel-y" and the personalized wording was poor. I ordered this to give as a gift but once I saw how bad it looked, I would never want to give this to anyone.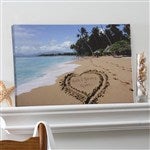 not what it looks like
By
Shopper

(Layton, UT) - December 10, 2012
I ordered this for my newly married brother and the picture looks fake and the words that you personalize look like a poorly printed computer font. It is also hard to see because it's the same color as the sand. I was really hoping the names in the sand would look realistic but it's aweful, even the picture looks unrealistic. Very disappointed and wish I could return it. I'm to embarrassed to give it to my brother, not even suitable for décor in the garage. Waste of money! Want my $30 back.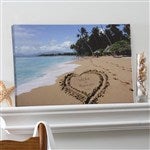 computer generated
By
Shopper

(Brookfield , WI) - November 27, 2011
Did not expect to get a product that looked so computer generated. Does not even attempt to look real. Ordered something similar years ago as a wedding gift from another site and the names where actually written in the sand; it was not computer generated. Very disappointed in the way this product turned out.

Looks computerized
By
Shopper

(Toms River, NJ) - August 22, 2011
I was very disappointed with my picture. I got it as a gift for a bridal shower. The painting looks like a real painting, however the words are computerized and it looks very obvious. I would not recommend purchasing this item....go to the beach and do it yourself!! Save the money!

Shower Gift For Daughter
By
Shopper

(Aurora, , CO) - April 12, 2011
I purchased this item from other favorable reviews on this website. However, I was disappointed in the product. I purchased the 12 x 18 picture since previous reviews said the larger you go the more blurry the picture is. Well, the 12 x 18 picture is blurry and I am happy that I did not purchase a larger more expensive picture. I purchased it for my daughter's upcoming bridal shower this weekend and while I am going to give it to her, I am disappointed in the final product and am happy that I purchased other gifts for her shower and not just this picture. Hopefully, she will like it for sentimental reasons since she is getting married on a beach in Mexico next month so just maybe it will mean a little something more than what it looks like. I am disappointed in this product!

Very poor graphics quality
By
Dana F.

(Frankfort, KY) - January 3, 2011 (
See all reviews by this customer
)
It is obvious this item was completed by someone with very little graphic design experience. I could have done this myself. The customization was done without regard to image focus and it is severely pixellated. Not worth the money in my opinion.

Blurry Picture
By
Christina R.

(Norristown, PA) - September 12, 2010 (
See all reviews by this customer
)
I have ordered many things from this website and have been extremly happy. However, I ordered this beach scene with engraving in the sand as a gift. The quality of the pixels in the picture seems blurry and are very poor. Also the writing in the sand, you can tell is different than the rest of the sand. Would not recommend considering the price.

Disappointed
By
john C.

(rowland heights, CA) - January 29, 2010 (
See all reviews by this customer
)
i was disappointed with the quality of the personalization.it looked like a little kid had done the personalization.This is such a beautiful picture that its to bad the personalzition is not as beautiful

Horrible
By
Josephine V.

(Paterson, NJ) - October 8, 2009 (
See all reviews by this customer
)
I did not even give it as a gift it was so Cheap. It looked like someone took a Sharpie and wrote names on the Photo. Save your Money