Why didn't I listen
By
Shopper

(Arlington, TX) - August 22, 2014
These were such a disappointment. The personalization was so small you needed a magnifying glass to read it Very misrepresented. I should have taken heed from the other comments

Print and logo are too small and light
By
Shopper

(Malvern, PA) - July 20, 2014
This is the first time I have not been 100% satisfied with a purchase from Personalization Mall. The most prominent thing on the ball is the Nike name. In contrast, the custom logo is very small and the printing is light and hard to see.

Very Disappointed
By
Mary F.

(Morganfield, KY) - June 24, 2014 (
See all reviews by this customer
)
Logo too small to read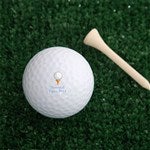 not happy! print was tiny!
By
Shopper

(Essex, MA) - June 23, 2014
I was so excited to give these as a gift to a friend and I was so disappointed when they arrived! The print was so tiny I needed a magnifying glass to see it, and yet the golf ball brand logo was HUGE!! I was bummed to have to give it as a gift when I thought it came out awful. I wish I knew the font was going to be so small. Maybe there is away to ask them to make it larger? I wasn't aware it was an option.

Disappointed
By
Dennis M.

(N Richland Hills, TX) - December 5, 2013 (
See all reviews by this customer
)
Very disappointed in the product. You need a microscope to see the lettering as the font is so small and faint...don't select blue, it's pale and not representative in reality from what is displayed on the preview. Suggest you shop elsewhere.

logo
By
joan A.

(chaumont, NY) - November 8, 2013 (
See all reviews by this customer
)
I thought the personalization would be larger. There was so much writing on the ball, it took away from the info I put on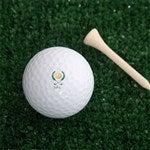 Writing so small you need a magnifying glass!
By
Christy S.

(Lancaster, CA) - October 15, 2013 (
See all reviews by this customer
)
I have been buying items from PM for many years and this is the first time I am VERY disappointed in a gift that I ordered. These golf balls are expensive and when you receive them you can't even seen the personalization. I was embarrassed to give this as a gift!!
I will have to rethink buying gifts from here again...

Golf Ball Set
By
Shopper

(Clinton, NJ) - December 19, 2012
You need a magnifying glass to see the writing, and can hardly tell what the image is on the actual product. Not worth the money!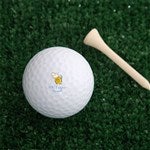 Very small print
By
Shopper

(South Euclid, OH) - November 24, 2012
The personalization was so small that we had to point it out to the person we gifted it to. I've always been happy with my purchases, but this one was a bit of a disappointment.

Disappointed
By
Shopper

(West Chester, PA) - November 17, 2012
The golf logo overpowers any personalization that you may request on the golf ball.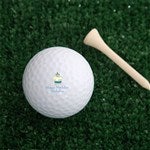 not as it appears
By
Shopper

(NY, NY) - October 23, 2012
First of all - thought the price was a bit high to get name on a golf balls. Balls, even the less expensive ones, are still very expensive. Price jacked up higher then could purchase separately. But it a gift....

I reviewed it on-line and it looked great. Then got the balls, and the writing was SO SMALL you could barely read it. On top of the too small type, there are all kinds of really BIG logos on the balls - which make the part you WANT to read even harder to see, and it NOT something you see on-line when reviewing.

The REVIEW of the customization writing should be more accurate as to how it will ACTUALLY looks when received. Would have made the biggest font available if knew was going to look as small as it did. It is very misleading what you see and what you get.

I would say not worth it unless can fix the size - can't really read. Made for a sad birthday surprise for my Nephews. Would not buy again. The picture they show you at the end is NOT close to what get.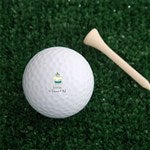 Misleading product
By
Shopper

(Old Westbury, NY) - October 23, 2012
No where on this item does it say that the golf ball says MOJO in huge letters, and the personalized design is tiny. Do not purchase this.

Tiny
By
michael K.

(wallingford, CT) - July 7, 2012 (
See all reviews by this customer
)
The personalization on the golf balls was so tiny I could barely read it,iI would have sent them back but there is no refund policy.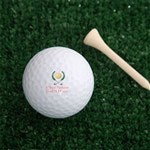 4913-TF - You Design It© Golf Ball Set - Top-Flite® Complete Distance
By
Shopper

(Stephenson, MI) - May 3, 2012
Great idea except you need a magnifying glass to see personalized print. Not impressed.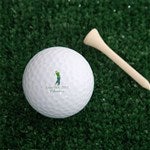 Micro Print
By
david C.

(slidell, LA) - December 1, 2011 (
See all reviews by this customer
)
Just received mine and am extremely disappointed. Ordered for a huge corporate customer (CHRISTmas gifts)and would be embarrassed to give them out. Literally cannot read the print (my company name). Example-the print is 1/3 the size of the 'Top Flight' wording! Seriously!! Asked them if I can send back and get larger font-we'll see if they can/will help. My first mistake, I ordered 10 dozen, yes 10 dozen. If you have a large order please order a trial order first. If you are okay with the micro print than proceed, but please don't do as I and place your whole order without first seeing the finished product. Packing was good and shipping was prompt, even now at three weeks before Christmas. Hope I'm not stuck with 120 practice balls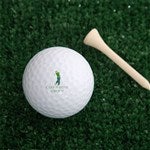 Very Unhappy
By
Bruce C.

(Howell, NJ) - October 3, 2011 (
See all reviews by this customer
)
The personaliztion was so small you could hardly read it. I have purchased items in the past however I believe this will be the last time I purchase from this company. The description was innacurate when I placed the order and it was embarassing to present this gift......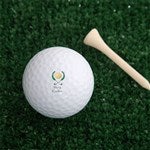 Disappointed
By
Ronald B.

(Colorado Springs, CO) - June 12, 2011 (
See all reviews by this customer
)
I was disappointed in the size of the personalization, the golfer was much smaller than the picture indicated. We liked the golf tees we ordered they meet our expectation but the golf balls didn't. You can hardly see the golfer. I have seen other golf balls and I know it could have been much bigger. Hope you can do something to correct this. We are using them for a family reunion in Aug. and are not very happy with them.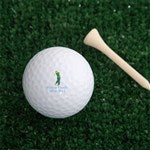 tiny ... Tiny... TINY Monogram
By
Therese M.

(Englewood, CO) - January 24, 2011 (
See all reviews by this customer
)
Really Not Worth The $$$ To Have Monogramed ~~~ You Need A Giant Magnifying Glass To See It ~~ SIGH!

Don't waste your money
By
Mary D.

(Venice, FL) - November 30, 2010 (
See all reviews by this customer
)
The design on the golf ball is so small that you can barely read the name of the person imprinted on the ball. I cannot belive your quality control would allow this to be shipped out.

personalized print
By
Denny F.

(Greybull, WY) - June 28, 2010 (
See all reviews by this customer
)
i ordered the callaway golf balls for my husbands birthday. I was very dissapointed in the personalized text. So small you had to have a magnafing glass to read it. Need to enlarge the text!! Denny Greybull Wyoming