Don't like it
By
Shopper

(Wildomar, CA) - February 21, 2012
This product did not meet my expectations. I thought it was a great idea....not as great as I thought it was going to be.

Good Idea but VERY CHEAP LOOKING
By
Ryan S.

(West Covina, CA) - February 14, 2012 (
See all reviews by this customer
)
I really like the idea but was very disappointed when the product arrived. The umbrella and palm tree was so cheap looking that it took the romantic feel out of the gift in my opinion. I actually went to the store to buy another bottle and made my own. The only thing I kept was the paper.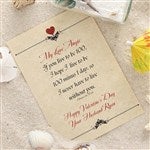 Awesome idea, Poor execution
By
Shopper

(King George, VA) - January 27, 2012
Awesome idea, beautiful paper, but the tree and umbrella looked cheap. Refine those two items and you will,have a great product!!!

Gift wrapping advise
By
Shopper

(Orlando, FL) - December 2, 2011
I requested to have this gift wrapped, and I did not like that there is a little much marketing all over the gift box, wrapping, and in the bottle. I know the company needs marketing to sell the product and to be fair I would accept some reasonable marketing in the actual bottle.
If you do decide to buy, DEFINITELY DO NOT PAY FOR gift wrapping.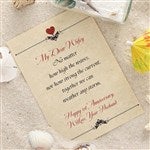 Quality great but the shipping speed and customer service sucks
By
Darrell W.

(Loveland, OH) - November 26, 2011 (
See all reviews by this customer
)
This was my second purchase and the gift items themselves were very good quality and well received from my wife. This last order was placed on Monday morning while I was out of town on business in hopes that it would be delivered before I got back home on Saturday, which worked out perfectly on my last order. Unfortunately this time the package was not even picked up by FedEx until Thursday morning despite the email I received stating that the item had been shipped on Tuesday. Needless to say it was not delivered until I returned which was a huge disappointment. My email complaint and plea to do anything to salvage the experience was greeted with an email stating that the item had been shipped within the specified timeline and the info on the shipping email was correct despite the fact that FedEx did not record picking up the order until two days later. Very disappointed with this order and will probably not do business with Personalization Mall again.

OK types
By
Shopper

(Edison, NJ) - February 15, 2011
It surely is a good one, especially the quality of the print and the paper used in the bottle, however i was put off by the quality of the bottle itself and by the time it reached me by post, the salt was all over (inside of) the bottle and I couldn't get something to clean it deep enough and therefore it looked like there was some fog in it..

It maybe worth the money but I definitely won't display.. :)

Personalized Love letter in a bottle
By
Janice L.

(Ravenna, OH) - June 1, 2010 (
See all reviews by this customer
)
I was not very happy with the product, it seemed to be bigger in the picture and it was a small little bottle, maybe as tall as a pop can. The sand looked like salt, and i just was expecting something a little more fancy for the price I paid. I said it was a gift and it came with all kinds of papers with a lot of details. For the cost I expected more.

Could be better
By
Debra P.

(Sacramento, CA) - May 25, 2010 (
See all reviews by this customer
)
The bottle was plain and cheap looking. There was no style to the bottle in general. A design on the outside of the bottle and maybe some small shells inside would improve the overall look. I did like the layout and coloring of the inscribed words.

Love letter in a bottle
By
Becky P.

(Bowling Green, OH) - February 15, 2010 (
See all reviews by this customer
)
I was very disappointed with this item. The bottle is very small, not a regular size bottle and the message was very small. It definetly was not worth the money.

cheezy
By
Linda C.

(Balch Springs, TX) - February 11, 2010 (
See all reviews by this customer
)
Certainly not as nice as the picture looks. Very cheezy looking and very small.
I guess I just thougth it would be packaged with sand, shells etc., but not.
Not worth the money