Lovt It
By
Joy G.

(Irving, TX) - December 26, 2012 (
See all reviews by this customer
)
Use it every day!

Darker than expected photo travel mug
By
Shopper

(Brookfield, CT) - December 5, 2012
I received the mug with the photos on it like I placed them - so I was happy about that. I did think the photos came out much darker than I expected. I would not order this again -I would go with color photos. I aalso like the photos to be larger than what they are

Photos washed out
By
Shopper

(Wasilla, AK) - November 29, 2012
Photos are viewable but very faint...you have to hold the mug close to your face to see what they are. I used the lighten feature and it didn't help.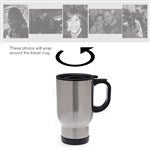 Disapointed
By
Shopper

(Santa Clarita, CA) - July 7, 2012
I was disappointed by the size of the travel mug as well as the B/W pictures. I was under the impression that it would be in color, so when I saw it in B/W it upset me a little. But overall it wasn't bad. The travel mug seems to be of good quality. I do wish it came with instructions on how to best maintain the mug.

Mug
By
Shopper

(Alexandria, VA) - March 22, 2012
Bottom ring broke when dropped

wanted to give a 5 star review
By
Shopper

(minneapolis, MN) - February 5, 2012
i really wanted to give a 5 star review. i love this mug - specifically the stainless steel, and the black and white photographs.

BUT, the "personalizationmall.com" logo printed on the mug is so tacky. it gives the mug a very cheap feel, and i was very disappointed by that.

Not what I expected
By
Shopper

(Riverview, FL) - December 30, 2011
I was not happy that your advertising www.personalizationmall.com is printed on the cup. It does not show this anywhere in the description. You can also see the glue seeping out where the handle was glued onto the cup. Just overall not happy with this product.

ordered as holiday gifts ......
By
Laura G.

(Houston, TX) - December 26, 2011 (
See all reviews by this customer
)
I am an avid online shopper, however I always cross compare against several websites for the best quality item. I was very excited to find these sturdy, personalized travel mugs as my goal was to personalized them with photos of a recent pet that passed as a holiday gift. when the product arrived I was not happy at all with the photo qualify. I understand of my pictures were not perfect quality...I just wish a customer service rep would have notified me that other pictures would be a better choice. I had no choice but to use the mugs as gifts due to time constraints. The mugs are great quality..however the personalized photos (main reason for purchase) was very disappointing.

Disappointed
By
Diana H.

(Colorado Springs, CO) - December 23, 2011 (
See all reviews by this customer
)
The mug seems to be good quality and the photos look great (the reason I didn't give it 1 star). But I am severely disappointed that the mug has "www.personalizationmall.com" printed (in probably 11 pt. font) directly below the photos (not in the product description or visible in the product preview). I'm upset to have paid $31 (product + shipping) for them to so boldly advertise on a gift I intend to give to a loved one. Would not be as bad if the text was moved down lower or to the bottom of the mug, but where it is looks tacky.

Disappointed
By
Shopper

(Jersey CIty, NJ) - December 21, 2011
I thought this was a great idea, but the photos are so faded that you have to look carefully to even realize there are photos on the mug. On the Preview pic at time of order the pics were much darker.

a bit dissapointing
By
Dawn B.

(Virginia Beach, VA) - December 19, 2011 (
See all reviews by this customer
)
As a frequent customer to Personalization Mall I am very sad to say I am not happy with this travel mug. The pictures show up very dark on the cup and pretty small too. The first one I received was scratched up so much I had to call and complain and they sent me another one out the next day which I was pleased with the speedy service. This is one gift that I wouldn't recommend to others. The quality of the cup is ok but the images show up too dark. The pictures I used were not a dark contrast to begin with so I thought they would be perfect for this personalization but I wouldnt order another for anyone else on my list.

Logo on cup.......
By
Shopper

(Ladysmith, WI) - December 8, 2011
I love the cup but probably would not have opted to have the Personalization mall.com advertisement on the cup! I was a little disapointed with that. It is supposed to be a meaningful gift not an advertisement.

Faded Look
By
Shopper

(Raleigh, NC) - December 8, 2011
I expected the photos to have a darker look but they came out very much faded and streaky.

Okay
By
Shopper

(DENVER, CO) - December 5, 2011
The photos aren't as large/"bright" as I would've thought. If I'd known they'd look the way they do, I'd rather get a mug that is color printed w/photos. I wouldn't order this type of mug again.

disappointed
By
Shopper

(Glenshaw, PA) - November 28, 2011
The mug was nice and the pictures look nice too but there was "personalizationmall.com" stamped right on the side!!! It made the whole product that would have been nice very cheap. I would have bought it somewhere else if I had known that would be on there. I paid for this item, I understand when you have a free item that an ad could be put on it, but not one that I purchased, at least not right on the side of the mug! Plenty of other sites sell personalized items and ones with uploaded pictures.

Handle is cheaply done
By
Shopper

(Antelope, CA) - July 1, 2011
The mug was great except for the handle it is not strongly attached.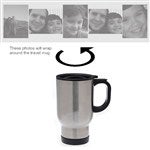 Photos hard to see
By
Jessica P.

(Denham Springs, LA) - June 25, 2011 (
See all reviews by this customer
)
The mug itself is smaller than average and the photos are nearly impossible to see. I would suggest using close-ups with high contrast. This made for a very poor father's day present : (

Photo collage
By
Shopper

(Alsip, IL) - June 23, 2011
The pictures are very dark, not sure if changing them to black & white on my computer was the problem. I don't like it.


Too small an item
By
Shopper

(Fresno, CA) - February 18, 2011
I thought that it was gonna be a bit bigger. It's too small, it's not big enough to hold a large amount of volume.

My Photo Mug
By
Donna F.

(Palmer, AK) - January 21, 2011 (
See all reviews by this customer
)
On the stainless steel background, the pictures didn't show up as well as they would have if they had been colored pictures. I made sure the pictures were dark, but was still a little disapointed. The mugs themselves are made very sturdy, no leaking. Donna

Nice, but hard to see the photos
By
Alesha L.

(Hugo, MN) - December 22, 2010 (
See all reviews by this customer
)
I was a little bummed, wasnt quite what I was expecting. I think my mother in law will like in anyways!

Nice Mug, not so great pics
By
Deborah W.

(Rancho Cordova, CA) - August 13, 2010 (
See all reviews by this customer
)
The mug itself is a bit smaller that I thought, but nice and sturdy. However, I ordered it with color and pictures of very good quality and they are small, black and white, and somewhat difficult to see.

coffe mug with 5 pictures
By
Thomas Boyd T.

(Davidson, NC) - July 26, 2010 (
See all reviews by this customer
)
so dark or so light pictures, so sad in dark color, like for funeral. I was snot happy so much.
Boyd Tyson, Alena McAllister


Not happy at all
By
kelli B.

(Vancouver, WA) - June 14, 2010 (
See all reviews by this customer
)
I ordered these cups as a gift for fathers day. When I receieve them the first one I open the seal on the lid comes flying off. I look at the pictures and they do not look very good at all and then to top it off the www.personalizationmall.com logo is on the cup below the pictures. The tops on the cup do not seal so I am afraid if someone had there "Hot" coffee in them it would end up spilling on them. For the price of these cups it is definately not worth them. Also the cups seeemed pretty small. I definately do not recommend this product. When I contacted customer service with my complaints they basically said sorry...
Signed, Unhappy Customer

Almost a nice buy.
By
Sara P.

(Ashtabula, OH) - March 15, 2010 (
See all reviews by this customer
)
First and foremost, I really hate that they had to slap their website right under my pictures. Isn't it enough that the mug is so unique that whoever sees it is going to ask where I got it, anyway? Put your stupid advertrising on the bottom or something. The mug also came scratched it several places. Didn't take too long to get here, though. At least that was convenient.

Pictures
By
Melissa S.

(Saint Charles, IL) - December 27, 2009 (
See all reviews by this customer
)
The pictures appeared very dark. It was hard to see the pictures on the mug.