Cute but too small
By
Vivian N.

(Jersey City, NJ) - July 28, 2014 (
See all reviews by this customer
)
The only reason i gave this item 2 stars.. was b/c the receiver really liked it. I felt that it was too small and very cheap for it's price. The heart that looks as if it's on the inside.. is actually a sticker thats placed on the outside. It's basically the size of a business card... very misleading.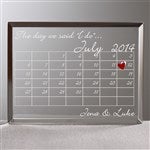 Calendar
By
Lacey K.

(Mount Julier, TN) - April 13, 2014 (
See all reviews by this customer
)
Was VERY cute, however when delivered, this was the size of an index card. Was hoping to be a bit bigger :(

Not please with product
By
Shopper

(Tampa, FL) - December 24, 2013
Very small. I had to go buy another gift because I was thinking that this would be more that just a paper weight.

Wish the photo was larger
By
Lisa H.

(DeWitt, MI) - December 16, 2013 (
See all reviews by this customer
)
When I ordered this I thought it looked more like a picture frame. But it is a very small paper weight for the desk.
It's nice but too small.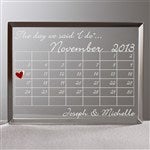 Too small
By
Elize B.

(Las Vegas, NV) - September 20, 2013 (
See all reviews by this customer
)
Pay attention to the size!

Nice but too small
By
Shopper

(DORCHESTER, MA) - April 13, 2013
I really liked this keepsake when I saw it on the site so I ordered it for my parents anniversary. Although I like it, I was very disappointed when I received it in the mail. For the price, it was way too small.

its ok..
By
Bryanne A.

(valley cottage, NY) - April 13, 2013 (
See all reviews by this customer
)
I was disappointed with the size of it very tiny n the red heart is a sticker and came off when I pulled it out. Cute idea but not something I would
order again.i normally love everything I order from here but not my favorite item.

Cute, but very small
By
Brandie W.

(Warner Robins, GA) - March 22, 2013 (
See all reviews by this customer
)
I was expecting this item to be quiet a bit bigger. Also, The heart is a sticker put on the front glass.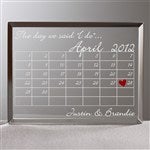 Very small
By
Shopper

(Henderson, KY) - October 6, 2012
Idea is good but much smaller than I thought it would be and the heart on the front of it is a sticker that I am sure is going to come right off anytime now!

Cheaper looking than I thought it would be
By
Shopper

(Greendale, WI) - July 30, 2012
I was slightly disappointed with this purchase for my friend's upcoming wedding. I wanted to get a little something for her and her soon-to-be husband's computer desk, like a paper weight that reminds them of their special day; I thought the quality would feel "heavier" and more of a glass feel. It's a bit light weight and "cheaper" quality than I was hoping for, although it still has a nice look and it will "get the point across" that I was hoping to make for them!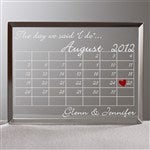 Not as Big as you think!
By
Shopper

(Chicago, IL) - June 21, 2012
This item is smaller than it appears on the website. Buyer beware, you get what you pay for.

Not the best...
By
Shopper

(Sheboygan Falls, WI) - April 10, 2012
The calendar itself is a cute idea, but the sticker idea.....not so much.
I think the sticker is too big, and looks kind of odd the way it is placed. We removed the sticker, and colored the heart on the back side of the calendar, with a red sharpie. It looks much better now (until you get close enough and see that there is a heart etched in to show where the sticker is supposed to go). I think the sticker ruins the whole idea of the product.

Nice but very small
By
robert S.

(surprise, AZ) - February 14, 2012 (
See all reviews by this customer
)
It is a very nice sentiment but a little small and hard to read.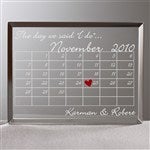 Surprised by size!
By
Arlene S.

(Albany, NY) - January 23, 2012 (
See all reviews by this customer
)
I have been wanting to get this for myself for since christmas and finally purchase it. I was unpleasantly surprise that the size of it was so small. It looked way bigger on the site. After shopping whit you for over two years now, this is the first purchase from Personalization Mall that i a totally displeased with. Very Disappointed.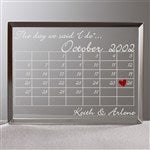 Was expecting this item to be bigger
By
Shopper

(Bakersfield, CA) - December 4, 2011
When I received the small box I thought it was a joke, but no joke this item is a paper weight. It is pretty and the personalization makes it a special gift, but I was expecting it to be bigger. The title of this item is The Day We Say I Do Personalized Keepsake- when I received the package in the mail this is where I read Paper Weight, this website should have that word on this item online.

disapointed
By
Jeff V.

(Harrisburg, PA) - October 17, 2011 (
See all reviews by this customer
)
The picture was very deceiving. This is the size of an idex card, probably smaller. The size of the object should be clearly stated, other than that..the shipping process and speed was very appropriate.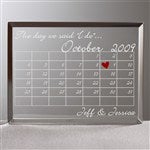 Size is deceiving
By
Shannon B.

(North Brunswick, NJ) - July 27, 2011 (
See all reviews by this customer
)
I was hoping this product would be the same size I assumed it was in the picture. Read the measurements very carefully!! It is tiny!! It actually comes in a small package that says PAPER WEIGHT...nowhere it the online description does it call it a paper weight! Very small and very dissatisfied.