Great idea, bad quality
By
Shopper

(San Diego, CA) - November 28, 2013
I purchased this item for my daughter's 17th birthday and was very exited about it!! The idea is great, however, when it arrived I was very disappointed. In the picture it shows that the background is gray & the engraving is in white but is visible. In reality the glass is clear and, if I wouldn't know that there should be an engraving, I would never noticed it. It is absolutely invisible due to it is in white ink on the glass. I wish it would be in gold, silver or any other color, that can be noticed immediately after opening the box.

Disappointed
By
Tracey T.

(Pittsburgh, PA) - August 5, 2013 (
See all reviews by this customer
)
I was really disappointed in this item. The engraving was white and you can't even see it. What good is it when the person who gets this as a gift can't even see the sentiment. Also, the one leg was bent. What a dud.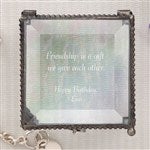 Not As Shown
By
Mahrya Q.

(SAN JOSE, CA) - May 21, 2013 (
See all reviews by this customer
)
Box is cute but does not come with the little heart charm on the box as advertised. The personalized writing I requested is not clear.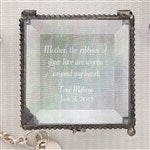 A gift formgranddaughter
By
Shopper

(Boynton Beach, FL) - January 13, 2013
Box is cute. More of a momento than a jewelry case. Unfortunately, personalization on clear glass top is difficult to see.

Not impressed
By
Danielle B.

(Houston, TX) - January 2, 2013 (
See all reviews by this customer
)
Looks better in the photo than in person. The hook holding the charm is one of those cheap necklace clasps, it looks horrible.

Read the fine print
By
Mujtaba J.

(Diamond Bar, CA) - December 26, 2012 (
See all reviews by this customer
)
It was much smaller than I thought (my own fault for not reading the fine print) and it didn't seem to be made with quality I was hoping for...but all in all, if you're tying to get the nice gesture of thought through, y0ur mission will be accomplished.

Part Missing
By
Pam H.

(Winter Haven, FL) - February 28, 2012 (
See all reviews by this customer
)
I purchased this for a special friend as a Christmas gift. The box is lovely and I really like it, however, there is a heart charm that is supposed to be attached to the front of the box. The heart charm was included loosely in the box, but there was no way to attach it. But I kept the item because I had it engraved with a special message to my friend.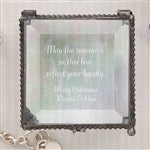 Not very pleased
By
Ana T.

(Brentwood, NY) - December 13, 2011 (
See all reviews by this customer
)
This would be a cute present or token for someone 15 and under. I unfortunately bought it for a friend over 30 and well it looks cheap even though it's not. The only thing that saved me from the lame gift was that it was personalized.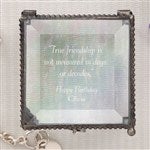 Very very tiny
By
Shopper

(Temecula, CA) - October 23, 2011
This is a really pretty trinket box, and I think a great gift for someone in the family that's hard to shop for (like your husbands grandmother) but it's really tiny and I think for the price it could be a little bigger.

vintage treasure
By
Shopper

(Bloomingdale, IL) - August 20, 2011
Looks much better in picture very cheap looking afor the amount of money. I spent. the legs and areas look very tacky. The inscription was slightly on a slant done. I am very disappointed for the amount of money I spent on this treasure.

Just OK
By
Shopper

(Washington, DC) - May 19, 2011
Slightly disappointed. The box feels and looks like it is made out our plastic. It also sounds like plastic when it is tapped.

Jewelery box... disappointed.
By
Shopper

(mattapan, MA) - February 15, 2011
This item is adorable, but would be so much better if it was bigger. It is way too small. Only a few pieces of jewelry can fit... not worth the price I paid

Disappointed
By
Meredith C.

(Gardiner, NY) - December 21, 2010 (
See all reviews by this customer
)
I was really rather disappointed with this item when I received it. It looks so lavish and ornate in the picture, but when I received it, it seemed like little more than a simple glass box with some framing around it. I feel like I have to get my mother something else to go with it, to compensate. I do not think I will be buying this item a second time.

Jewel Box
By
Margaret S.

(St. Petersburg, FL) - November 1, 2010 (
See all reviews by this customer
)
This item was a disappointment. It looks much prettier on the website than in actuality. But because I had it inscribed, of course there was no way to return it. Also, the inscription does not show up well. I did not feel good about giving it as the gift I had intended, so I had to change my plan. As for service from your company, that was excellent. No complaints there. Just the item.

The Picture is Prettier
By
Tinesha J.

(Des Moines, IA) - October 13, 2010 (
See all reviews by this customer
)
When I got the item I was a little disappointed. The picture makes this item look prettier then it is. Also it's almost impossible to read the words engraved on the top. Overall I wouldn't recommend this to a friend.

dissapointing
By
Mehwish K.

(flushing, NY) - April 2, 2010 (
See all reviews by this customer
)
I am very disapointed by the box. The heart doesnt even looks like a heart. It looks cheap and not well made at all.
I dont know what the other reviewers are talking about but this box is a waste of money

Pretty box, but irregular design...
By
Shelli B.

(Maple Valley, WA) - February 11, 2010 (
See all reviews by this customer
)
i love the look of this box I plan to give as a gift, but I was disappointed to see the metal on the lid edge was irregular and soldered on in a way that made it even more noticeable. I personalized a message on top and when reading it, my eyes make me think the engraving is crooked yet I think it is the crookedness of the lid that makes it appear this way.

not happy
By
Vicki C.

(Angleton, TX) - December 14, 2009 (
See all reviews by this customer
)
Not happy with this. Its a Christmas gift to my mom. When it came in the hinges are bent up. The top does not align with the bottom. Can't read the inscription. Very small. Not worth the money.

Cute, But Not What We Expected
By
Francis M.

(Virginia Beach, VA) - October 3, 2009 (
See all reviews by this customer
)
This trinket box is cute and does have some charm to it. It just isn't the quaility we were hoping for. Also, the personalization is difficult to read. We have bought many items from Personalization Mall; this is the first one we have not been impressed with at all.