Disappointeed
By
Shopper

(Arlington, VA) - December 5, 2013
The photo I used was the perfect size/quality for an ornament; however the faces of the 2 people in the photo is DARKER than the preview page showed and much darker than what I can print on my home computer. I'm hesitating to even give this ornament as a gift!

Ornament too dark
By
Shopper

(Plymouth, MN) - January 14, 2013
Turned out a lot darker than preview

Cute idea, dissapointing execution
By
Margaret D.

(West Allis, WI) - December 26, 2012 (
See all reviews by this customer
)
We were so happy with our family pictures we thought that an ornament would be a great way to remember the year by.

We loaded a high quality image to the site and fixed it just so. We couldn't wait for it to arrive!

When it arrived it was fuzzy. While you can see the picture; it wasn't the crisp, quality photo I downloaded. Disappointing.

Disappointed this time
By
Alisen C.

(Ft Lewis, WA) - December 24, 2012 (
See all reviews by this customer
)
This is the 4th year in a row I've bought these photo ornaments and this is the first time I've been disappointed. The quality of the ornament is great and usually the photo turns out great too, but this year the color quality of the photo was darker & more orange and didn't look like the original on my computer, or the ornament preview provided. If I'd had more time I would have reordered them, but I didn't have time. It has become a tradition to give this ornament with my kids' photo on it to my immediate family and they look forward to it (especially my 88 yr old grandmother who displays her ornaments all year long in her kitchen window). If next year's ornaments don't turn out very nice I may have to find a different company to make them.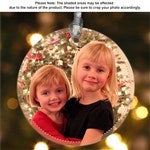 Be wary of photo quality
By
Stephanie C.

(San Antonio, TX) - November 16, 2012 (
See all reviews by this customer
)
This was a brand new digital image and I was careful about the resolution I submitted. The preview online was perfect (seen here). The actual item that I received was very dark. I was disappointed. No point in putting it on the tree. I guess these are nice ornaments if your pictures are very light.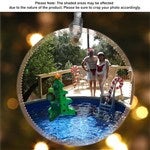 Disappointed
By
Shopper

(wildwood, MO) - August 4, 2012
Although the original picture was bright and clear, this ornament turned out very dark. I was very pleased that the Personalization Mall agreed to redo the item, but it turned out just as dark as the first time. I would not recommend this item, but I do appreciate the second attempt to make it right.

Not centered nor the same magnification
By
Shopper

(Grand Prairie, TX) - January 1, 2012
The manufacturer needs to work on their QA/QC, because the preview image was centered and sized correctly, but the received product was too zoomed in and not centered very well. It was okay for the money, I guess, but would probably not trust the preview positioning.

Not Impressed
By
Leslie R.

(Altoona, PA) - December 6, 2011 (
See all reviews by this customer
)
I ordered three of the photo ornaments ... all photos that were submitted far exceeded the requirements for resolution, yet all three ornaments look pixelated and of poor quality. One even has a dirt mark in the material for the ornament. Not impressed, but not worth the hassle of remaking since the quality the second time around would probably be just as shoddy ... this was a first and LAST order.

Wave of disappointment
By
Shopper

(Port Charlotte, FL) - December 2, 2011
I recently ordered two porcelain photo ornaments. They arrived quickly, and I was very excited to open the package. One of the ornaments was truly beautiful. The other...wow, not so much. The photo was only barely discernable because the entire ornament had a reddish-maroon dark tinge over the photo. The original photo didn't have that. The version I previewed on the site didn't have it, either. If I had more time before Christmas to send it back and try again, I might do it, but I just don't want the hassle. I am 50/50 happy and disappointed in the products.

Ornament
By
Cindy F.

(Delafield, WI) - December 29, 2009 (
See all reviews by this customer
)
I was disappointed with the quality. What appeared on my computer when I ordered was quite different from what I received. Also, I thought the image appeared on both sides of the ornament, which it did not.

Not the best
By
Larry S.

(Springfield, IL) - December 19, 2009 (
See all reviews by this customer
)
This ornament was made with the hole punched right through
The picture of my daughters head. There was empty space on the side
of her head if they would have just paid a little
more attention to detail. Not real pleased.