Looks Very Cheap
By
Shopper

(South Hamilton, MA) - January 14, 2014
I bought this as a gift for family, but was disappointed in the quality and am not going to give this gift after all as it looks very cheap. I don't know how durable it is, but it doesn't look like it would hold up outdoors. I would rather spend more and get a better quality item. Thumbs down on this one.

Doormat
By
Shopper

(Kenosha, WI) - January 1, 2014
very thin door mat, probably best used inside

Doormat
By
Shopper

(CHino Hills, CA) - December 28, 2013
Very disappointing when I saw the final product. Very, very thin and the printing was too light. I was embarrassed to give this as a gift. I would not order this again.

very thin
By
kari M.

(palm desert, CA) - December 13, 2013 (
See all reviews by this customer
)
It's a very thin mat. Which I knew it would be but, it looks a little cheaper than I'd hoped.

Ms
By
Maria M.

(San Antonio, TX) - November 16, 2013 (
See all reviews by this customer
)
I was disappointed with the quality of the doormat. This should have been listed as decorative only since it is a thin as a placemat. Don't waste your money. Could not be returned since it was personalized.

A little disappointed
By
Pam C.

(Birmingham, AL) - March 5, 2013 (
See all reviews by this customer
)
The doormat was attractive and well done. It was extremely thin and I doubt it will hold up outside in weather. Will have to put it inside in a seldom used entrance. This will not, however, stop me from purchasing more items from Personalization Mall. I love their service and their products.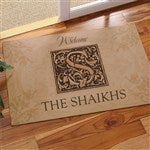 Not impressed
By Shopper (Viera, FL) - January 8, 2013
I have ordered many things from PM in the past, always being thrilled with the item when it arrived. My husband and I received this as a Christmas gift - what a disappointment from PM on this one. As other reviewers stated, it is cheap looking and feeling, paper thin, the color is PINK, it soils very easily and after less than two weeks on my porch, I have mold/mildew on it. I would never let the gift-giver know this but this is really junk compared to what I normally see in products from PM. Save your money and skip this one!

poor quality
By
Shopper

(Hohenwald, TN) - December 29, 2012
Looks good from a distance but very poor quality .....very small will not reorder

Not what I expected
By
Kristen B.

(Westerville, OH) - December 25, 2012 (
See all reviews by this customer
)
This doormat says it is suitable for outdoor use; it is merely MAYBE 1/16" thick, and would blow away in the wind if used outdoors. I already have a rug inside my door; was looking for a true welcome mat that people could wipe their shoes on (like the ones made with bristles for scraping of mud and moisture). I just received it today, but I can see it become stained in no time if I used anywhere but maybe inside somewhere. Very disappointed with this mat.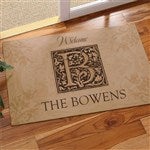 Looks cheap
By
Kristi C.

(New Albany, IN) - December 24, 2012 (
See all reviews by this customer
)
The picture makes the make look dimensional. In reality, it looks like a screen print.

Pictures not always perfect....
By
Anthony M.

(Mint Hill, NC) - December 4, 2012 (
See all reviews by this customer
)
Visually impressive, even beautiful, from the top, down. But once in hand, I found it disappointing that it was paper thin. Almost embarrased to give it to a client.