Pricey for rubber bands
By
Melodie S.

(Overland Park, KS) - December 11, 2013 (
See all reviews by this customer
)
I love this website as most products are of good quality and reasonably priced. This product does not fit that description. It is 3 thick rubber bands with a thin steel band with initials, for $35. I purchased them on Black Friday when they were on sale and would be outraged if I paid full price which I think was around $50. I purchased 2 of them for my nephews for Christmas. I'm afraid they will end up in the bottom of a desk drawer by New Years Eve.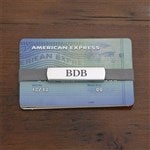 Functional gift, but cheap quality
By
Cynthia S.

(Kingston, PA) - February 14, 2012 (
See all reviews by this customer
)
My husband doesn't like to carry money in his wallet; he prefers to keep it in his front pocket. He's had several money clips but they are awkward to deal with when he's shopping, so I thought this would be a much better alternative. It works, but really it's just a big rubber band with a metal plate attached that has his initials engraved in it. He likes it, but it just looks and feels like a cheap gift. I don't regret the purchase, just how much I paid for it.

Great gift but
By
Shopper

(Cincinnati, OH) - August 27, 2011
love the idea but first band broke within 24 hours

Lack of Details & Deceiving
By
Shopper

(ELIDA, OH) - July 18, 2011
I purchased this item for a wedding gift. The metal and engraving were excellent, but that's it. No where in the description does it state the bands are plain old "rubber bands" that I could've obtained from almost any store. I paid $50 for rubber bands?!? I couldn't believe it! Both my fiance and I thought we were getting an item of better quality, hence the price. The picture is deceiving too - a couple dollar bills wrapped up in this item (a rubber band)would curl...they wouldn't be flat, like the picture represents. Since it's engraved, we can't return it - wonderful! I've ordered things from here before, and was VERY pleased - but this purchase will make me think twice before I buy again.

Like the product but overpriced
By
Shopper

(Methuen, MA) - May 24, 2011
I like the product but i think it is way overpriced for what it is.

Money Bands
By
Jeannine C.

(Brooklyn, NY) - May 7, 2010 (
See all reviews by this customer
)
I was not happy that only one band had the plate with initials. For the money you charged for 3 bands, all 3 should have had the initials. I don't believe it said only one would so it was very misleading. You should not be charging so much since only 1 has it.

money band cost way to much
By
Vanessa A.

(Schererville, IN) - March 8, 2010 (
See all reviews by this customer
)
I do not understand how it cost so much more to get a rubber band with a little sliver with 3 initials and half the price for a leather money clip and your full name. I hope the bands do not break. I can't even imagine how much replacements are

Overpriced
By
Stephane E.

(Waynesville, OH) - February 16, 2010 (
See all reviews by this customer
)
I like the gift, and the turn-around time was incredibly fast! I normally love the gifts that I purchase from PersonalizationMall.com! However, this gift is immensely overpriced!! So many of your gifts are incredible values, especially with the personalization...this was just the opposite. When I received it, I was disappointed. It seemed like a gift that I would expect to pay $15-$20, but I paid almost $50. It's a small piece of engraved silver with 3 rubber-bands!!! Because of past experience and purchases, I expected more from your company!

Okay
By
Heather L.

(South Hadley, MA) - February 11, 2010 (
See all reviews by this customer
)
Not worth the money.

cheap
By
Cheryl R.

(Holbrook, NY) - February 3, 2010 (
See all reviews by this customer
)
I ordered this for my husband and was disappointed when it came. Although the personalization was nice, it is literally attached to a rubber band. It was not worth the $50 since it came with two cheap rubber bands that are already fraying after two days of use!

Disappointed
By
Debbie O.

(Brookville, PA) - January 29, 2010 (
See all reviews by this customer
)
Thought you got two bands with engraved metal plate...but only came with one metal initial band plate and 2 extra bands.
Not a good value.