Not Durable
By
Shopper

(Boulder, CO) - April 28, 2014
The photo part of the key ring itself is very nice and came as I expected.
However the hinge that holds the photo to the chain is made of plastic and it easily opened on the next day and my husband almost lost the photo part. (Someone who knows us found it and returned it back.)
All in all it is good for the price.

I hope this review is helpful.

Cute but too Big
By
Lauren L.

(Cincinnati , OH) - March 1, 2014 (
See all reviews by this customer
)
The product was good ! Nice quality! Everything was the way it said it would be. But if you are buying this for a guy be weary! It's soooo big! Make sure you double check the size and it's okay with you! My boyfriend was being nice when he said he didn't mind the size! It is the biggest thing on his keys! Don't be fooled by the photo it's not that small! Get the measurements and make sure it's okay with you.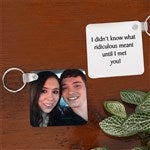 Picture blurry
By
Shopper

(Wilmington, CA) - October 22, 2012
I just wish the picture didn't look so blurry.

cute
By
alexa Y.

(clarksville, TN) - October 16, 2012 (
See all reviews by this customer
)
I liked the gift it as very nice. Great quality product, the only down was the keychain was huge.. i. didnt realize it in the picture. From a guys point of view he said it would b nice if it were smaller. Not very manly..lol but he loved it and its on his keys of coursr.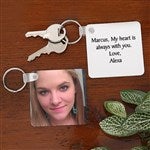 Cute Couple Keychain
By
Crystal B.

(Roxbury, MA) - December 13, 2011 (
See all reviews by this customer
)
Cute key ring, however I am worried that the plastic piece that holds the key ring will break and it will be lost, it is made of cheap material. The front of the key ring is fine, but the personalization on the back is crooked. I would post a photo, however I wrapped it quickly as it is a gift for my fiancee.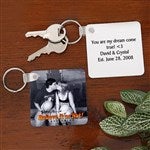 Product was a little bigger than expected.
By
Shopper

(Casa Grande, AZ) - November 23, 2011
The picture on the keychain came out perfect but i felt the picture was a little too big for a keychain.
Nevertheless It means a lot to me.

Christmas
By
Shopper

(Monroeville, PA) - November 22, 2011
Picture was perfect but wasn't too thrilled with back side, I thought it was a little too plain, over all it was nice! But could have been better.

very nice but kind of dark
By
Shopper

(Cattaraugus, NY) - February 7, 2011
I thought this was a really cute idea, but wish I had chosen a different picture I guess, since it came out a lot darker than I had wanted. I know my boyfriend is still going to love it when I give it to him on Valentine's day.

Not all that impressed
By
ARLENE B.

(SAN BERNARDINO, CA) - June 24, 2010 (
See all reviews by this customer
)
I wasn't all that pleased with my photo key ring. The picture quality wasn't that great & I thought the whole thing would've been better quality. This was a gift & now I'm not sure I'm even going to give it to him.

Cute but cheap looking
By
Donna R.

(Seffner, FL) - February 12, 2010 (
See all reviews by this customer
)
It turned out cute but I thought it was alittle cheap looking. I thought the quality of it was described to be of higher quality.

Cute, but not what I thought
By
Anna A.

(Cypress, CA) - February 11, 2010 (
See all reviews by this customer
)
I received my little photo key chain. To me, it looked a little cheap. Although it was only like 8 bucks, I thought it was going to be a little more authentic, not so plastic. Anyways, I still think its a cute for a gift, just not exactly what i thought

Pretty but fragile
By
Ashwini B.

(Blacksburg, VA) - October 2, 2009 (
See all reviews by this customer
)
I love the personalization and the keychain arrived just as it looked in the preview. However, the plastic bit that attaches the keyring to the personalized picture broke is made of pretty cheap plastic and broke a couple of days after giving it as a gift.