Font Size
By
Shopper

(Azle, TX) - February 25, 2013
I feel the product is a good item. The size, I felt was good also. However, the font size is too small. You need to enlarge the font and if you have to enlarge the product for the larger font size then I would do it. You need to be up close in order to really read what it says. You might also want to add color so when you are up close you don't have to position in a fashion to able to read it.

Disappointed
By
Patti P.

(Lithia Springs, GA) - February 24, 2013 (
See all reviews by this customer
)
My husband liked it but I was extremely disappointed because it was so small and it was hard to read the inscription.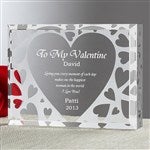 As a gift for my grand-children they love it !
By
Shopper

(Cicero, IL) - February 24, 2013
Item did not arrived for Valentines' Day as promised in timer clock;
Item is smaller of what i expect;
The printed decal seems easy to peel off .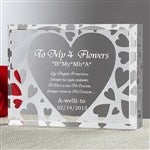 Beautiful but small
By
Virginia W.

(Oxford, GA) - February 12, 2013 (
See all reviews by this customer
)
The craftmanship on this item was good, but it was smaller than I had realized and the script writing, while beautiful, is difficult to read because of the small size. I think this would be much more meaningful and valuable keepsake if it were just a little larger.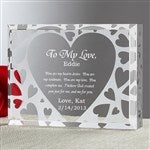 Hearts
By
angela H.

(newark, NJ) - February 11, 2013 (
See all reviews by this customer
)
Not what i expected. Writing to small I can barely read it a little disappointed!!!!!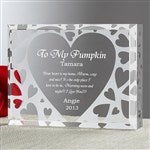 Product features i don't like
By
Laura L.

(Plant City, FL) - September 8, 2012 (
See all reviews by this customer
)
I don't like this product because it is too small. I which it was bigger.

You're All I Need
By
Shopper

(Memphis, TN) - February 22, 2012
It was done very nicely, but I thought it was going to be etched on glass instead of plastic. The first one came with a couple of bad spots on it, but they replaced it immediately before Valentine's day and sent the replacement ASAP! The Personalization Mall does take care of their customers & I will continue to use them as different personal occasions arise.

Thought it would be bigger
By
Shopper

(San Antonio , TX) - February 14, 2012
The craftmanship was great but the words were tiny and thought the whole thing would be a bit bigger.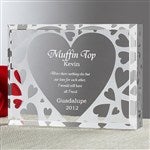 Great idea but too small
By
Cory G.

(Washington, DC) - February 11, 2012 (
See all reviews by this customer
)
I love the idea of the gift but i got the gift and it was too small. picture makes it look bigger than it really is.

Valentine
By
Cary B.

(Evanston , IL) - February 6, 2012 (
See all reviews by this customer
)
The conceptual idea is grrrrrrreat; however, when I received the item I was dissapointed as to the small size of the item!

Small Print
By
Shopper

(Winfield, IL) - January 16, 2012
I purchased this item for an engagement keepsake and put very basic print. I was dissapointed to find that i could barely read the writing on it because the print was entirely to small. I loved the overall look, but as far as reading it, you'll need a magnafine glass. Everyone who has seen it had to hold it very close to thier face just to read it.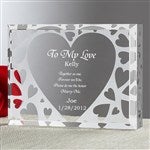 Smaller than as viewed online
By
Shopper

(Davie, FL) - November 20, 2011
The shipping took longer than expected, and check the actual size. I thought it would be the size of a 4x6 picture frame, but it is about a fourth the size.

Good quality and no typos.

Nice Trinket
By
Shopper

(Upper Marlboro, MD) - September 20, 2011
This was a nice trinket, which I was able to share a very important message with my hubby. It has a sturdy construct (particularly its weight) and fits just right on his desk.

A little small.
By
Shopper

(Bear, DE) - March 29, 2011
Shipment was fast, and the discription was exactly what was stated on your website.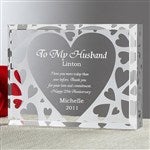 Disappoined
By
Shopper

(Browns Summit, NC) - February 22, 2011
I was quite disappointed with the size of the item and the writing, we had to put our glasses on and put it under a light to be able to read it. My wife and I have both ordered from you previously and have been very pleased. We will definitely be shopping with you in the future.

Crystal plaque with heart shape design
By
Shopper

(Jacksonville, FL) - February 15, 2011
It is very pretty, however the wording is so small you can hardly read it. It needs to be just a little larger print.

Too Small
By
Shopper

(Salisbury, NC) - January 22, 2011
The item was much smaller than what I expected. You could barely make out the smaller words. If the item where a little bit bigger so the font could be enlarged, the item would've been perfect.

alright
By
Steve W.

(Fort Wayne , IN) - January 2, 2011 (
See all reviews by this customer
)
it was alot smaller than i thought it would be and the writing was sorta hard to read

Disappointed
By
Antoinette A.

(Laurel, MD) - November 5, 2010 (
See all reviews by this customer
)
The lettering of the words underneath the name was too small for my liking. I could hardly read it. I have purchased many fine gifts from PM, but this is by far my worst.

not pleased
By
Prescilla S.

(cathedral city, CA) - June 14, 2010 (
See all reviews by this customer
)
i got this keepsake for my boyfriend. so when he recieved it and i saw it i was dissapointed. i thought it was way too small. it was as big as his wallet. i recommend this gift if your on a budget not for an anniversary gift.

Small
By
Misty K.

(Riverside, CA) - February 19, 2010 (
See all reviews by this customer
)
I realy love the look of this Item but the whole point of a paper weight is to be heavy and strong. I gave this to my husband to convey those sentaments but its rather small and delicate insted. I know that you list the size but the picture looks much larger. I could barley read the lettering.

to my sweetheart
By
Pauliana B.

(Houston, TX) - February 16, 2010 (
See all reviews by this customer
)
i didn't expect this size of the gift. I wanted bigger, coz on the website it looks bigger so...
the quality is fine though!