Poor coloring on picture
By
Shopper

(Rudolph, WI) - January 3, 2013
When I received my ornament, I wasn't impressed with the coloring of the picture. I used a high resolution image, but it looked very poor on the ornament. I have ordered similar ornaments in past years without an issue, so I was a bit surprisd by the poor quality of the image on this one.

Photo ornaments
By
Shopper

(Chapel HIll, NC) - December 20, 2012
The ornaments are nice but the pictures are a bit dark. It would be nice if the producer of the ornaments would adjust the light so that the ornaments look better. The lighting is difficult to judge from a monitor .

Too dark
By
Shopper

(Pelham, NH) - December 9, 2012
The ornament is nice, but when the picture was transferred to the ornament, it came out too dark. The original photo itself wasn't particularly dark, so I am not sure why the ornament picture came through so dark. As you can see in the photo, the original picture I sent is quite clear.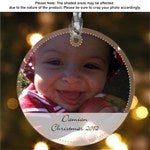 ok
By
heather G.

(hebron, IN) - January 15, 2012 (
See all reviews by this customer
)
was expecting better photo quality...image was blurry/grainy in person on both ornaments i ordered..glad i got these for a discounted price.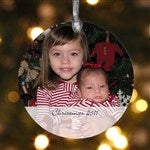 Cute, but blurry.
By
Shopper

(Conyers, GA) - December 31, 2011
Picture turned out some what blurry. It's said it was a great picture and looked clear on the preview but came back blurry. Hanging on the tree, you're not so close to notice. Would not be good as a decor item around the house though.

adding text looks cheesy
By
Heidi K.

(Lake Oswego, OR) - December 29, 2011 (
See all reviews by this customer
)
wish I would have only used a photo and no text. By adding "merry Christmas 2011" I feel it took the ornament from classy to cheesy. Next year I will only do a photo.

don't choose sepia tone!
By
Shopper

(tucson, AZ) - December 25, 2011
The ornament turned out great with the writing but I was disappointed in the picture quality! Online it showed my picture being a lot more clear and I suspect my choosing of sepia tone messed up mine a bit because when it came in the mail it looked like an oil painting and was not flattering to our faces in the picture. Just was not true to what I was shown online However my friend ordered the same ornament and did normal coloring and hers turned out great so just be careful using the sepia toning with this product!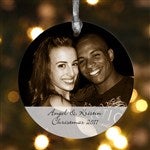 Picture Ornament
By
Wendy C.

(Orange, CA) - December 19, 2011 (
See all reviews by this customer
)
I love the idea of the picture ornaments and have bought one for the last 3 years for my boys. This was the first year I ordered them from here and I was disappointed in the picture quality. The rest of the ornament is great, but the pictures looked a lot clearer on the computer than on the actual ornament.

holiday 11
By
Shopper

(Ann Arbor, MI) - December 18, 2011
I love the ornament and it was shipped and received very fast. One problem though, the picture came out a litlle red when it was transferred. I was disappointed with that. I ordered 5 different pictures on various ornaments and it only happened to this particular one? Unfortunately I ordered 2 from the same picture. My other ornaments would have received five stars.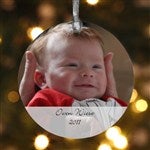 A Little Disappointing
By
Katie B.

(Denmark, WI) - December 13, 2011 (
See all reviews by this customer
)
I was a little disappointed with my recent purcahse from Personalization Mall. I ordered my item on November 25th. I was tracking my order on fedex.com and it was never delivered on the estimated delivery date. When I contacted customer service they told me that there was no set delivery date. When I still had not recieved my order I again contacted customer service and they told me if I had not recieved it by Friday December 9th to contact them. Friday came and still no order. When I contacted customer service once again they said they would just send me a new one right away. I finally got my item yesterday and I was not 100% satisfied with the outcome-red eye in the picture I uploaded and the personalized message was printed over a face in the picture-this is probably my fault for not editing before I sent it and previewing before I sent my order. Just wish the outcome and shipping would have been better.