Good Gift
By
Andrea I.

(Aliquippa, PA) - December 28, 2012 (
See all reviews by this customer
)
This was a nice gift to give, but the pictures were not bold enough. I did my pictures in black and white, and the ones that had more white in them were hard to see on the mug. I wish I would have darkened the pictures a bit, or chose pictures with less white in them. I thought the pictures would be bigger than they were, but they were small on the mug.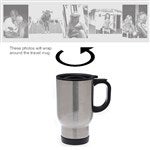 Pics hard to see
By
Donna C.

(Georgetown, DE) - December 8, 2012 (
See all reviews by this customer
)
While I like the mug, with the pics. Being black and white, they are very hard to see against the silver background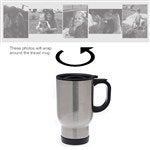 Pros & Cons
By
Shopper

(San Pablo, CA) - July 17, 2012
Product came out great! The perfect gift that was given to my father with pictures of his grandson. The pictures where very clear. The only down side was that after used and washed twice the handle broke off. Thankfully my product was replaced with a new one. :)

Nice gift/keepsake
By
Shopper

(North Potomac, MD) - March 7, 2012
I was overall pleased with this item. Be careful what pictures you choose bc it may not come out too clear :)

Thankful for good customer service
By
Melissa D.

(Sandwich, MA) - December 31, 2011 (
See all reviews by this customer
)
Thought the product you of been alittle bigger or heavier for the price but it's still a nice gift. Showed up to my house with the last 2 pictures missing, call PM upset bc it was a Christmas present and I was unhappy with the lack of quality control, customer service rep was a huge help, no questions asked, sent another one right out and it was here before Christmas. She also told me to just keep the pervious one and not to waste my time sending it back!

could've been better!
By
Shopper

(Gilbert, AZ) - December 31, 2011
I was excited to find a personalized travel mug for a family member who is on the road alot.The pictures were difficult to size, but with some patience and help from a computer savy son, I finally got it done. It came out exactly as expected and my family member really liked it. HOWEVER, while passing it around to be admired, it was dropped on a linoleum floor and the handle broke off! For the price, I expected something more durable especially since it's described as a mug for travel. Total bummer.

Travel Mug Great BUT wish no personalizationmall.com web site on it!
By
Amy T.

(Land O Lakes, FL) - December 27, 2011 (
See all reviews by this customer
)
My husband carries one to work every day, so I thought this would be perfect. And it was, except that centered nice and decent size under our beautiful collage of photos is the web site of personalization mall! Looks very tacky. :(


"www.personalizationmall.com" is Printed on the Side of the Mug!!
By
Shopper

(Roanoke, VA) - December 22, 2011
We ordered this for my father in-law for Christmas. The pictures on it came out great, but "www.personalizationmall.com is printed right on the side of the mug underneath the pictures! It really cheapens the look and feel of the mug. I understand the want/need to advertise, etc., but they totally could have printed it on the bottom. It is also misleading that it does not show this advertisement in the picture of the product. If I had known about this, I likely would not have ordered it.

Photo Collage Mug
By
KellyAnn B.

(Mastic Beach, NY) - December 13, 2011 (
See all reviews by this customer
)
I ordered this for a "tough to buy for" person. It came out nice BUT on one side under the pictures it has the Personalization Mall WEB SITE ADDRESS on the mug! I was NOT happy to see that!! Its tacky! BUT other than that I like it. It would be SO MUCH NICER without the advertisement from this company. I would rather have had something of MY OWN printed in place of this WEB SITE info!!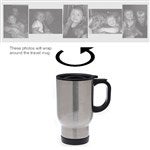 Pictures are not as large and go for lighter backgroud pictures
By
Amanda I.

(Carlsbad, CA) - December 12, 2011 (
See all reviews by this customer
)
Such a cute idea but a little upset that the phots are not larger. i understand you have so much room, however, on- line proof has them a lot larger than on my mug. Go for lighter backgroud photos, otherwise you'll have a hard time making out the picture. Still an adorable idea and the mug seems to be of good quality.