1st easter bunny
By
Shopper

(Tabernacle, NJ) - April 1, 2013
was disappointed in color of bunny - it was grayish, not white, kind of looked dirty - the netting on bottom always looks squashed - even after I seperated the layers

For Grandaughter
By
JEANNE H.

(HUMBLE, TX) - March 10, 2013 (
See all reviews by this customer
)
This Easter is quite important to me as it is my Grandaughter's 1st. Therefore, once checking around for Personalized Easter Baskets for infants,Personalization Mall seemed to be the most affordable. However, once my daughter recieved the basket- it came all crumpled up and was NOT very appealing. The large stitching was also not something I like, nor does my daughter. The embroidery of my gr.daughter's name is beautiful. Just too bad the actual basket is not the same...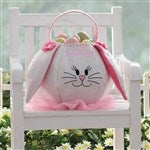 not exactly what i expected
By
Shopper

(Los Angeles, CA) - February 23, 2013
It looks a lot cuter on the picture...when I opened the package I wasn't really happy with the color and the way the basket looked.

Don't care for the felt
By
Shopper

(Oakdale, MN) - August 25, 2012
I started a tradition of buying these baskets for each one of my Grandchildren. The ones I originally purchased, were made of white fabric and had a liner inside of them. These are made of felt. Now all 4 of the baskets I purchased do not match. I have 2 white fabric ones and 2 brown felt ones. The quality of the felt ones looks to be of cheaper quality and not as durable. I was disappointed in the new design and quality.

Quality not as nice as previous ones
By
Shopper

(Des Moines, IA) - April 7, 2012
I was really disappointed in the fabric choice on this. I had purchased two pink ones 3 or 4 years ago and the quality is much nicer on them. The felt feels very stiff on this one, actually feels kind of scratchy. The older version was made out of cotton filled with batting. Very soft. I do like the addition of the little tu-tu and hair bows. The Easter Bunny leaves these at Grandma's house to be filled each year.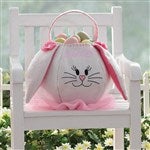 Easter fun
By
Shopper

(Floral Park, NY) - March 31, 2012
Very good for a younger child or infant, I stuffed it with new outfits for an infant.

Cute, but messily put together
By
Shopper

(Taberg , NY) - March 25, 2012
basket is very cute, but had 100+ strings hanging off of it on inside and out, like they ran it through the machine and didn't bother taking off excess thread, so had to cut it all myself:( also shipped in tiny package squished pretty good, takes a while to not look so wrinkly! Embroidery was done very nice, and shipped quickly!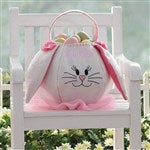 Easter basket
By
Shopper

(rockwall, TX) - March 10, 2012
I think this on the website was absolutely adorable! I thought it would have been a fabric bunny but when I received the basket it was very stiff felt material. The embroidering looks great but I have no idea how I am going to get all the wrinkles out and get it back to its original shape because of the way it was packaged and shipped.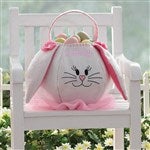 Don't like the color
By
Shopper

(Little Falls, NY) - February 25, 2011
Great basket but it's for a boy and I don't like the color. . sorry but I think it should be white like the girl's basket and just have the blue bow tie, name, etc.

a bit disappointed
By
Nicole W.

(APO, AE) - February 21, 2011 (
See all reviews by this customer
)
A cute easterbasket, but I dislike it that the fabrik is totally wrinkly from the way it was wrapped and mailed(it was folded several times and stuffed in a tiny plastic bag). This one has a much better stitching job than the one I ordered for my daughter.

a bit disappointed
By
Nicole W.

(APO, AE) - February 21, 2011 (
See all reviews by this customer
)
A cute easter basket, but the personalized stitching job on this one is not very good (I also ordered one for my son, and it has a much better name stitching). I also dislike it, that the fabrik is totally messed up and wrinkly, because the item was stuffed in a tiny plastic bag for mailing.

bunny basket
By
eileen M.

(dumont, NJ) - April 9, 2010 (
See all reviews by this customer
)
The bunny basket was adorable, however, it was delivered damaged. The strap was not sewn on securely and I had to pin it together. I bought this same basket for my nephew last year and I thought it would be nice for his sister to have the same basket. I was very disappointed.

Past basket
By
Jane T.

(Franklin Lakes, NJ) - April 6, 2010 (
See all reviews by this customer
)
Two years ago I ordered a bunny basket for my first granddaughter. It was cloth and could be washed. This year I ordered one for the second granddaughter and it was felt. Cute and firm but with little ones dragging it around it is harder to clean. I liked the first bunny better. PS. My daughter liked them both. Either way, they are cute little personal baskets.

Looks okay, but a few things....
By
Janeen W.

(Huntington, NY) - April 5, 2010 (
See all reviews by this customer
)
I ordered the pink bunny for my daughter to collect eggs in for Easter this year. The item arrived in good time, and upon opening looked okay. I thought it was made of cotton, but the material of the "basket" part was 1/2 cotton 1/2 what seemed like dryer sheet material. My daugther used it for 5 minutes and the strap snapped off at the seam where it was "sewn" into the basket. Luckily grandma sewed it back on, and it lasted the remainder of the day.

It looks okay - just not as "fluffy" as the picture - kind of crinkly material.