It's ok....
By
Deena M.

(New Market, MD) - February 8, 2013 (
See all reviews by this customer
)
I have ordered a ton of stuff from personalization mall and this is the only item I was not completely thrilled with! It's cute, but when the name came out it was a little fuzzy and the frame didnt look as nicely made as the wooden ones I have ordered before! The wooden frames are the best, I have ordered a ton of them and everyone loves them!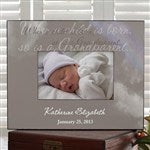 odd color
By
Shopper

(Richmond, TX) - July 24, 2012
I was very pleased with the quality of this frame but disappointed in the color. The color seems to be misrepresented online as it is more of a lavender color than the grey that is shown. Would love to order another one as a gift but am not sure the lavender color is one that others would choose.

Nice but not great
By
Shopper

(East Amherst, NY) - June 10, 2012
This is a very nice frame, of good quality. Just be sure you like the color of it. It looks just like the picture - mostly gray with a bit of color in the upper right hand corner. I found it a little too somber for a photo of a baby, but the personalization is nice.

Prettier in photo
By
Shopper

(San Diego, CA) - April 20, 2012
The frame is fine quality but didn't look as nice in person as the photo did.

Love personalized baby picture frames !!
By
Marilyn K.

(Rockville, MD) - February 7, 2012 (
See all reviews by this customer
)
I've given several personalized baby picture frames in the last year and all the new mothers loved it. I just sent a new Grandmother the newest metal design which I think is nicer looking than the previous wooden frame. I have not seen the frame as yet but it was a hit. I think the frame will be more useful with just the child's name and birthdate...good move.

Color not represented well
By
Shopper

(Cave Creek, AZ) - December 16, 2011
Personalization was exactly correct and quality of frame was nice too...
Problem with frame was the COLOR. Website shows a color closely described as silver. What arrived was grayish/purple putty colored mess. Not gift worthy. Contacted customer service via email, no offer to assist.
Contacted customer service via phone and was advised I could return at OWN shipping expense for credit.
All other items ordered in past have been delightful, this however was a miss.

Won't buy it again
By
Shopper

(Salida, CA) - December 2, 2011
The idea behind the frame is great and so is the writing on the frame but I was not pleased at all with the quality of the frame

Grandparent Born Frame
By
Shopper

(Paramus, NJ) - July 18, 2011
From the photo, the frame gives the illusion that it is metal, but it is not. However, the end results were acceptable because of the engraving and it still made a "special" gift.

Great idea, but the printing is a bit blurry....
By
Jessica S.

(Durham, NH) - December 27, 2010 (
See all reviews by this customer
)
I love the idea of the frame and the colors are great, but the actual printing of the name is a little blurry. It looks very computer generated. I don't think I would order them again because of the quality of the printing.

Didn't like colors
By
Janet M.

(Shawnee, KS) - December 22, 2010 (
See all reviews by this customer
)
I have bought many frames from here before, but not this particular one. Colors weren't what I thought they would be. For some reason thought they'd be a little grayer or bluer - sky with clouds, but seemed to be kind of pinkish - and it was for a boy, but the recipient loved it!!!

Grandparent is born frame
By
Albert C.

(Glen Burnie, MD) - December 16, 2010 (
See all reviews by this customer
)
When you look at the color of the frame online it looks like a light gray. The white lettering down below shows nice online and the font was identical. Yet I was very disappointed in the color of the frame. It's actually a tan. And the white color font does not show very well on the frame. I use to engrave for years and I have no clue why they use white filling for the letters. It should match the same color font above. Was disappointed in this frame. The clouds and the rainbow did it no justice either.
It's very noticable and not slightly faded. But I love this website and I still plan to order from here.

A Bit Disappointed
By
Pamela M.

(Loves Park, IL) - November 19, 2010 (
See all reviews by this customer
)
My husband and I received one of the "Grandparent is Born" frames in 2007 when our first granddaughter was born. We were thrilled and have displayed a picture of the first grandchild in this beautiful frame every since. When our second was born we ordered another as a keepsake and were looking forward to displaying the second grandbaby. The lettering on the second frame is large and clunky looking where as the first was delicate caligraphy and pleasant to see. We are disappointed in the difference between the two, otherwise both are very nice.

Nicer in picture
By
Jessica H.

(Brooklyn, NY) - September 20, 2010 (
See all reviews by this customer
)
This frame is a great deal for the price. I bought one for someone else a year or so ago and I think that one was just made better. I was a bit disappointed in the gray/dullness of the frame....