Cute...but small
By
Shopper

(Neptune City, NJ) - February 16, 2014
Very cute and good quality. They were just a lot smaller than i thought.

Personalized Mug Set for Valentines
By
Elizabeth A.

(Crossville, TN) - February 15, 2014 (
See all reviews by this customer
)
Nice, but needs some colors to make it better.... White/Red or Red/White.... Would make it more inviting.

Smaller than expected
By
Shopper

(Medham, NJ) - March 16, 2013
Very cute, but wish they were bigger

Mug Set
By
Shopper

(Largo, FL) - February 24, 2013
I love the personalization, but I was expecting the cups to be a little bigger.

Love it
By
Shopper

(clarksville, TN) - February 21, 2013
Love these cups I just wish they were bigger....

Mug a bit small
By
Debra D.

(Westport, MA) - February 14, 2013 (
See all reviews by this customer
)
Very good quality but I think the cups are too small.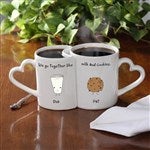 Very Cute Idea
By
Katie B.

(Raleigh, NC) - December 11, 2012 (
See all reviews by this customer
)
I love the concept of this set, I wish the peanut butter cup could be the larger of the set since it more often has the "guy" name on it so he can have the normal size cup instead of the tiny one, but that's just a personal preference. As for the product when I got them home out of the box I was so excited then a little sad, the cups themselves are fine and cute but the pictures online make the peanut butter look like a nice light brown peanut butter color, when I got the cups the peanut butter looks like dark brown burnt peanuts color, at least 3 shades darker than it looks in the picture... I don't know if it was supposed to be this dark or if I just got an "off" set, it was a disappointing but what can you do. I will upload the photo later if possible.

great idea
By
Shopper

(Flushing, NY) - March 12, 2012
The mugs were very cute, and I love the idea, but the smaller mug is difficult to actually use. I'm only giving 3 stars because the set of mugs I received were very yellow/old looking even though the picture shows them as white. Overall, I still loved the idea of the product but they're currently sitting on a shelf.

Cute, but small!
By
Shopper

(Yuma, CO) - February 15, 2012
I love the phrase on the mugs! They are perfect for my husband and I. The one drawback is that the mugs are small, especially the curved mug. It is also a little awkward from which to drink.

CUTE
By
Shopper

(Canada) - December 21, 2011
the cup is cute!! but with soo much white space, it does loook kind of plain, wish it would come in diff colors or have more patterns around it.

Personalized Mug Set
By
Shopper

(Hingham, MA) - December 7, 2011
Cute idea - wish they were larger (as well as the names on the mugs)


cute mugs
By
Shopper

(West Lafayette, IN) - October 25, 2011
They are very cute but the picture looked like the paint or ink was messy and they dont actually fit together :(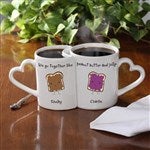 Quite good
By
Shopper

(Italy) - February 22, 2011
It looks good but quite simple. It will be better if both sides have some images