Cute item, but pick the white Tee.
By
Shopper

(North Arlington, NJ) - December 20, 2013
I liked the idea behind this item and was pleased with the fabric of the T-Shirt overall however the "Dear Santa" and "Did it" could have been printed a little darker. I picked the red shirt and unfortuantely it's a little hard to see. I recommend this item especially for a cute Christmas pic however I would pick the white shirt instead so that the lettering could be a little more legible.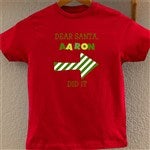 Cute but oversized
By
Breanna S.

(Modesto, CA) - January 19, 2013 (
See all reviews by this customer
)
I got these for my toddlers for Christmas. They were very cute but VERY big! I tried to shrink them but they were already pre-shrunk so I have decided to save them for next year. Hopefully they will fit by then! Other than the size, they were cute.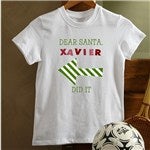 Runs big!
By
Shopper

(Burlington, MA) - December 6, 2012
I bought two of these shirts and the sizing is weird. The XS youth is supposed to fit like a 2-4, but it runs big. Alternatively, the 18 month t-shirt runs small. They are cute shirts though.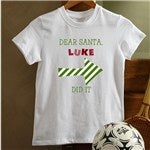 Color of printed name
By
Shopper

(Bardstown, KY) - November 9, 2012
The t-shirts arrived in a timely manner. However, the child's name (for a boy) were purple. On the website, the color did not look purple...but more like a dark red. My twins weren't really excited as they said they looked like a shirt a girl would wear.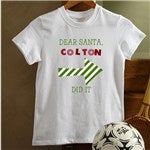 Different then expected
By
Shopper

(gloucester city, NJ) - December 19, 2011
The colors were different then shown in the picture. the red is much darker and is shown brighter. The shirt is pressed on so theres a hard sqaure where the personalization is. Its okay for the price.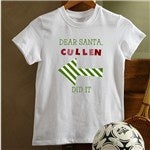 Cute shirt, but not pleased with colors
By
Shopper

(water valley, TX) - December 1, 2011
The shirts are cute but the red letters look maroon. Before they were too pink. I'm not sure why it's so hard to get RED letters. The green is not Christmas green either so for this I only gave 3 stars.

very cute, but don't like ties...
By
Shopper

(Dyer, IN) - November 18, 2011
This is the 2nd bib I've purchased, and while I obviously know beforehand that they are tie back bibs, they would be so much better with velcro or a snap...ties are not easy to secure on a wiggly baby. The design is cute, but I can see the iron on...it looks like a clear plastic film around the words.

Color could me more Christmasy
By
Shopper

(Haverhill, MA) - November 14, 2011
The shirt itself is OK but the red color that is used for the name is a dull burgandy color. I would have liked it better if it was more of a cheery Christmas red like it looks in the photo. It's a cute idea for a shirt though..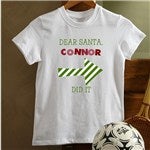 my boys t-shirts for santa pic
By
Monica F.

(Elmhurst, IL) - December 13, 2010 (
See all reviews by this customer
)
hmm not too happy..loved the idea and the saying but the letters in their name were way too seperated. Kinda looked like there was a letter missing.

Cute shirt, but should have been cheaper
By
Lorin M.

(Fort Benning, GA) - December 1, 2010 (
See all reviews by this customer
)
The t-shirts are true to size, they fit my twins very well. But they do look cheap. You can see the square around the graphic where it was transfered on to the shirt, and the graphic on my daughter's tee is not centered. Also, the graphic is not anywhere near as big as the picture would have you think. I ordered mine in 18 months size tees and the graphic is small and over 2 inches down from the collar. Normally I would have sent them back, but these were a last minute idea and I simply did not have a backup for them to wear.