Small
By
Jessica R.

(Great Falls, MT) - March 28, 2014 (
See all reviews by this customer
)
I got this for a wedding gift for the couple that has everything. I should have read description better but art is smaller than I expected. As always - the personalization was spot on. Wishing it was a larger statement piece. Otherwise, fantastic and I am sure will still be loved

I am happy
By
Manpreet S.

(San Antonio, TX) - January 31, 2014 (
See all reviews by this customer
)
It makes a good piece if you like to give a personal touch to your gift.
It is not very large so please check the dimensions before purchasing(appears larger in the picture).
The backside is ugly(but isn't visible on the wall so no complaints).
Slightly expensive but makes a good gift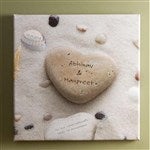 Little disappointment
By
Shopper

(San Jose, CA) - June 28, 2013
The gift description said that name will be engraved on rocks which gives an impression that there will be real rocks or pebbles with name and message engraved on tem. But I was disappointed to see that the whole thing is a pinting of rock with name engraved on it. Though the painting was beautiful, but still did not meet the expectation set by the website.. :( I was disappointed seeing the gift..! But the painting is good too... and the service is real good.. thanks for that.. :)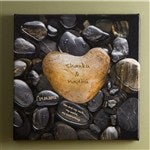 Didn't love it
By
Kathy T.

(Fenton, MI) - August 21, 2012 (
See all reviews by this customer
)
I loved the idea of this picture and the online photo looks as though the words are engraved into the stones. On the actual product received the large stone appears engraved, but the smaller ones look more like writing on the rocks with a yellow marker. It was ok, but wouldn't order again.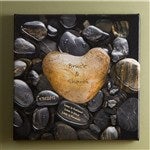 Misleading Description - Not Actual Rocks
By
Shopper

(Maplewood, MN) - August 10, 2012
Although it clearly states, "Canvas", I made the mistake of assuming these were actual stone arrangements on canvas. It is only a photo of rocks. I am not the only one who made this mistake, according to past reviews. Unfortunately, I read the reviews after the fact. That said, it was disappointing to see what we got. I wish I would have upgraded the frame. I believe it would have been worth the extra $20. It looks a little cheap as it is now. Bottom line is that I think it is fine for a teenager, but I would not recommend it for an occasion where a larger gift is appropriate. And the description should be revised. It really can be misleading.

Not as nice in person
By
Shopper

(East Bridgewater, MA) - February 15, 2012
I think this is a great wedding shower gift ect. However, the actual item is not a nice as the picture makes it look. Actually, a little smaller than I pictured also.



Low print quaity
By
Shopper

(Fergus Falls, MN) - February 4, 2012
LOVED the idea of this. Got it for my life parTner and was so excited, it was my third purchase from this site. Unfortunately the print quality is low. Very fuzzy and strange compared to the photo on the website. I ordered the darker color of the two.

Nice Plaque
By
Cheryl L.

(Kansas City, MO) - December 15, 2011 (
See all reviews by this customer
)
I was expecting it to be a lot smaller from the I picture )which I would have preferred) but its very nice.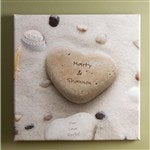 flat canvas
By
Shopper

(Alameda, CA) - December 7, 2011
I thought there were real rocks in this art piece. It is a flat canvas so not so unique.

Heart Rock Canvas
By
Shawna A.

(Kelso, WA) - November 12, 2011 (
See all reviews by this customer
)
Overall I'm happy with the canvas. It's really great quality, not cheap-looking. I wish I had realized how "pixel-ated" the words would be, though. A smaller version (6x6 inches?) would be really cool. My only real complaint about this product is the smell. It has a very strong odor which has banished it to the garage for awhile. It was that bad. In fact, I used the shipping box to wrap another gift in, and the when opened, the shirt inside was reeking of the fumes. All in all it's a very cool piece, and would recommend it to friends, as long as they weren't hyper-sensitive to smells.

not what I expected
By
Jeff V.

(Harrisburg, PA) - October 17, 2011 (
See all reviews by this customer
)
Although not what I expected...I thought this was real rock on a real plaque. But its a canvas covered frame. Although my wife was still pleaseantly happy with it :-)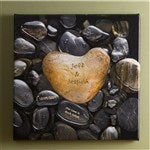 Neat
By
Shopper

(arlington heights, IL) - August 15, 2011
Pretty but words seemed like marker over canvas print.

Nice picture
By
Shopper

(Woodland Hills, CA) - July 26, 2011
I bought this for my husband and was happy when it arrived so quickly. Nice quality and really liked the rocky design. Thought it was real rocks on a pla. Though so was not to happy about that, but it was cute.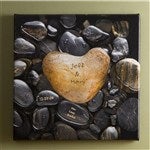 Not as expected
By
Shopper

(Richmond, TX) - February 15, 2011
Looks just like the picture but thought it would be better quality. Don't think it is worth the price.

Canvas Art Rocks Looks Cheap!
By
Shopper

(Hasbrouck Heights, NJ) - February 12, 2011
I was disappointed with the photo quality - the photo was not sharp, the colors not crisp - and I don't understand why there is no hook or other prep on the back of the frame to make hanging it easier...

Okay
By
Lisa H.

(Carrizo Springs, TX) - February 8, 2011 (
See all reviews by this customer
)
I realize that it is my own fault for not reading closer, but it is much smaller than what I thought it was going to be. I would have also appreciated a hanging attachment on it. It is an okay picture.