Cross review
By
Paul T.

(Ft Walton Beach, FL) - December 20, 2011 (
See all reviews by this customer
)
Smaller than I thought it would be. More feminine than I expected.

Smaller than expected
By
Robyn M.

(Millville, NJ) - November 5, 2011 (
See all reviews by this customer
)
This was adorable but much smaller & a bit more cheaply made than anticiapted.

Not enough room for name
By Shopper (Lafayette, LA) - October 25, 2011
Love this cross - love the design, style, everything. But very disappointed that I can't order this for everyone I'd like to due to letter limits. If the size or letting could be adjusted to fit names that are a little longer (there are many names 10-12 letters) it would be perfect!

ok
By
Joseph S.

(Jefferson, WI) - September 12, 2011 (
See all reviews by this customer
)
the engraving of the name was not perfectly centered down the cross.

engraving not centered
By
Shopper

(Portage, IN) - August 16, 2011
The name was not centered left to right. The picture attached is not representative of what I actually received in the mail. In order to get the cross re-engraved and sent to me again, I had to email them a photo of the error. The customer service agent was very polite and accommodating.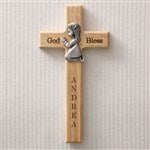 Wood Cross for Boy looks cheap
By
Shopper

(Tomball, TX) - July 23, 2011
I am usually very pleased with your merchandise, but this looked cheap.

ok item
By
Gina R.

(East Northport, NY) - July 18, 2011 (
See all reviews by this customer
)
For what I paid this was an ok item. It was a bit smaller than I had expected and the engraved writing was very light. I ended up coloring over it with a pencil so the lettering could be seen. The cross itself was very light. It didn't feel like a solid piece of wood. It seemed hollow. But, like I said, for what I paid I suppose it was ok. Wouldn't buy it again though.

Okay
By
Shopper

(Astoria, NY) - March 8, 2011
I thought this was a little cheap looking. I was surprised it was made from 4 different pieces of wood glued together in the center, which you can see from the front of it. The personalization looked nice. Overall, I probably wouldn't buy this as a gift again.

First time disappointment
By
Denise B.

(Hoffman Estates, IL) - December 5, 2010 (
See all reviews by this customer
)
I have ordered a hundred items from this company. This was the only item that I was a little disappointed. The personalized printed name is not as bold or dark as the "God Bless". I didn't notice that it is also a little off alignment (not centered) on the vertical portion of the cross. However, this is how it is shown online if you look close enough. It's still cute.

Nice but smaller than expected
By
Nicole C.

(Barre, MA) - August 3, 2010 (
See all reviews by this customer
)
It is a nice item but it was smaller than I had expected.

nice idea, looks a bit cheap
By
Molly K.

(Woodbury, MN) - July 8, 2010 (
See all reviews by this customer
)
I loved the idea of of a personalized cross as a gift. In reality, the wood of the cross looks cheap and isn't smooth where the arms come together. The engraving color is lighter than shown and looks a bit cheap as a result.

A bit dissatisfied
By
Laura M.

(Upland, CA) - July 7, 2010 (
See all reviews by this customer
)
I was a bit dissatisfied with this item. It appeared that the name was not engraved properly and the letters were a bit smeared. The quality of the wood was not what I expected for the price and size. Overall, product was just OK, not sure worth the price or quality.

Praying Boy Wooden Cross
By
Mary M.

(Webster, MN) - April 20, 2010 (
See all reviews by this customer
)
Much to my disappointment, the replacement cross I received wasn't much better than the original cross. Once again, the "God" and "Bless" were much lighter than the name imprinted on the cross. The Praying Girl Wooden Cross I ordered was very nicely done. Had hoped for the same in the boy's.

Overall happy but...
By
rebecca H.

(new baltimore, MI) - April 16, 2010 (
See all reviews by this customer
)
I was very happy with this item, for the most part. It was shipped and I received it very quickly but I felt the item looked slightly cheap once I got it. The side of the cross was slightly cracked and the engraving was not equal in color, part of it was lighter than the rest.

Laser engraving
By
Francine W.

(Medford, NY) - December 7, 2009 (
See all reviews by this customer
)
I purchased this cross and was disappointed when it arrived and saw that the printing of the baby's name going down on the piece of wood, did not come out as dark as the words going across. I was told this is how laser engraving is done. It doesn't appear like that in the pictures.

Ok
By
Alison B.

(Glen Mills, PA) - December 6, 2009 (
See all reviews by this customer
)
The wood had a few tiny knicks. Overall nice. I was really disappointed with the shipping. Really expensive shipping; most I've seen than any other site and the box the cross came in was crushed. Really? Luckily, the cross seemed ok. So, now i need to find a new box for this gift.

Bless This Child Personalized Wood Cross
By
Linda M.

(Woodstock, GA) - October 8, 2009 (
See all reviews by this customer
)
I received 2 crosses. One was perfect and the other was not. The wood had indentations in it, and the shape of the wood was not carved perfectly. I thought about sending it back, but didn't feel like bothering with the postage, etc. Everything else I've ordered through your company has been great.