Bought for Christmas Gift
By
Natalie S.

(Worcester, MA) - December 16, 2013 (
See all reviews by this customer
)
I was a little surprised to see this ornament because the other one I ordered came out awesome. It still came out really cute but on this ornament, the middle name seemed squished and is harder to read than the other names. Just be careful how big of a name you put in the middle. The website does not warn you of that.

Cute Idea, Bad Execution
By
Lori P.

(Orland Park, IL) - December 9, 2013 (
See all reviews by this customer
)
I was really excited about this family ornament, but sad to find that the ink was smeared. It is still legible, but not worth the price.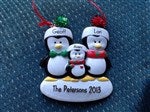 Cute
By
Carrie G.

(Fort Worth, TX) - July 13, 2013 (
See all reviews by this customer
)
The smaller penguins names did not look as well as the bigger ones.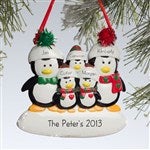 Mediocre print job
By
Shopper

(Egg Harbor City, NJ) - December 24, 2012
Ornament itself is really nice but the printing of the names was somewhat sloppy and not centered. Still a good gift.

good quality, some names off centered
By
Shopper

(Arlington Heights, IL) - December 19, 2012
The ornament itself is very good quality. I was disappointed that two of the names are off center and one is harder to read because of the location. I am still giving it as a gift but am a little disappointed.

small
By
Shopper

(Joliet, IL) - December 2, 2012
Item was much smaller than expected by viewing on the website. Quality is so-so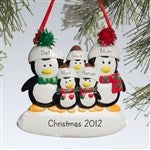 NOT BAD
By
Helen V.

(Canada) - November 20, 2012 (
See all reviews by this customer
)
The colours were nice and bold however the ornament itself looks miseadingly large online and disappointingly small live.

Just OK
By
Pamela S.

(Pittsview, AL) - December 17, 2011 (
See all reviews by this customer
)
The web site is easy to use and delivery of ordered items was speedy. I ordered two personalized ornaments and they came in good shape but were not of the quality I was expecting. I have previously bought such items at a craft fair and they were very nice. I was a bit of disappointed in these. Overall you could say I was satisfied.

Cute ornament
By
Shopper

(Lowell, MA) - December 14, 2011
I was a little disappointed in the size of it. I thought it having spots for 6 names that it would be bigger than it was. Cute but too small, i bought the stand for it and it looked so small on the stand that I took it off and put it on the tree.

Cute, but not satisfied with personalization
By
Shopper

(Sterling Heights, MI) - December 7, 2011
My husband and I are celebrating our first Christmas with our twin boys and I wanted an ornament to mark the occasion. I absolutely LOVE penguins so when I saw this ornament, I new I had to have it. I especially loved that I could personalize it with our names and the year. When I received the ornament, however, the bottom personalization area had black smudges all over it. Instead of going through the hassle of returning it, I went to a craft store and purchased some white paint to cover the smudges. It worked fairly well, however, I'm a firm believer that I shouldn't have to fix something I paid for and just received. While I was disappointed that they would actually send me something that was clearly damaged, the ornament itself is just as cute the picture which is why I was generous and gave it 3 stars.

Average
By
Christine N.

(LaGrange, GA) - December 5, 2011 (
See all reviews by this customer
)
This ornament was acceptable, but that is all, It was not glossy and rather dull compared to other ornaments I have ordered.
It was not beautiful, just OK. I only paid $11.95 (got it on sale) and for that price it was worth it. Definitely not worth $14.95. Can find nicer ones for that price.

Cute
By
Shopper

(THE COLONY, TX) - December 3, 2011
Bought a variety of these. This was the best of the ones I ordered. It is compact and looks nice. Ceramic. Not one of the malls best items

Penguin family ornament
By
Shopper

(conroe, TX) - November 30, 2011
cute but looks like somethig smeared on it. Black spots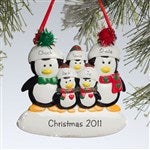 Personalized ornament
By
Shopper

(Cherokee, IA) - November 16, 2011
I ordered two, one was ok but the other one the glitter on the bottom stuck to the bag it came it and so the ornament was stuck to the bag and it pulled the glitter off and it does not look very nice at all.