Nice but low quality
By
Shopper

(Orlando, FL) - April 28, 2013
The shorts were printed exactly as I expected and was previewed. Except that the quality of the band is cheap. The print itself is less pigmented, by that I mean there is a washed-off kind of look to it. Like I bought a cheap shirt and washed it (causing some of the color to fade).
The product came on-time. Purchasing the product online was safe, trustworthy and easy.

personalized boxers
By
Shopper

(waldorf, MD) - February 25, 2013
really liked the boxers. my fiance's face when he opened them was pricless. i think i'll like them even more if they came in a variety of colors like reed, black, blue or gray.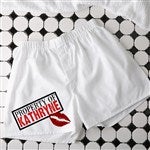 please adjust...
By
Zayda P.

(Chicago, IL) - February 24, 2013 (
See all reviews by this customer
)
Very cute but I purchased a large just to be on the safe side and it was a bit snug. Also the boxers are not everyday wearable because the fly is closed. How is my husband suppose to use the bathroom. Lol

Valentine's Day Surprise
By
Amy M.

(Huntington , WV) - February 22, 2013 (
See all reviews by this customer
)
The fabric was soft which my husband liked. I was disappointed that the first time I washed them the red clearly faded a little which left the name not as bright as it had been before. It is a great gift though.

disappointed
By
Shopper

(Overland Park, KS) - February 19, 2013
First of all it would have been nice to have bigger size options, but even with the biggest size (xl) it was still really small.. they are not as big as normal size boxers...they are super tight around the thigh. I just wish the sizes came bigger and if not then at least make the shorts more like a normal xl.... what grown man can fit into such small pants!!!

Very cute but poor quality!
By
Shopper

(Williamsville, NY) - February 11, 2013
The shorts are adorable. However, they are paper then and very scratchy. I don't think they are even wearable but the thought will be nice I suppose.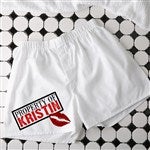 Cute not soft
By
Christina C.

(Mechanicsville, VA) - February 1, 2013 (
See all reviews by this customer
)
I thought this was such a cute idea for my boyfriend for valentines day. He wears size 34 jeans so that's the size I got in the boxers but they were a little snug around the butt and legs. The fabric wasn't very soft either. However he loved the idea.

Very Cute
By
Shopper

(Morris, IL) - December 26, 2012
Run a little small in size, otherwise very cute.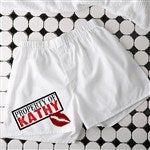 Property of... Boxers
By
Shopper

(Albuquerque, NM) - February 24, 2012
I really like the boxers, but the size was a little smaller than expected, so my husband either needs to loose leg muscle or we just keep it and say it was a gag gift. ;) It works. The shipping was as promised. I was a procrastinator and ordered them the day before Valentines Day, and as promised with a fee they were at my door Valentines morning. Overall, I wished I ordered a size bigger, but still like them.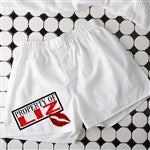 VDAY
By
Shopper

(Chicago, IL) - February 24, 2012
got this for my bf for vday and it is a very cute gift. looks the same as the preview. i washed it once and the print didn't fade yet. only problem was that the material is rough and a bit see-through, i dont expect my bf to wear them again, cause they didn't look comfortable

customize boxer
By
Shopper

(Tewksbury, MA) - February 18, 2012
The material is thin as paper and size is a bit bigger then expected. However, the print was exactly as describe!

Cute but runs small
By
Shopper

(Annandale, NJ) - February 15, 2012
Very nice looking but cut on the smaller side. The fabric needs a few washings before it softens up a bit. Nice to look at though.

fun!
By
Dorothy J.

(Flushing, NY) - February 15, 2012 (
See all reviews by this customer
)
my hubby laughed. the word box is crunchy and the boxers are a little thin.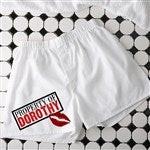 Valentine's Day Gidt to Hubby
By
Kristin R.

(Mount Pleasant, PA) - February 15, 2012 (
See all reviews by this customer
)
I bought these boxer shorts for my husband as a Valentine's Day gag gift. He got a real kick out of them but I purchased the biggest size to be on the safe side in case they shrank...they were too short to begin with and now I'll have to hang them dry. If you are buying for a larger man or woman be aware that they are smaller than the size stated.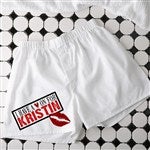 Cute Idea
By
Shopper

(Las Vegas, NV) - February 12, 2012
I thought it was a cute idea! They didn't look exactly how I expected...the material was a little see-through. But other than that, great!

Cute V-day idea!
By
Shopper

(Vista, CA) - February 3, 2012
I thought the boxer shorts were very cute with the personalization and they arrived promptly and on time. My only complaint would be that they aren't very good quality of material. For how much they cost, I would have hoped for a nicer fabric.