It was cute.
By
Shopper

(Virginia Beach, VA) - December 6, 2013
I liked it a lot, it was cute. But I think that it would have been nicer had it been more the size of an average picture frame.

Very small but nice
By
Shopper

(Pittsburgh , PA) - May 8, 2013
I read the reviews before purchasing and everyone seemed pleased with this gift but did mention how small it was. I did not look at the size/dementions myself so I was surprised to see how small it really way. It's a great gift but it can fit in the palm of my hand. I would have liked it bigger.

Beautiful but very very small!
By
Christina R.

(Orlando, FL) - February 17, 2013 (
See all reviews by this customer
)
I loved this item very much and I was very surprised when it was delivered and it was no bigger then the palm of my hand. Don't get me wrong I am not mad that I bought the item, I just wished it would have been bigger.

Personalized Keepsake
By
Shopper

(Austin, TX) - February 11, 2013
Very nice except it was smaller than I expected. Prices are kind of high for the size you get.

Disappointed
By
Shopper

(New Palestine, IN) - November 12, 2012
Quality good, I was disappointed in the size. It was very small.
Make sure to read discriptions carefully!

Dimensions
By
Shopper

(Mt. Washington, KY) - August 14, 2012
The product was much smaller than expected. The recipient thought so too. We were hoping for a plague-size product. It looks much larger in the picture. It will make me review the details of the dimentions more closely before I make my next purchase. Otherwise, it was very pretty, and the sentiment was not lost.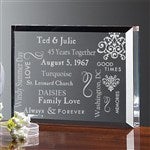 Beautiful and great idea but so small
By
Shopper

(Kirkland, WA) - March 13, 2012
I love this idea. And the engraving looks great! And the customer service was the BEST! It was engraved and arrived at my home within 2 days! But I was a little stunned because it looks about the size of a paper weight! But the bride and groom and everyone at the shower thought it was incredible and the groom plans to mount it in black granite. I guess they didn't have a size in mind so it was still really special to them.

Our Life
By
Ron Y.

(Collinsville, VA) - February 20, 2012 (
See all reviews by this customer
)
I thought it was very nice, but not as big as expected, needs to be a little larger. My wife never made a comment one way or the other. I have purchased item from you before and she allways loved them.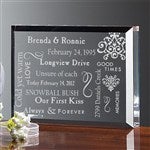 Just check the size first
By
Ramya K.

(Falls Church, VA) - February 15, 2012 (
See all reviews by this customer
)
I bought this for valentines day and when it arrived was bit disappointed with the size. 4" by 3" is small indeed much like paper weight instead of table top. Picture almost looks like 5" by 5".



This is nice, but very small...
By
John J.

(Floyds Knobs, IN) - February 13, 2012 (
See all reviews by this customer
)
The dimensions were probably written on the item listing, but I completely missed that... The listing should say that this is a paper weight, because that is about the size of it. My wife still liked it, but when I received it, the like of size took me by surprise. It was also shipped in a rather large box and the freight wasn't cheap. Once again, it is a nice item, but know that you are buying a paper weight.