Small"
By
Shopper

(Waukesha , WI) - March 28, 2014
I purchased this as a baptism gift for wall decor but it is very very small.. I will still give it to them but a bit disappointed in the size and thickness is more like a tree ornament!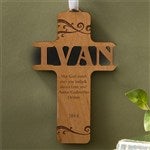 Surprised of the small size cross.
By
Shopper

(Pearl City, HI) - September 2, 2013
I was surprised how small the cross was. I loved the carved name & the engraving.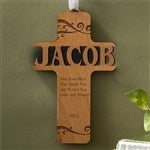 small cross
By
Shopper

(Arlington, TX) - July 22, 2013
The cross was so pretty, but i just expected a bigger cross, i was a bit disappointed.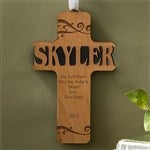 Personalized Cross
By
Shopper

(Celina, OH) - July 19, 2013
Cute but VERY small

Very nice but smaller than I expected
By
Andrea L.

(Batavia, IL) - April 12, 2013 (
See all reviews by this customer
)
I bought this for my nephew who is getting baptized at an older age (4 years old). I didn't want anything too babyish. I love the design but wish it was larger considering the price. I bought a different style of cross for another present and it was thicker and bigger. Beautiful craftsmanship but just disappointed in the size.

Small
By
Shopper

(Buffalo Grove, IL) - April 8, 2013
Guess I didn't read the measurements because this was much smaller than expected. I really like it, but it isn't much bigger than a Christmas ornament. I was expecting a little bit larger cross.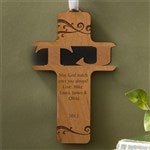 Baptism
By
Shopper

(El Granada, CA) - March 30, 2013
Nicely done, but disappointed, much smaller and thinner that I was expecting, then it's not even in a box, just a cardboard envelope. Kinda cheap looking so now I need to buy something else to go with it. Guess I didn't read the dimensions

Very Fragile
By
Shopper

(Ottawa, OH) - March 3, 2013
It looks great but it's very lightweight, making it easy to break.

very nice
By
Shopper

(Martinsville, NJ) - January 14, 2013
Unique gift for christening because you can personalize. But arrived with an odor of burnt wood or clove smell. Airing it out and hope the smell goes away by christening. No one else mentioned this in reviews so don't know why its just me but had to mention it

Dedication gift for my Great Nephew
By
Merle S.

(Gardner,, KS) - December 30, 2012 (
See all reviews by this customer
)
I wished I would have checked the dimensions. I thought it would be larger. The product was nice but I was expecting something slightly larger.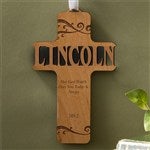 Beautiful but very small
By
Julie S.

(Bartlett, IL) - October 21, 2012 (
See all reviews by this customer
)
They did a great job but unless you are looking for something the size of a large ornament probably not the best choice. I should have checked the dimensions as I was disappointed.

smaller cross than expected
By
Shopper

(Derby, CT) - October 14, 2012
The cross is a bit smaller than I expected. It is also very thin and seems a bit "cheap" looking. The name and words make it appear nicer.