nice but small
By
Gianluca G.

(CHARLOTTESVILLE, VA) - May 20, 2014 (
See all reviews by this customer
)
I like it, very nice, but much smaller than I imagined. I have to buy an extra gift to go with, otherwise it wouldn't be enough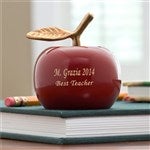 Custom apple
By
Shopper

(Hawthorne, NY) - April 14, 2014
This product is not how it appeared in the picture. It is very small.

Big disappointed
By
Linda M.

(West Palm Beach, FL) - December 12, 2013 (
See all reviews by this customer
)
Good quality. Just a bit disappointed in the size. Which is my fault for not paying closer attention to the description. What I was not pleased about is the lettering. Very small thin letters, you can hardly see the name at all. It's the same color as the leaf, maybe should have been done in black. It's ok, but I would not recommend it to someone. I'm going to try to go over the letters with black paint, before I give it as a Christmas gift.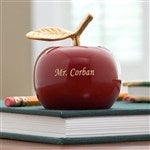 little apple
By
Shopper

(Guilford, CT) - June 11, 2013
It looks really large in the photo but when it arrived, it was actually tiny. Very cute, but tiny.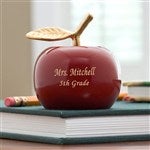 A tiny vintage apple
By
Shopper

(New Smyrna Beach, FL) - June 4, 2013
I was a little bit surprised when I opened the box. Since based on the previousr reviews, I thought the size should be a perfect, which means not too big, not too small. Apparently this tiny apple is too small than I expected. The color is deep red not so shiny as I see from the preview picture. The golden stem of the apple faded not a bright golden color.

It's ok!!!
By
Lizavetta F.

(North Plainfield, NJ) - December 27, 2012 (
See all reviews by this customer
)
I expected the item to be a bit bigger. But for that price, I guess size is ok!

Misleading Size
By
Jonathan M.

(Westfield, NY) - December 24, 2012 (
See all reviews by this customer
)
The product is shown to be much larger than the actual size. I was disappointed when I opened the box to find such a small apple. The quality is fine and the printing is very well done, just expected more for my money!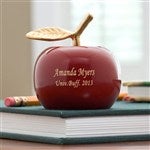 Get what you pay for
By
Shopper

(Dallas, TX) - July 16, 2012
For $15, I didn't expect a whole lot. As others said, it's very small. There appear to be two pieces of metal that are welded together to make the bell, although you can't see the seam on the outside. The engraving seems to be etched in which is nice. The gold paint for the stem/leaf is a bit sloppy looking, but the red paint of the apple is nice and smooth. It does give off a rich bell sound when rung. It doesn't blow me out of the water, but for $15, it's fine.

apple brass teacher bell
By
Shopper

(Cranford, NJ) - June 29, 2012
I was extremely pleased with the packaging and quality of the item, but disappointed in the size of the bell. It was quite small. It should have been more realistic in size.

Acceptable
By
Paul S.

(Boca Raton, FL) - June 15, 2012 (
See all reviews by this customer
)
Much nicer in catalogue photos--The gold portions of apple dull and discolored. Idea great, just wished the gold portions were shiny as shown.

Size disappointment
By
Shopper

(Delaware, OH) - December 27, 2011
Service & quality of the products were the best. Delivery was very quick! The size of the apple was quite small....closer to a crabapple then a red delicious. I thought the visual scale reference to the book in your photo was somewhat misleading (small book?). I did see the dimensions listed but went more with the visual reference.

Not really red
By
Shopper

(Green Brook, NJ) - December 26, 2011
I was disappointed in the color of the apple. In the picture it appears to be red as you would expect from an apple, but in reality it is a brownish maroon. If I had seen it in person before purchasing, I would not have gotten it. Sorry.

Apple was not as bright as it seemed on the photo.
By
Shopper

(Stockton, CA) - December 14, 2011
I had hoped the apple was bright red like the one given to Snow White. The apple I got was a brownish red.

OK-But Small
By
Robert F.

(Richardson, TX) - November 18, 2011 (
See all reviews by this customer
)
In the picture, this apple looks like it will be more substantial than it actually is. I think it is beautiful. But it is small enough to get lost on a desk. I bought one for a teacher friend of mine. Because of its size, I also am concerned it could be easily knocked off a desk. So bottom line, I like it, I don't love it.

Ok
By
Shopper

(Decatur, GA) - May 2, 2011
I should have paid more attention to the size of this item. It does look exactly like the picture but it's a lot smaller than I would have liked it to be.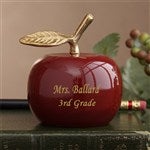 Small
By
Jeanna M.

(henlawson , WV) - December 26, 2010 (
See all reviews by this customer
)
The picture was deceiving regarding the size and the color was much less vibrant. I was expecting something maybe a bit smaller than a softball. It was smaller than a baseball. The color was more like a brownish candied apple. Those not seeing the picture thought it was adorable, and I agree, it was cute, just not what I expected.

Very Cute, Not Great Quality
By
Allison N.

(Lewisville, TX) - May 19, 2010 (
See all reviews by this customer
)
I saw this and thought it was SUPER cute for a 1st Grade Teacher Gift. When I got it, the paint seemed a little chintzy and it was missing the gong part of the bell. Customer Service sent another one out right away, but still. Made me glad I ordered it early. Otherwise I like it a lot and I don't see any of the other kids duplicating our gift, which is important to me.

little smaller than i expected
By
scott L.

(brooklyn, NY) - December 18, 2009 (
See all reviews by this customer
)
It is a nice item,however I thought it would have been a little bit bigger.

Teacher Bell
By
Wendy O.

(Clifton Park, NY) - December 13, 2009 (
See all reviews by this customer
)
The only complaint I have is that the red color is misrepresented on the website. It was actually more orange than red, so it doesn't really look like an apple Other than that, everything else was great. I would not buy this product again.

Little Dissapointed
By
marci O.

(fairport, NY) - November 26, 2009 (
See all reviews by this customer
)
This product was alot smaller than I expected. The picture is decieving. I was impressed with the fast shipping though.

Suggestion preference
By
Peggy C.

(Cedar Park, TX) - November 17, 2009 (
See all reviews by this customer
)
Although it clearly stated the size in the description, I just didn't envision the bell being so small. I think it would be much nicer if it were about twice the size it is.

Very nice
By
Lorraine P.

(Olean, NY) - October 8, 2009 (
See all reviews by this customer
)
It's smaller then I would have liked it to be. I was surprised when I received it in the mail and saw how small it was. But the quality is there. And it does have a nice loud ring to it. A little pricey for the size.