Not the same
I bought the same treat bag 3 years ago for my other son and was excited to see I could order it again. I was VERY sad to see that the quality was different from 3 years ago. The treat bag I received was not constructed as well (even though I paid more) and looked very cheap. It appears like its a thinner material and doesn't have the same detail.

Want candy corn and pink stitching back!
By
Penelope A.

(Woodstock, GA) - September 27, 2012 (
See all reviews by this customer
)
I love this bag but when I ordered it a couple weeks ago, it had pink stitching and 2 cute candy corns hanging from bow. Now I want to order some for my daughter's friends and can't get it exactly like I did my daughter's. They are VERY dissappointed!!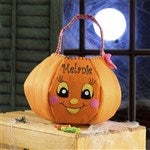 Fast shipping poor quality
By
Elizabeth H.

(Altamont, NY) - September 18, 2012 (
See all reviews by this customer
)
I thought these were so cute when they first came then they ended up in my kids hands and the candy corn decor was history because they are held on by a few cross stitch knots! Come on, learn how to make products that will last! Now I need to bring out he sewing kit....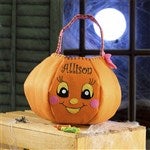 Fun gift
By
Shopper

(NORTH HOLLYWOOD, CA) - October 31, 2011
Felt like, super soft and great for toddlers to be able to carry around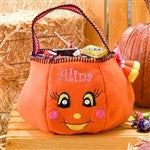 Product feature that I did not like
By
Lisa S.

(Middletown, OH) - October 17, 2011 (
See all reviews by this customer
)
Really loved this item, except you cannot hardly read her name on it. Was written in light pink. ??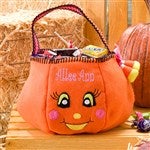 Poor quality
By
Shopper

(Ashburn, VA) - October 5, 2011
I was excited to order a second treat bag for my younger daughter this year and was disappointed at the quality of the construction. Especially when compared to the similar one I purchased last year. The quality of the item I received was similar to the one in the picture, however, some of the stuffing is visible and coming out.

Disappointing
By
Christine M.

(Honesdale, PA) - September 27, 2011 (
See all reviews by this customer
)
I ordered Miss Pumpkin for my daughter because last year I ordered the bat for my son and I loved it. However Miss pumpkin is very cute but not as sturdy as the bat. I feel that the quality is not the same as the one previously ordered :-(

Miss Pumpkin Embroidered Trick or Treat Bag review
By
Donna R.

(Chelmsford, MA) - September 24, 2011 (
See all reviews by this customer
)
I think the Miss Pumpkin trick or treat bag is cute and I am sure my 2 freshman college granddaughters will love them. I only wish the lettering would have been in black, the names would have shown up better.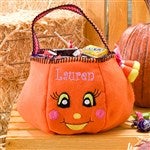 color of name
By
Shopper

(Matthews, NC) - September 17, 2011
I like the pumpkin, but I do not like the pink color that was used for the name. It was too light, and it is very difficult to see the name. It would also not be an appropriate color for a boy.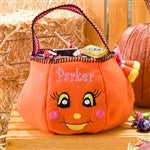 It's cute but....
By
Kerri C.

(Clinton Township, MI) - October 25, 2010 (
See all reviews by this customer
)
I think the pumpkin is really cute, and I love how the named looks. But the handle is not very strong. It is
just felt so I'm not sure how long it will last. For the price, I would of thought it would of had a better handle.


A little disappointed
By
Dolores C.

(Orland Park, IL) - October 19, 2010 (
See all reviews by this customer
)
The embroidered writing is so light, you can hardly see it.

Thread color to light on Miss Pumpkin
By
Eileen O.

(Westland, MI) - October 6, 2010 (
See all reviews by this customer
)
I love the "Miss Pumpkin"; however, the tread color is much to light to see the name. I would suggest a darker shade of pink so that it stands out against the orange. I ordered the boy pumpkin and his color stitching is dark green and really stands out. I understand that it is to match the cheeks and inside of the pumpkin, but it really needs a darker pink. Other than that I really can't wait to give them as gifts to new parents who adopted two children from Russia.

This is cute, but a tad disappointing
By
Caroline C.

(Charlesotn, SC) - October 27, 2009 (
See all reviews by this customer
)
This is really cute, but I was a tad disappointed. It is not lined so it needs to be full of it to look round. Also the opening is a little small. However - the monogramming is cute! My 15 month old loves it!